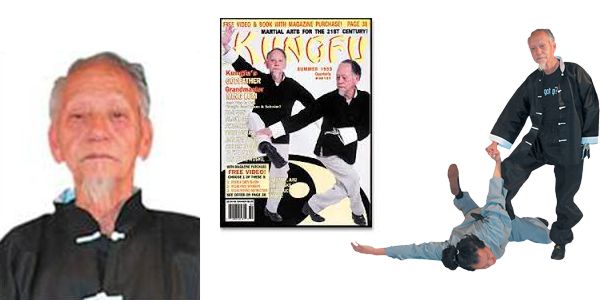 Grandmaster Ming Lum
1926 – November 5, 2011
On November 5, 2011, the martial world suffered the profound loss of a great treasure. Grandmaster Ming Lum passed away only a few weeks after celebrating his 85th birthday. A true scholar warrior, a gentleman, and an upstanding Grandmaster, his presence will be sorely missed. Grandmaster Ming Lum was featured on the cover of the sixth issue of Kung Fu Tai Chi. That was our Summer 1993 issue, back when we were still called Kungfu Wushu. The cover story, Ming Lum, Martial Arts Ambassador: Godfather to Two Generations, by Roger D. Hagood, was short but rare, as Grandmaster Ming Lum wasn't into promoting himself or boasting about his accolades. I can't remember exactly when I first met Ming Lum. It must have been sometime in the late '70s when I was competing in the San Francisco Bay Area. I remember seeing his prosthetic arm and thinking 'Wow, just like Mr. Han in Enter the Dragon!" (keep in mind I was a teenager back then). I also remember him approaching me at one of those early tournaments and asking about my style and teacher.
Back then, I was practicing Bak Sil Lum, a popular style of Shaolin kung fu at the time. Of course, he recognized my form. He had an encyclopedic knowledge of martial art styles and a keen eye for skill (although I doubt it was my skill, or lack thereof, he was looking at). He was very generous and encouraging, which meant a lot to me back then as this was long before I established any position in the martial world. I was no one, just another hack practitioner, a stranger with no connection to him. And yet, he took the time to offer a kind word of support. That was Grandmaster Ming Lum. Since then, I've been to countless tournaments in the Bay Area, and I cannot remember one where Grandmaster Ming Lum wasn't present. His ongoing support of the local martial arts community and his contribution to the advancement of martial arts in America are magnanimous and incalculable. Years later, Grandmaster Ming Lum would twist me in a finger lock and pin me down with his shoe. He was our 'got qi?' master for our 2002 September/October issue. Our 'got qi?' subscription campaign has been ongoing since 2001. Typically, our 'got qi?' master adopts a martial pose, but this was early in the campaign, and we were experimenting with different presentations. As any martial artist knows, there's a certain honesty when you actually touch hands, even with something totally staged. Some martial artists just have to inflict some pain on the uke (the fall guy). Grandmaster Ming Lum didn't go there with me and even seemed a little hesitant. He was very concerned with my safety, and to some degree, my dignity, which was very rare. I remember telling him it was fine – he could crank me until I tapped – but he just chuckled and said something about being easy on a Hawaiian 'bruddah' I'm not actually Hawaiian but my family is. Once Ming Lum learned this, he always remembered it as a bond between us. He exemplified the spirit of Aloha.
In 2006, we published Tea with Grandmasters: Pearls of Wisdom from Martial Pioneers Ralph Castro, Ming Lum, Al Novak and Wally Jay by Gigi Oh and me. It was such a delightful gathering of venerable masters that we had to document it, even if it was only a fraction of the wisdom and friendship they all imparted upon us that day. Sadly, Grandmaster Wally Jay also passed away earlier this year. I'm sure that the two Grandmasters are now sharing tea and war stories on some honored seat in Valhalla.
On October 22nd, Grandmaster Ming Lum celebrated his 85h birthday. Our publisher, Gigi Oh and the founder of Tiger Claw both attended to show their respects. We posted some photos of the celebration in our founder of Banquets album on our facebook site. The Ohs were away on a short vacation when they heard the sad news of his passing and sent the following thoughts on their respected friend. From Gigi Oh "Sifu Lum was a very down-to-earth person. He didn't talk much in the public, especially not in front of a microphone. But he was always there, helping and caring about the unity of the martial arts community. Two weeks ago, in the celebration of his 85th birthday party, sifu, sensei & masters of various styles such as kung fu, kenpo, judo, jujitsu, and others, all came from different parts of country join together to celebrate. He has been a long time supporter of Tiger Claw and Kung Fu Tai Chi Magazine. I don't know how many tournaments he went to. All the tournaments that I went to, I always saw him there. And brought boxes of the best, tastiest cha siu bao (Chinese BBQ) and other dianxin (dim sum) to share. He'd say, "Gigi, this is for you!" with a big grin on his face."
From Thomas Oh "It is a sad day for me, my family and the martial arts community. We lost our friend, Sifu Ming Lum, an ambassador for all sectors of Martial arts. Andy Ching introduced Sifu Lum to me 20 years ago. I've never seen anyone who has more likable personality. Sifu Lum was always willing to devote his time and energy to unite the martial arts community especially for kung fu, kenpo, kajukenbo and Hawaiian martial arts. Sifu Lum was a most respected person in San Francisco Chinatown and the Hawaiian Martial arts community. People always listened to what he say and followed what he does. I saw Sifu Lum at every martial arts tournament and special event. He was always showing his support of martial arts. Sifu, I know your heart is with us always. You just could not wait for our 20th year anniversary celebration of Kung Fu Tai Chi magazine. Whenever I go to the tournament, there will be always an empty spot. Your spirit will stay with me always. We miss you, Sifu."