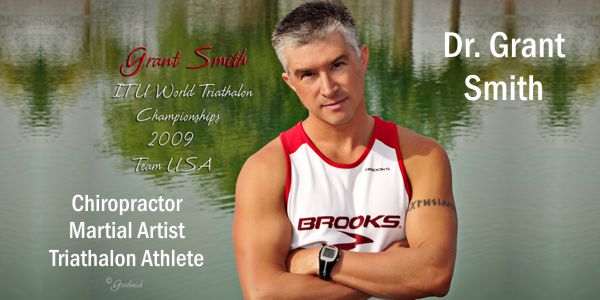 Dr. Grant Smith holds a doctorate in Chiropractic from Life Chiropractic College West in Hayward, California in 1995. He also has Fellowship and is a Diplomat with the International Academy of Medical Acupuncture. Currently practicing in Fountain Hills, Arizona where he and his wife, Tralonie, also know as; Miss Tee have their martial arts studio.
Dr. Smith is an elite triathlete and has competed in over 100 triathlons that combine swimming, biking and running into a single event. He has been a member of Team USA 2009-2010 and has competed internationally as well as being a multiple Ironman finisher which consists of a 2.4 mile swim, 112 mile bike and a 26.2 marathon run in a single day. In his former career Dr. Smith was a professional racquetball player and was on the pro tour for many years in the late 1990's. He also served as a columnist and health advisor for Racquetball Magazine and is now a health and fitness columnist for Taekwondo Times Magazine.
Dr. Smith is also the president of the Yun Moo Kwan Association of Korean Martial Arts Schools and holds a 7th Dan Black Belt in Hapkido and 5th Dan in WTF Taekwondo and is a Certified Instructor of Kali Combat. Currently, Master Smith travels around the U.S. training in the Pekiti Tirsha Kali tactical combat system and still runs a successful martial arts school in Fountain Hills, Arizona.
Dr. Smith is also an author of 2 fictional novels. Find his published works on Amazon.com under Grant Patrick Smith. Grant Smith has spent a lifetime in athletics and has dedicated his career to help others obtain their fitness goals and healthy lifestyles.
To contact Grant Smith or Fountain Hills Martial Arts visit their listing on the Martial Arts Schools & Businesses Directory at FindADojo.com by clicking on the image on the left.