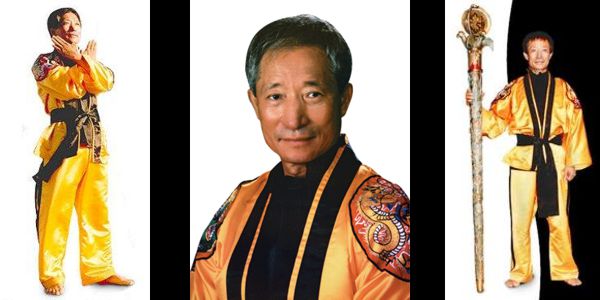 Haeng-Ung Lee was born in Manchuria, China on July 20, 1936, and soon after World War II, his family relocated in Korea. Beginning his martial arts training in 1953, he received his first degree Black Belt in 1954. He graduated from high school and entered the Korean Army as a Taekwondo trainer for special troops in 1956. He retired from the army three years later to open a Taekwondo school at Osan Air Force Base.
While teaching at his school on the military base, Grand Master Lee met and trained American serviceman Richard Reed. When it came time for Reed to return to the states, he invited Grand Master Lee to join him. Grand Master came to the United States in 1962, established himself as a Taekwondo instructor in Omaha, Nebraska where he and (now) Senior Master Reed became partners in a martial arts school, and became a U.S. citizen in 1973. In 1969, he founded the American Taekwondo Association (ATA). Taekwondo schools began opening all over the country. During his years in Omaha, Grand Master wrote the first instructor manual which was introduced in 1973. This manual provided information and procedures that standardized the inner workings of each ATA school.
In 1976, the first of many Grand Nationals, now known as the Songahm Taekwondo World Championships, was held in Omaha. In 1977, the ATA was relocated to Little Rock, Arkansas, where an average of 200 Taekwondo students annually were completing their instructor certification. It was in 1980 that Grand Master Lee and the ATA achieved another first in the martial arts field by introducing a computerized record-keeping system. This innovation made it quick and reliable to keep the rank history as well as other pertinent information about the many, many thousands of members of the ATA. To increase the opportunity for communication with Grand Master Lee and other staff members, Grand Master had a toll-free telephone number installed for school owners and members to use. Also in 1980, the ATA started its first ongoing publication. Beginning with a tabloid entitled "ATA News," Grand Master has continued to change and improve the publication to what we know today as "The Way of Traditional Taekwondo." This is a quarterly magazine that keeps the Songahm Taekwondo students around the world informed on upcoming events, apprised of new programs, and up-to-date with articles on the physical and mental aspects of Songahm Taekwondo.
With the growing number of schools in the ATA, Grand Master Lee recognized that to help support all the new school owners and to enhance their ability to succeed, business support was going to be very important. In 1978, Grand Master Lee introduced the first ATA School Operations Manual and started to provide more professional and complete business support. This support has continued to grow and expand through the years. January of 1998 saw the birth of the ATA Black Belt Academy Franchise (please see other pages on this site for more information).
Through the early years of the ATA, the Chang Hun style of forms (used by the International Taekwondo Federation) was used as part of the curriculum. Even though this style was widely accepted in the Taekwondo community, Grand Master Lee knew that these forms were strongly influenced by the Japanese style of martial arts and did not truly reflect Taekwondo or the strength and beauty of its kicking techniques. After much research and input from association seniors, Grand Master Lee introduced the Songahm style of Taekwondo to the world. It was a very early Saturday morning, August 13, 1983 atop Songahm Mountain in Arkansas that Grand Master Lee taught the first group of 300 masters and instructors Songahm #1, Songahm #2, and Songahm #3.
Through the next couple of years, higher rank forms were introduced at major events until the system of Songahm Taekwondo was completed with a total of 18 different forms. One of the unique characteristics of the Songahm style of Taekwondo is that when the pattern of each form is laid atop each other, it creates the Songahm Star. This is an eight pointed star with a ninth point in the center. This star touches all the major direction points and when the points are connected, it forms a perfect circle. A perfect circle is representative of every person's goal: perfection. Even though we can never truly achieve perfection, through hard work, perseverance, and a continual thirst for self-improvement, we can make progress toward this goal. Another significant aspect of the Songahm forms and the patterns that they make is that each form ends in the same place that it begins. This represents many facets of our lives. We start each day at home and end each day at home. We come into this world to our parents (or family) and during great times and down times, we return to our parents (or family). Our lives are governed by a path, that has a beginning point and the same ending point.
In 1987 another first occurred when Grand Master Haeng-Ung Lee took 203 masters and instructors to the birthplace of Taekwondo, Korea, for an instructors educational camp which lasted ten days at Haein Temple. During the trip, these instructors were able to visit many important and beautiful sites as well as receive special training on the very ground that Taekwondo originated. Another Korean camp took place in 1991. On this trip, the instructors were afforded the opportunity to visit the famous "Tiger" Division military base. Each year during April, Grand Master takes a group of instructors and students to visit Korea during the time of the Choong Moo Memorial event. This is a very special day to the Koreans to the extent that even the President of South Korea attends the yearly ceremony. It was during this trip in 1991 that Grand Master Lee and the ATA donated a monument to the Choong Moo Memorial Center. Through fund-raising efforts, the members of the ATA were able to show their respect for this famous Korean military general with a one of a kind, nine foot tall by four foot wide beautiful rock monument which stands on the Center's grounds today. This trip is still available every year and students who are interested in attending can visit with their instructor to get information.
In 1990, then Master H.U. Lee, tested before his Songahm family for the distinguished rank of 9th Degree Black Belt. A petition was signed by over 100,000 members of the ATA for Master Lee to be honored with the title of Grand Master. The year of 1990 was significant because it marked the completion of the development of the 17 Songahm Taekwondo forms that would take a student from White Belt through testing for 9th Degree Black Belt. It had taken Grand Master Lee 20 years to complete this part of his vision for traditional Taekwondo. Let it be understood by all that Grand Master was not "given" this title, he earned it. Grand Master H.U. Lee is now heralded by the world to be the first and only Master in history to acquire the rank and honor of 9th degree Grand Master under public documentation
The ATA helps numerous charitable organizations, especially the Muscular Dystrophy Association. For three consecutive years – 1987, 1988, and 1989 – the ATA received the Muscular Dystrophy Association Award and has donated over $1.5 million to help fight the illness. ATA fund-raisers are also held for the D.A.R.E. Program, Arkansas Children's Hospital, and Arkansas Special Olympics. Grand Master Lee is also involved in the Sister City Program between Little Rock and Hanam City, Korea. Currently, Grand Master Lee and the ATA are working with the Susan G. Komen Breast Cancer Foundation in their fight against breast cancer.
In 1991 the H.U. Lee Scholarship Foundation was established to help deserving young adults pay for their college tuition. The ATA members themselves have been raising and donating money to this foundation through fund-raisers and other activities. Each year at the Songahm Taekwondo World Championships, these scholarships are presented and at this past years event, over $8,000 was awarded to worthy High School seniors that showed dedication both to their academic career and their Taekwondo career.
In 1999, Grand Master Lee once again acted on his motto, "Today not possible, Tomorrow possible," when he escorted a group of instructors to the communist state of North Korea. He is recognized by state officials as being one to help bring peace between the two Koreas. The President of Korea, Dae Jung Kim awarded Grand Master Lee with the highest Humanitarian Award possible, and the President of the United States, Bill Clinton, sanctioned close advisor, Mayor Jim Dailey, to messenger a personal letter to the family of ATA at Grand Master Lee's funeral.
In 1992, Grand Master Lee introduced a series of books called "The Way of Traditional Taekwondo." The first volume to be introduced was the White Belt book. This was followed by the Orange Belt book, then the Philosophy and Traditions book. (At this time, the volumes through and including the First Degree Black Belt book are available. When completed, this series of books will offer the student a complete library of forms, one-steps, and self-defense techniques from White Belt to 9th Degree Black Belt, plus the much needed information of each technique and how it is to be properly executed. In 1997, a video series to complement these books was started. The set of videos is completed up through and including the Red belt video. These books and videos are available through any ATA affiliated school or club.
In 1988, Grand Master Haeng-Ung Lee received the High Profile Award from Arkansas Business. Through the years he has also received other honors including Key of the City Awards from Omaha, Nebraska; Corpus Christi, Texas; Little Rock, Arkansas; Evansville, Indiana; Tallahassee, Florida; and Panama City, Florida. Because of his support of the city of Little Rock with his many civic activities and the impact that the Songahm Taekwondo World Championships has on this city, the Little Rock Convention and Visitor's Bureau has presented Grand Master with the Kaleidoscope Award in 1994 and the Crystal Award in 1996. Recently, Grand Master Lee was presented with the most prestigious Highest Profile Award of any Korean outside of Korea by the President of the Republic of Korea (1996); and was the recipient of the Korean Broadcasting System's Cultural Promotion Award (1997) which is valued at approximately $100,000. In November of 1997, Grand Master Lee was named to the Arkansas Athletic Commission. In 1999, after being a nominee for several years, the ATA and Grand Master Lee were awarded the prestigious Arkansas Business of the Year Award by the state of Arkansas.
Grand Master H.U. Lee's personal motto, "Today not Possible, Tomorrow Possible," has made him successful in many ways. The international media recognized his prestigious feats as a human being and his humanitarian efforts. The Korean media has produced many shows and full-length documentaries, including the award winning "Success Story," by KBS on the life and achievements of Grand Master Lee. In the United States, he made appearances on many news programs and talk shows including "Live With Regis and Kathy Lee!," The Jerry Lee Lewis Show, and ABC's "Good Morning America." His son, L. Taekwon Lee produced and finished a full hour documentary film on Grand Master Lee's life and the story of the ATA titled "Today Not Possible, Tomorrow Possible," which has not been released to the public. He is now in the works of producing a full-length feature film on his legendary father.
After 64 years of humanitarian efforts and achievements, Grand Master Haeng-Ung Lee passed away on October 5, 2000 after a valiant battle against cancer. Over 3,000 students and members of his international family gathered in his beloved hometown of Little Rock, Arkansas to wish him farewell at his beautiful funeral ceremony. Grand Master Lee is survived by his wife Mrs. Sun Cha Lee and four children, David, Flora, Lisa, and L. Taekwon. Many Grand Masters of martial arts including Grand Master Joon Rhee and Grand Master Bong Soo Han, gathered to pay respect to Grand Master H.U. Lee They formally sanctioned a petition to elevate the Songahm Grand Master to 10th degree Black Belt, Eternal Grand Master, the highest position attainable outside the philosophy of Songahm Taekwondo. The American Taekwondo Association is inherited by the hundreds of thousands of students across the world and overseen by the ATA Business Council and the Master's Council, whose members were hand selected, and foundations were formed by the Eternal Grand Master of Taekwondo, Haeng Ung Lee.
Grand Master Soon Ho Lee became Grand Master Emeritus of the ATA organization from 2001 – 2011. Youngest bother, Grand Master In Ho Lee took over from 2011 – 2018 and then Grand Master G.K. Lee was promoted to Presiding Grand Master beginning in 2019.
Contact current Presiding Grand Master G.K. Lee and the ATA International organization through their listing on the Martial Arts Schools & Businesses Directory or FindADojo.com by clicking on the image on the left.