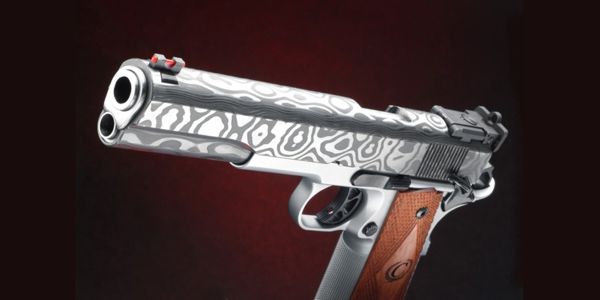 Terry Tussey at the helm of Tussey Custom, is well known to GUNS readers. His classical styled yet modern and supremely functional pistols have built his reputation.
Tussey guns work, and are nice to look at, to boot. His custom pistols for actor Steven Seagal are well handled in Seagal's movies and are a testimony to Tussey's reputation for quality. Segal could have any gun he wishes, but maintains high standards. Hence his return to Tussey Custom for project after project.
Tussey said "You've got a 100 percent piece of machinery with existing Caspian slides. The quality is already there. What do gain with damascus? Why, the look, of course. Classic, timeless and instantly appealing. If somebody has to expalin why you need one, then you don't need one."
Damascus was no more difficult to machine than other steels, Tussey said, but quickly added he was only doing light finish work. Rough machining may affect tooling, hence the learning curve Caspian followed to refine their techniques.
Tussey said the slide required minimum fitting and was typical of the excellent tolerances Caspian usually holds in their slides and frames.
A match barrel, Videki trigger, polished allen grip screws, polished and blued bits and pieces and the polished hard chromed S&A magazine guide helped to complete the package. The frame came with the factory checkering and was hard chromed in typical Tussey fashion.
Tussey pointed out the tiny divot under the grip on the frame. He said it was a final Rockwell test that Caspian does on every frame and slide during final inspection. A classy touch.
Tussey said the gun went together easily, almost like it was helping him along. "Things just seemed to fit. There were no problems, no unforeseen grinding, filing or glitches. It was a real pleasure to create and a nice change of place in design and look."
Terry guarantees his guns to shoot under 1″ at 25 yards. While a moot point with this piece, it is nice to know it can.
Hath Crafted A Weapon of Knightly Prowess
By Roy Huntington
GUNS Magazine
March 1998