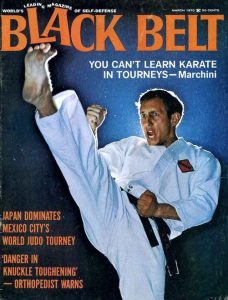 Ron Marchini was born in Stockton, California. He is an American karate instructor, champion, and promoter who earned Black Belt Magazine's #1 competitor ranking in 1969 and 1970.
Ron began training in 1964 in Renbukai Karate in Gordan Kennedy's school in Stockton, California. Four years later Ron would go to Japan as the first non-Japanese to study Renbukai Karate in Japan for an extended period of time. He studied with Gordan Kennedy's instructor, Masayuki Koide, earning his 4th degree Black Belt (Yon Dan) and became a Renbukai Karate champion tournament fighter in the late 1960s and early 1970s. He was ranked in the top 3 competitors from 1968 through his retirement in 1972.
In May 1964, at Takayuki Kubota's All-Stars Tournament in Los Angeles, California, Ron fought Chuck Norris, and Chuck earned his first martial arts tournament championship by defeating Marchini by a half a point.
Among Ron's many victories were the grand championships at the 1968 North American Tournament of Champions and at the 1971 National Black Belt Championships, and he won the middleweight title of the 1971 World Pro/Am Championships. He also won the 1965 Western Karate Championships, 1966-68 California Karate Championships, and 1967 Pacific Coast Invitational.
Ron was a U.S. team member at the 1st and 2nd World Championships and was subsequently the coach for the U.S. team. Ron Marchini's ability as an instructor and referee earned him seven Golden Fist awards.
Ron is a member of the Who's Who in the Martial Arts and has co-promoted several West Coast tournaments.
Ron Marchini and Leo Fong owned three Renbukai Karate schools together and they co-authored numerous books including Power Training for Kung-Fu and Karate (1974), and wrote and published a series of Rembukai books. He is the only licensed Rembukai Karate instructor in the United States.
Ron Marchini starred in numerous martial arts films.