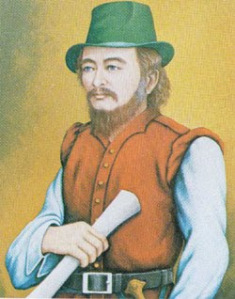 The first Englishman to be made a Samurai was William Adams (read his Wikipedia page) in the 1600s. But Adams was a one-off. He did not begin an Anglo-Japanese tradition. The English-Japanese tradition of the 1600s began and ended with Adams.
It was not until the late 1800s that Japanese sharing their culture with Brits and vice versa became more common-place. Likewise I have made the point in other articles that since cities like Liverpool had Chinatowns dating back hundreds of years, it is not inconceivable that there may have been occasional pockets of Chinese or even Japanese families teaching martial arts in Britain but if so these were not widely known.
For example my own great-great grandfather August Nilsson (my mother's father's father's father) came to England from Sweden in around 1890. August had sons born in the 1890s (including my great grandfather William Henry) and August taught his sons to box. August was the son of Nils Johann and he of Johannes and he of Nils. From around 1780-1805, Nils was stationed in Okinawa with the Swedish East India Trading Company where his cargo was guarded by one Satunuku Sakugawa, a renowned Karate master. If the boxing August taught his sons was derived from his great grandfather's adventures in Okinawa then we could argue this is an early instance of British Karate, but we will not. For the purposes of this essay we will look only at officially taught martial arts. Similarly my great great great grandfather Herve Briant (my father's mother's mother's father's father) came to England from France in the 1850s. Herve was a member of Napolean III's royal Navy at a time the French sent ships to China and Japan – this was the origin of the martial art of Chausson (a type of Savate) as French sailors learnt bits of Kung Fu on their travels. However these are simply examples of small family anecdotes and not widely taught organised martial arts.
1892 is an excellent starting point. That year a Mr Takashima Shidachi gave a Jujutsu demonstration in London for the Jujutsu society and that same year Rudyard Kipling wrote about British sailors in Yokohama encountering the Meiji police.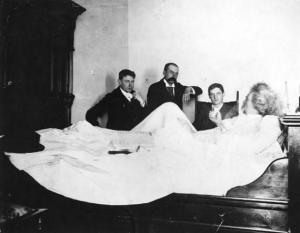 In 1897, Manchester newspaper sub editor Ernest J Harrison arrived in Yokohama and was accepted into the Tenjin Shinyo Ryu school of Jujutsu, one of the principal styles that influenced the development of Kodokan Judo. EJ Harrison subsequently became the first western Judo Black Belt,
In 1898, Edward William Barton-Wright, a British engineer who had spent the previous three years living in Japan and studying the Shinden Fudo Ryu in Kobe, returned to England and announced the formation of a "New Art of Self Defence". This art, he claimed, combined the best elements of a range of fighting styles into a unified whole, which he had named Bartitsu (Barton-Jujutsu). He combined Jujutsu with English boxing, French Savate, French cane fighting and more to create an Edwardian self defense method. Bartitsu was immortalized by Sherlocks Holmes who practiced "Baritsu".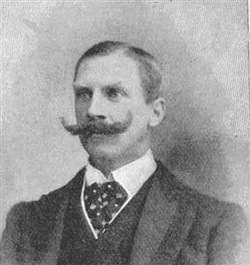 He arranged for Japanese master Yukio Tani (perhaps from the Fusen Ryu) to come to England. At the time the equivalent of the proverbial "Britain's Got Talent" was the music hall shows. Customers might see a strongman like William "Apollo" Bankier, a Jujutsu man like Tani, a wrestler like George Hackenschmidt or some combination – the Jujutsu and wrestlers would challenge members of the audience and put on a show stretching them.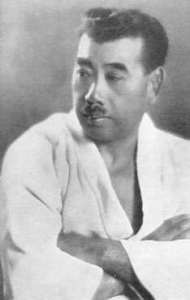 In 1900 Sanda Uyenishi arrived in England from the Tenjin Shinyo Ryu and by 1904 joined with Tani in establishing a Jujutsu school.
We should not so far I have only mentioned Jujutsu/Judo. At this point Karate and Aikido had not even been introduced to Japan, much less England so it is much later we will catch up with these arts.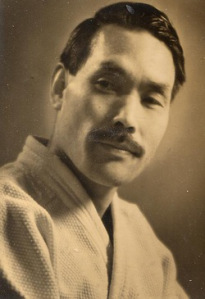 In 1906 Gunji Koizumi left Japan and sailed via Bombay and North Wales to Liverpool. There he saw advertised the post of chief instructor to Kara Ashikaga's school of Jujutsu. Mr Ashikaga never materialised but Koizumi briefly took up teaching and was the north of England's first known martial arts school.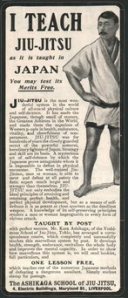 In these early days a few books were written on the subject. William Garrud wrote "The Complete Jujitsuan" in 1914, Bruce Sutherland wrote "Jiu Jitsu Self Defense" in 1916 and Leopold McLaglen in 1918. Harry Hunter, a Lancashire police unarmed combat instructor stationed in Yokohama in 1904 also wrote Super Jujitsu.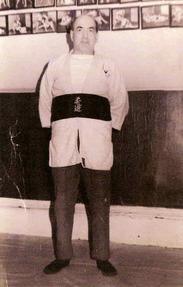 In 1918 Gunji Koizumi created the Budokwai as a society to teach Jujutsu, Kendo and other Japanese arts to members of the public. He founded a dojo at 15 Lower Grosvenor Place, Victoria, London SW1 and the club official opened on Saturday, January 26, 1918 with 12 members, making it the oldest judo club in Europe. It is also the oldest Japanese martial arts club in Europe. The first 36 members were Japanese, the first English man didn't join until March. Koizumi became the first president of the Budokwai and Yukio Tani the first chief judo instructor.
In July 1920, Dr. Jigoro Kano (the founder of Judo) visited Britain and the Budokwai for the first time, he was accompanied by Hikoichi Aida who stayed in Britain and instructed at the Budokwai for two years. A member named Tanabe received his first Dan, becoming the Budokwai's first home-grown black belt. Tani and Koizumi were promoted to Nidan, despite technically never having studied Judo, but clearly their Jujutsu was up to par. Professor Jack Britten was a London born student of Yukio Tani who moved to Liverpool in about 1920. He established the Alpha Jujutsu school in the Kensington area.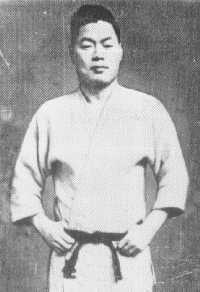 In 1928 another Japanese master came to England. His name was Mikonosuke Kawaishi. Like Koizumi and Tani he was originally a Jujutsu man who later converted to Judo. He had studied under a master named Yoshida Kotaro who was hereditary grandmaster of Yanagi Ryu (a branch of Yoshin Ryu Hakuda or Jujutsu) who was also one of the top students of Daito Ryu headteacher Takeda Sokaku. Kotaro famously introduced Takeda to his most famous student Morihei Ueshiba, later the founder of Aikido. Kawaishi also studied Judo with Isogai Hajime.
It is said the Judo of Kawaishi was that taught in Kyoto (Dai Nippon Butokukai) which differed from the Kodokan Judo of Tokyo.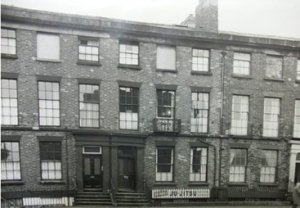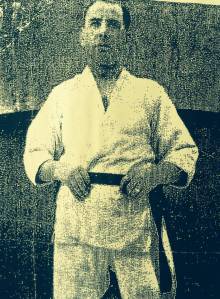 Kawaishi began teaching in Liverpool, and like Tani he subsidized his income by acting as a professional wrestler, named Matsuda. He taught his Jujutsu, Aikijujutsu and Judo to a small group of students, the only name of which we know is Gerald Skyner who established the Kawaishi Ryu, sometimes called Hanaku Ryu in Liverpool.
The spread of Jujutsu in England naturally stagnated during 1939-1945, but in this time many members of the merchant navy sailed to places like Japan and Singapore and brought back with them exotic methods of pugilism. My great uncle Bill Nelson (my mother's father's brother) was in the Merchant Navy during WWII and achieved black belt under professor Skyner and my great uncle Ted Molloy (my mother's mother's brother) sailed to Japan and China as a master of arms in the Royal Navy.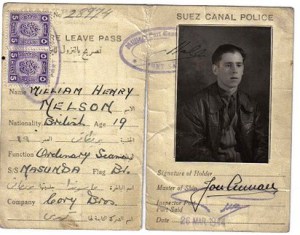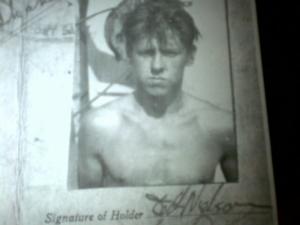 One such Jujutsu school was run by the Blundell brothers, Jim and Bernie. This school eventually became the British Ju Jitsu Association and the country's sports council recognized governing body. Joining with the likes of Robert Clarke (student of Jack Britten) it gave rise to the World Ju Jitsu Federation. However that would not be for a few decades. In the 1950s, the Blundells' school of Jujutsu was a local Liverpool based affair. In 1959 or so my father David Keegan and my uncle Paul Keegan began training under Bernie Blundell in Kirkby. By this time however martial arts were not quite as rare as they once were and in fact by this point there were already the arts of Karate and Aikido being taught in the country. We will now go back in time just a few years to the early 1950s and the birth of European Karate.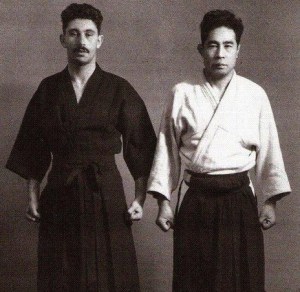 The first Europeans to study Karate were a Frenchman, Claude Urvois and a French-Algerian Jean 'Jim' Alcheik who trained in Shizuoka, Japan at the Yoseikan Dojo of Minoru Mochizuki, a master who has studied all of the main Japanese martial arts (mostly with the founder of each of these arts no less) and they convinced Mochizuki to introduce the arts of Karate and Aikido to Europe.
Urvois and Alcheik joined with their friend, Judo instructor Henri Plee in establishing a base for European Karate and on July 12 1956, his son Hiroo Mochizuki arrived in Paris, later followed by Mitsuhiro Kondo to Switzerland, Shoji Sugiyama to Italy and Tetsuji Murikami, who would end up in England.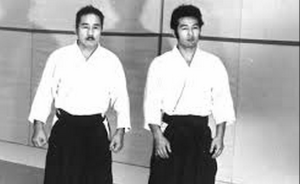 Vernon Bell, a 3rd Dan Judo instructor under instructors like Kenshiro Abbe, began corresponding with Henri Plee and attending his classes in France, soon after Bell started what would today be called a "study group" at the tennis courts of his parents' back garden. We should note this was around eight years before Japanese masters like Kanazawa, Enoeda and Suzuki ever came to this country.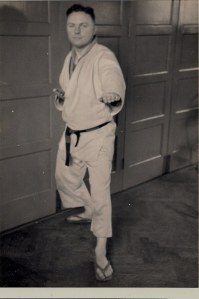 Vernon Bell was adept at Jujutsu, Judo and to some degree Aikido before ever studying with the Yoseikan, so we may also assume these skills will have been transferable to his Karate to some degree. Bell was awarded 1st Dan after 18 months of study on March 13 1957, dated on his certificate April 1 1957. He was awarded his 2nd Dan on July 19 1959 under Tetsuji Murikami. Bell's group was called the British Karate Federation.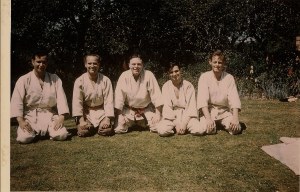 Vernon Bell's first Karate students on record were: Dennis Clarke (the earliest recorded on August 18 1956), Michael Manning and Gerald Tucker as well as a D Blake and P Byron. In this very first year other students included D Brandon, B Dolan, D Dyer, Kenneth Elliott, B Miles, Alex Pearson and Trevor Guilfoyle.
Michael Manning told me:
"I started having Judo lessons under Vernon at Thurrock Technical College in 1955, I was 18 years old. Things were very basic, coconut mat and a canvas sheet…. I finally reached the dizzy heights of 3rd Kyu. Mr Bell asked me if I would like to have Jujutsu lessons. He wouldn't teach anybody [Jujutsu] below green belt [in Judo]. I jumped at the chance….

"Mainly our Jujutsu lessons consisted of a few basic locks, a few trips and sometimes a glimpse of Atemi Waza. It was this 'dirty fighting' that drew me in…. One morning Mr Bell sowed us a scratchy film about Karate…. He had been visiting a Dojo in Paris…"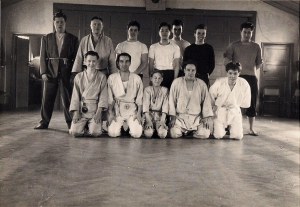 On April 30 1957, at Maybush Road, Vernon Bell awarded the grade of 6th Kyu to Trevor Guilfoyle and Gerald Tucker. This was the first British Karate grading. On May 31 1957, at Maybush Road, Vernon Bell awarded the grade of 6th Kyu to Michael Manning, P Byron, DF Clarke and Ken Elliott.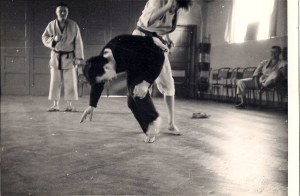 Michael Manning said:
"We were really stumbling around in the dark. Vernon would make weekly visits to Henri Plee's Dojo in Paris, come back and pass on what he had learned…. Vernon would be so badly bruised he could only walk with a stick."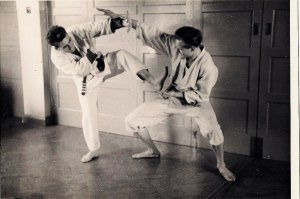 On July 19 1957, Vietnamese Hoang Nam 3rd Dan (presumed to have studied some Kung Fu-like art prior to Karate and was billed as "Karate champion of Indo China") taught his first class at Maybush Road. Nam was the first "oriental Karate master" to come to England.
Michael Manning said:
"It was an eye-opening experience… Nam was very small, very lithe and most polite. He made allowances for our lack of even the most basic skills and it was a joy to learn from him."
On July 20, 1957, Hoang Nam, Vernon Bell and his senior students gave the first public display of Karate at a village fete in Ilford.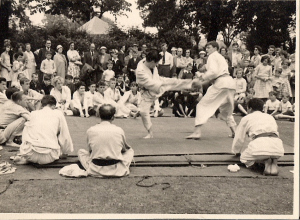 Manning was the first Karate brown belt in Britain. He was awarded 2nd Kyu on July 19 1959 and 1st Kyu on February 1 1960. Three years after Michael Manning was awarded 1st Kyu by Vernon Bell, Tetsuji Murakami awarded the grade of 1st Kyu to Terry Wingrove and Jimmy Neal.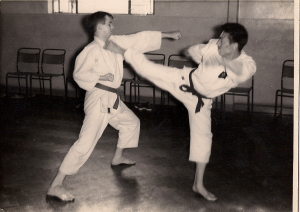 In applying for Manning's 1st Kyu, Vernon Bell wrote to Minoru Mochizuki directly saying:
"He is in charge of beginner's classes and was graded to 2nd Kyu by Mr Murakami on July 18 1959. He has been doing Karate for four years regularly every week and has good execution of all five ippon and sanbon kata and the first three Pinan Kata. He can defeat six lower kyu grades in succession in Shiai and his technique is very good."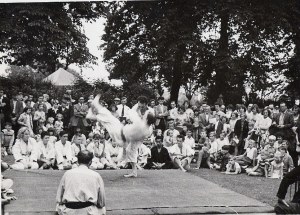 The first Karate summer school was held at the Ippon Judo Club, Scarborough, above the Imperial Hotel in September 7th-12th 1959. It was funded by Judo enthusiast and local business magnate Peter Jaconelli. Tetsuji Murakami taught the seminar.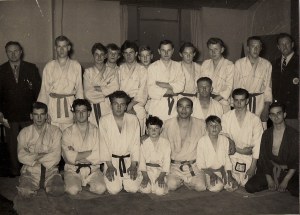 Karate's second location after Essex/London was Liverpool. The Liverpool branch of the British Karate Federation was set up by Frederick Gille in around 1959 and officially recognized in 1961. Training was at Harold House Jewish Boys Club in Chatham Street before relocating to the YMCA in Everton where it became known as the Red Triangle. Early members included Andy Sherry who had previously studied Jujutsu with Jack Britten. My dad was a friend of one of Andy Sherry's blackbelts and used to go running and training with the Red Triangle. Another early student was Terry O'Neill whose father, a police officer had studied Jujutsu with Gerry Skyner.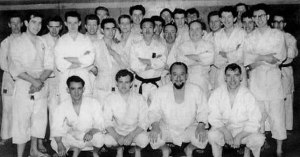 Edward Ainsworth, a blackbelt Judoka, set up the first Karate study group in Scotland having attended the third 'Karate Summer School' in 1961. The Dojo was at Auchen Larvie, Ayrshire.
Despite nearby BKF Dojos in Liverpool (such as the Red Triangle) it is thought that Karate was introduced to Manchester in around 1960 by Martin Stott who had no affiliation with Vernon Bell. It appears Stott had trained with a teacher in Paris called Tam Mytho (alternatively Tham Ny Tho) who may have been Vietnamese. Stott, it seems, corresponded with Bell in 1961 over affiliation but it appears this did not go ahead but Stott continued to teach anyway.
In an interview with Traditional Karate magazine the late Danny Connor who trained with Stott said:
"My father saw an advert for a Karate club opening in Ashton-Under-Lyne, and so I went along to this Judo club that was called Kyushindokwai. There, Martin Stott was teaching Karate, and so, at last, I learned how to pronounce that word. The mats at the club were a series of bedspreads with sheets pulled over them. I started training there, alongside Roy Stanhope, Tony Hudson… This was about 1960. I trained at the same club for three years, and then Martin invited me to be his partner and we moved to central Manchester and opened a gym there. Now at this time, we thought that you only had to know three katas to get your black belt. They were Kata One, Kata Two and Kata Three. There were no names! Somehow we located a book called 'What is Karate?' by Mas Oyama, and I used to hold the book while Roy Stanhope executed the katas that were in it."
Another notable Brit who had nothing to do with Bell's group was Charles Mack who was graded directly by the JKA. Charles Mack was graded 1st Dan Shotokan by Masatoshi Nakayama on March 4 1962 in Japan. His grading kata was Bassai Dai.
Shotokai Karate was introduced to England in 1963 by Mitsusuke Harada in 1963. Harada was graded 5th Dan, a very senior grade at the time, by Gichin Funakoshi himself.
Yoseikan inheritor Hiroo Mochizuki returned to Japan from France and studied Wado Ryu with the founder, so when he returned in about 1963 technically he introduced Wado Ryu to England. Officially however the art was introduced by Tatsuo Suzuki, a 6th Dan at the time in 1964. Among the first 1964 students of Tatsuo Suzuki were David 'Ticky' Donovan, John I Smith and Danny Connor. John I. Smith who studied Wado Ryu Karate under Tatsuo Suzuki from 1964, began teaching in London in 1968. He later joined with Danny Connor to devise a system of Karate called Bujinkai which included influences from Connor's Kung Fu training including Preying Mantis.
JKA Shotokan soon followed. Vernon Bell was ratified as a JKA blackbelt on February 5 1964 having corresponded with the JKA in Tokyo and relinquished his Yoseikan grade. Taiji Kase, Hirokazu Kanazawa, Keinosuke Enoeda and Hiroshi Shirai gave the first JKA demo at Kensington Town Hall on April 21 1965. Jack Green was awarded 2nd Kyu by master Kanazawa on June 24 1965; Andy Sherry and Joseph Chialton were graded 1st Kyu around the same time; and Eddie Whitcher and Robert Williams were awarded 1st Kyu in February 1966.
Andy Sherry and Joseph Chialton of the Red Triangle, Liverpool were graded 1st Dan by master Enoeda on February 10 1966 and Blackpool area instructor Jack Green around the same time. Sherry, Green and Whitcher were also the first to be graded 2nd Dan in 1967 at Crystal Palace. The first female blackbelt was Pauline Laville graded by Kanazawa in 1967.
As Yoseikan and Bell's "Tenjin Shinyo Ryu" were phased out in favour of Shotokan, Wado Ryu, Shotokai and the arts of Aikido and Judo, Paul Masters became one of the successors of Bell and subsequently mastered the official Tejin Shinyo Ryu in Japan.
Likewise Terry Wingrove went off to Japan where he studied Karate Jutsu and Yawara and worked for FAJKO.
1967 was the year Shukokai (Tani Ha Shito Ryu) was introduced to the UK. Scotland's Tommy Morris visited founder Chojiro Tani's Dojo in Kobe in 1967, some years before Terry Wingrove also trained there. Morris became Scotland's first blackbelt.
Phil Handyside, of Preston began studying Jujutsu/Judo in 1963, converting to Karate in around 1965 and beginning his training with Sadashige Kato. Mr Handyside subsequently trained with Hirokazu Kanazawa, Cyril Cummins, Tomita, Kawasoe and in the 1970s was instrumental in another art arriving in the UK – Budokan Karate.
Budokan Karate may be regarded as the newest of the old Karate styles. It was founded by a Malaysian (with a background in Malaysian martial arts and Chinese Kung Fu) named Chew Choo Soot whose teacher was trained in Kanken Toyama's Karate (Tomari Te) and Shotokan.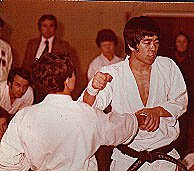 Mr Handyside as vice president of Karate Budokan International in the UK organised its first world championships in Preston. The president of KBI was Shihan M Newton originally of Yoseikan under Vernon Bell.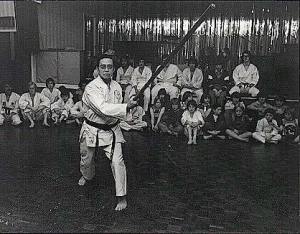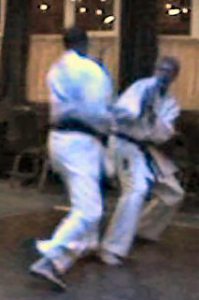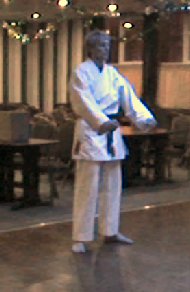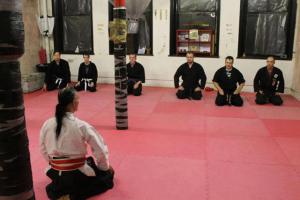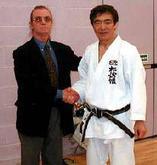 From Shotokan, Budokan and Jujutsu Mr Handyside formed Shobukan in 1973 and later one of his senior students Bob Carruthers, previously of Bujinkai taught under that banner.
Beginning informally with my dad, I subsequently trained in Karate with Stephen Bullough (from 9th Kyu to 1st Dan) who had studied Shotokan and Budokan among others; then with Bob Carruthers, and then I graded 5th Dan with Shihan Phil Handyside 8th Dan.