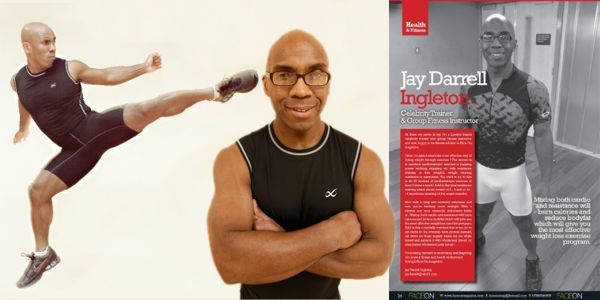 Jay Darrell Ingleton loves to be active and he has been active for most of my life. As a boy he represented his school in the 200 metres, shot put and long jump as well as playing for the rugby team. He has been involved in martial arts since he was 14 years old. He was introduced to a freestyle karate and hapkido mix by a school friend and this was his martial arts foundation. He then studied shaolin kung fu and then a system called five ancestors and then mugendo, his introduction to kick boxing. jay trained in wing chun and jujitsu for a little while before moving into muay thai (thai boxing). Much later he trained in submission wrestling and Brazilian Jiu-jitsu and today he considers himself a freestyle martial artist. He has run 8 marathons including 4 London events numerous 10km races and his fair share of half marathons and 25km road races. He has also run 4 English national cross country championships while running for Newham and Essex Beagels and Woodford Green Athletic Club. Jay's personal bests are 5 miles 28:31, 10 mile 1:00:09, half marathon 1:20:01 25km 1:37:51 marathon 3:14:12.
Jay Darrell Ingleton qualified as a group fitness instructor at the YMCA central London fitness instructor training headquarters in the late nineties and sharpened his instructor skills at the Nike Fitness Instructor Conventions and Fitness Professionals Conventions. He completed instructor training in Bodymax (weight training for group fitness) and Khai Bo (non contact martial art/boxing workout similar to tao bo). Later he added Keiser YMCA indoor cycling to his repertoire, all the while doing instructor training workshops which helped him pick up new ideas and methods.
Jay Darrell Ingleton's specialty is martial arts/boxing/muscular endurance/body conditioning and cardio based workouts as these are the types of workouts he has been doing for over 25 years as he studies martial arts. In this way he has made sure that everything he teaches has been tried and tested and refined many times over then adapted to the individual(s).
One of his personal great training moments was when he traveled to Simi Valley in California in 2006 to take part in a 3 day martial arts seminar called the Paradise Warrior Retreat. The Paradise Warrior Retreat brought together the great Gene 'judo' Lebell, undefeated kickboxing champion Benny 'the jet' Urquidez, former Pride MMA Middleweight Champion Dan Henderson, former UFC Lightweight Champion Pat Militech, Gokor Chivichyan and wing chun teacher Eric Oram. This was an experience that greatly enriched Jay on a personal and fitness instructor level and it will continue to influence how he trains and teaches.
Jay shared about another great training moment of his and that was training under the great american martial arts legend Joe Lewis at Seni 2010! He participated in Joe Lewis' hour seminar and along with talking to the great kickboxer, Don 'The Dragon' Wilson, he impressed me most with his knowledge and open views on martial arts in general. Jay wants to meet his childhood martial arts hero, Chuck Norris, who, along with a friend of his, Jeff Passmore, nicknamed Jay the Awesome Kicking Machine after watching a video of Jay working out.
Media wise Jay is open to anything that involves his martial arts/fitness either on camera or behind camera as a performer/actor or trainer/ adviser! He used his boxing ability for a professional IBM video so he has onscreen experience. He is also open to writing fitness/martial arts columns for either magazines or papers! His first fitness column was for issue 3 of Face On Magazine which is a UK based magazine.
To win is to try and succeed
To learn is to try and fail
To lose is to not try at all
"I believe you have one life, so live it as well as you can be," says Jay Darrell Ingleton.