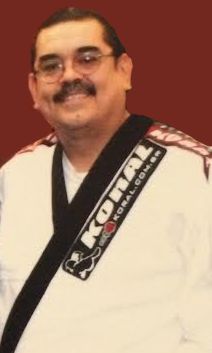 John Castillo, is the Brazilian Jiu-jitsu instructor at Brazilian Jiu-jitsu of Wichita Kansas. He has been studying Brazilian Jiu-jitsu for more than 12 years.
He trained under Robert Epperson, "Jacare" Calvalcanti, Ralph Gracie, Pedro Saure and students from their schools, Haroldo Bunn, Leondro Borgo, Allan Hopkins, and most recently, Renato Tavares.
John Castillo is also an instructor in the Israeli system of Kapap/Lotar under Major Avi Nardia, a member of Israel's Elite Yamam Unit. John and Avi conducted a program for the 2-34 AR Division at Fort Riley Kansas in 2004 and the division benefited tremendously from the training.
As of May 2005 John Castillo received his level II instructorship in Israeli Combat Survival from Moni Aizik, a former member of Israel's Sayeret Commando Unit and former instructor for Avi Nardia.
INSTRUCTIONAL EXPERIENCE:
Instructor Brazilian Jiu-jitsu Of Wichita 2004 – Current Wichita, Kansas
Instructor for Brazilian Jiu-jitsu of Wichita, contact Vince Pernice, 316-788-4458
Instructor in Brazilian Jiu-jitsu under Renato Tavares of Ft. Lauderdale, Florida, 954-425-0705
Instructor in Kapap/Lotar System, Israeli system that emphasizes self-defense in counter-terrorism settings under Major Avi Nardia, 310-379-8796
Instructor in Israeli Combat Survivial/Commando Krav Maga, Israeli system that emphasizes self-defense, under Moni Aizik, 905-760-1110
Instructor/k-2 Academy 2001 – 2004 Wichita, Kansas
Civilian Combative Instructor for 2-34 AR at Fort Riley Kansas, to be deployed in Iraq, Contact Captain Michael Dorschner, 785-239-5759
Civilian Shooting Instructor for Geary County Sheriff's Department, Contact Sandy Popovich, 785-238-2261
Instructor for K-I Academy, Contact Vince Pernice, home, 310-788-4458, cell 310-250-2017
Instructor in Brazilian Jiu-jitsu under Eric Williams of Houston Texas, 281-216-4226
Instructor in Kapap/Lotar System, Israeli system that emphasizes self-defense in counter-terrorism settings under Major Avi Nardia, 310-379-8796
Developed grappling program for Wichita Police Department currently taught to 200 officers in strike avoidance, control techniques from dominant position, escape and reversals from compromised positions and self-defense techniques
Instructor in adult and children's self-defense classes with emphasis on surviving street altercations
Conducted seminars for Cutting Edge Martial Arts in Joplin Missouri, Ray Kellison 417-396-1733
Proprieter – Owner The Martial Arts Complex 1998 – 2000 Wichita, Kansas
Managed business, maintain business records, accounting, head instructor, supervised three additional instructors.
Conducted marketing and public relations.
Developed security programs and anti-rape seminars, instructed adult and children's self-defense courses
Trained USWF Shoot fighting Champion and Competition Team Coach.
Trained under Pedro Sauer, Jacare Calvalcanti, Ralph Gracie, Rickson Gracie, Sensei Robert Epperson
Instructed Aikido, Muay Thai and Tae Kwon Do instructors in ground grappling
Conducted Seminars for Miller Black Belt Academy, Omaha Nebraska, Brian Potter 402-895-4414 and locally
CERTIFICATIONS AND AWARDS:
Wichita Police Department – Private Police Training Course
Wichita Fire Department – Fire Brigade Training
Executive Security International – Certified Protection Specialist
Edge Combat Fitness – Combat Survival Level II Instructor
Lotar International – Certified Lotar Instructor
Black Belt, 1st Dan, Jiu-jitsu – World Organization of Martial Arts
Black Belt, 4th Dan, Israeli Krav Maga – Chaim Peer
Fort Riley Kansas, 2-34 AR – Certificate of Appreciation