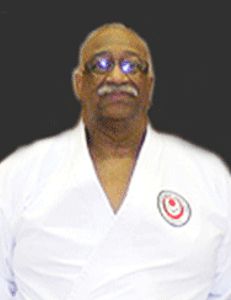 John Roseberry Shihan founder and chief instructor of the Shorei Shobu Kan organization with headquarters in Lincoln, Nebraska has been training in Judo and Karate since 1955. He studied in Okinawa, Judo primarily under Matsumoto Sensei and Karate under one of the senior students of Goju Ryu's founder Chojun Miyagi Sensei, Seikichi Toguchi Sensei.
During the many years that John Roseberry Shihan lived in Okinawa serving the U.S. Marine Corps, he also trained Judo at the Naha Police Academy under another of the senior students of Chojun Miyagi Sensei, Ei'ichi Miyazato Sensei. He has trained at the Kodokan in Japan, as well as in China and Korea. Roseberry Shihan teaches Okinawan Goju-Ryu Karate, Kodokan Judo and Aikido.
John Roseberry Shihan presently holds an 10th degree Black Belt in Okinawan Goju-Ryu Karated, 8th degree Black Belt in Judo, a 5th degree Black Belt in Daitoryu Aikijujitsu and a 3rd degree Black Belt in Aikido.
Roseberry Shihan served as an alternate to the 1964 U.S. Olympic Judo Team, was All-Marine Corps Champion seven times, All-Service Champion three times and was the only American to capture the All-Okinawan Judo Championship.