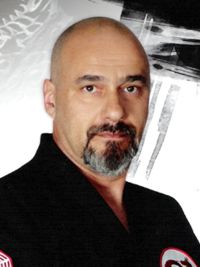 Sijo John Oliva is the Head Instructor and Owner of Twin Dragon Kung Fu Academy, Inc. He has been a student of the martial arts for the past 40 years instructing students for over 32 years. He holds the rank of 6th Dan in Kochi Kali Kar which encompasses the disciplines of Wing Chung, Hung-Gar Kung Fu (5 Animal System) and Kali-Serrada Escrima Cabales. Sijo has also studied an attained black belt ranking in Shodakan Karate (3rd Dan), Shotokan Ryu (3rd Dan), Aikido-Combat Aikido (5th Dan), Kempo Karate (3rd Dan) and Tae Kwon Do (2nd Dan).
Sijo John Oliva began training in the martial arts with Grandmaster Raynaud Lozada and Master Paul Lozada in 1974 in South San Francisco. "At that time it was difficult to find a Master to train you in the martial arts. When I first entered the Kung Fu school, Master Lozada asked me if I ever trained in martial arts. I said no, but I could do some of the things his students were doing by watching the movements a few times. The Master tested me against his students and I was able to do the movements enough to get me into the school where most would never been allowed to attend." Sijo John spent most of his time with the Lozadas and soon became part of their family.
Training with the Lozadas in Kochi Kali Kar allowed Sijo John Oliva to meet and train with other Masters. He would seek out the best instructors and train with them. He met and trained Hung-Gar with Grandmaster Wing Lam in San Jose. Sijo also studied White Crane and Pray Mantis Kung Fu in San Francisco's Chinatown. The knife fighting training came when he befriended Vietnam veterans who knew combat knife fighting. They trained Sijo John on the proper way to hold, wield and fight with a knife. Sijo John also studied other systems of martial arts, attaining black belt ranking in each discipline. "I embraced what each discipline had to offer. The martial arts were really all I had, so I worked at it constantly."
Sijo John Oliva became fascinated with open hand and weapon forms. He noticed that most of the forms did not translate well to practical application when fighting or sparring. "I found many wasted movements and impractical movements or I would find myself off balance in the form and not be able to react fast enough to stop my opponent." Sijo John began to create forms that had a real life application when fighting or sparring. He created both open hand and weapon forms for his Master, Paul Lozada and the other Hung Gar Masters that he trained with. Sijo's forms, training style, and practical application to the martial arts became the Dragon Fist System.
Along with his training and development Sijo John Oliva also began to teach other students. As he moved through the ranks in a school he soon began to teach his own classes eventually becoming the head instructor or he would be asked to run the school. Around 1993 Sijo decided to teach his long time students inside his two car garage in Foster City for the next 6 years naming the place Twin Dragon Academy. Having developed the Dragon Fist System Sijo was ready to open his own school: Twin Dragon Kung Fu Academy in San Carlos. In 2007 Twin Dragon moved to its current spacious location continuing its martial arts tradition.
Kuochi Kali Kar
Kuochi=Kung Fu Internal System. Kali=Serrada Escrima Cabales. Kar=Shotokan Ryu (Combat Karate)
To contact Sijo John Oliva and his Twin Dragon Kung Fu Academy visit his listing on the Martial Arts Schools & Businesses Directory or FindADojo.com by clicking on the image on the left.