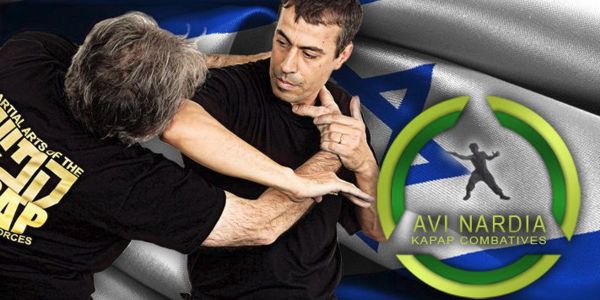 During his 24 years as a reserve officer, Avi Nardia (Major, IDF Res.) served as an official hand-to-hand instructor instructor and safety officer. He also served in an an Israeli Special Counter Terror Unit as an intelligence team member with the rank of Staff Sergeant Major (NCO) and as its official defensive tactics/CQB instructor. He also served at the Israeli Operational Police Academy as an official instructor of defensive tactics and operational behavior. In 24 years of reserve service to the Israeli Defense Forces (IDF), he earned the rank of Major. He has also trained Police agencies and armed forces all over the world, from Police patrol and corrections officers to SWAT, SRT and SERT team members along with Army, Marine and counter terror units and Special Forces. He is one of a handful of instructors to have been an official instructor for the Israeli army, Israeli Police, and Israeli counter terror units.
With more than 38 years experience with different martial arts and CQB,, Avi put together his Avi Nardia Kapap Combatives which serves as a think tank, a repository of knowledge and experience with respect to the next level in reality self defense. Today's KAPAP Combatives are based on understanding and utilizing realistic scenarios that have emerged from real world experience in some of our worst and most threatening environments. Notably, KAPAP minimizes the need for either strength or power on the part of the KAPAP practitioner in taking action to protect themselves or their loved ones.
Avi's KAPAP Combative's courses are designed for security companies, security departments, law enforcement agencies, military or civilians interested in upgrading their knowledge and capabilities in this field.
His training system includes a well established curriculum mainly based on live exercises and simulations. We believe that only a wise combination of strategy and tactical learning, with extensive and realistic training, can offer professional and practical solutions in modern high stress situations.
Certified Olympic fencing Instructor (Foil, Saber, Epee) by Wingate Sport Insitute
Certified Jiujutsu Instructor by Israeli Ministry of Sport
Certified Kendo Instructor by Israeli Ministry of Sport
Certified Thai Boxing Instructor by Israeli Ministry of Sport
Certified Coach by Wingate Sport Insitute
Certified Fitness Instructor by Tel Aviv University
Certified Personal Trainer by Tel Aviv University
Certified Athletic Trainer by Wingate Sport Institute
Certified Sport Therapist by Wingate Sport Institute
Certified Rapelling Instructor by Wingate Sport Institute
Certified Diving Instructor
Certified Boxing Instructor
Certified in Israeli and Traditional Martial Arts (Kendo, Iaido, Jodo, Jiujutsu, BJJ, Muay Thai, Karate, Kyudo)
Member Israeli Rugby National team for 5 years along with other top teams as Physiotherapist/Athletic Trainer
Certified Krav Maga Instructor by the Israeli Army (IDF)
Certified Hagana Atzmit / Defensive Tactics Instructor by the Israeli Police
Certified Head International Instructor under Lt. Colonel Chaim Pe'er, head of the International Kapap Federation
Certified Shooting Instructor (Rifle, Shotgun, Handgun)
Certified Range Safety Officer by the NRA
Certified PPCT Defensive Tactics Instructor
Certified Saber Law Enforcement Aerosol Projectors Instructor
Additional Civilian Experience
Major Nardia specialized in teaching civilians Kapap at Tel-Aviv University with Lt. Colonel Chaim Peer, one of the founders of Kapap. He also taught at Bar-Ilan University and Spivak Handicapped Center.
Courses ranged from Traditional Martial Arts to Olympic Fencing and Theatrical Combat at Tel Aviv University. He was also involved with the Israeli Social Service program in teaching Kapap-Self Defense to battered women and rape victims.
After receiving certification as an Athletic Trainer from the Wingate Institute, he was the Physiotherapist /Athletic Trainer for the Israeli National Rugby team for five years, and participated in the World Rugby Sevens Games in Uruguay in 1995 and 5 International Macabia Games. Major Nardia also spent two years as the Athletic Trainer of the Herzliya National League Handball and Basketball teams, dealing with various sport injuries.
http://www.defensivetraining.net
Avi's Columns can be here and ONLY on these other web sites
http://www.defensivetraining.net