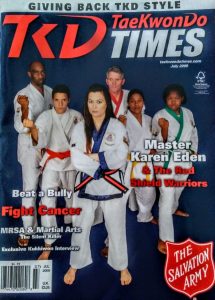 Master Karen Eden Herdman is a 6th degree martial arts master, one of only a very small percentage of women in her art form of Tang Soo Do to obtain this rank. She is also one of only a handful of women trained to teach anti-terrorist, tactical maneuvers by Federal Air Marshall Services. In addition, Karen is a former national Karate tournament winner and world champion competitor.
Master Karen has appeared in every major martial arts magazine in the country, including six magazine cover shots of her own. She has appeared in two major Hollywood productions, including stunt work in Claude Van Damme's Sudden Death, and a feature role in Sworn to Justice with Cynthia Rothrock (as seen on Showtime.)
Karen currently has four books out and writes two Karate columns a month. She also has two martial art product lines available through Century Martial Arts, both which have sold around the world.
Master Karen currently teaches under-privileged youth and former gang-members in the inner-city of Denver, Colorado. She has recently been awarded her own day, "Karen Herdman Day" prestigiously given by Michael Hancock, the mayor of the city and county of Denver, for her work with inner-city youth. In 2010, Master Karen's martial arts program went global through The Salvation Army. She currently has affiliates in her "Blood and Fire Federation" in Africa, Canada, and Eastern Europe, as well as several affiliates throughout the U.S.
Being of native descent, she often travels to reservations and Indian schools to encourage Native American youth. She also speaks in the public school system, encouraging young people to make good decisions and remain drug and alcohol free.
In 2017, Karen Eden Herdman was presented with the "Lifetime Achievement Award" from the Office of the President of the United States, for her "Lifelong commitment to building a stronger nation through community service." She has documented thousands of community service hours in encouraging the youth of America through her own life story, and to make the choice to be unstoppable in the face of adversity.