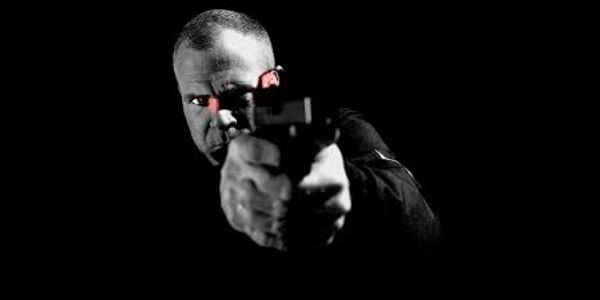 Kelly McCann, as a former US Marine officer, founded Crucible Security Specialists located in Fredricksburg, Virginia. Crucible, as a General Services Administration approved facility, provides high-risk environment training and security services to the US Government and armed forces and other nations, and for Fortune 500 companies.
As Personal Security Editor for Guns & Ammo in the 90's, Kelly wrote columns for the magazine for a 6 year period under the pseudonym "Jim Grover ".
Kelly McCann was responsible for training all counter-terrorist forces and for standardizing all hostage recovery tactics and equipment while he served in the United States Marine Corps.
McCann developed his strong techniques utilizing experience gained in the Marine Corps as well as from Colonel Rex Applegate. Applegate worked in the Office of Strategic Services training allied special forces in close-quarter combat during World War II and is the author of Kill or Get Killed, the classic handbook for western style hand to hand combat.
Kelly McCann is
Master Instructor rating in combative skills
subject-matter expert in close combat for the U.S. Marine Corp
close quarters battle for the Office of Naval Research
protective services for the United States Department of State
apprehension avoidance for the Joint Personal Recovery Agency
high-risk environment tactics, techniques and procedures for the Department of Defense
While assigned to Omaha, Nebraska, from 1984 to 1986, Kelly worked with local, state and federal law enforcement agencies, assisting in the development of raid techniques for use against domestic hate groups in the Midwest. His contributions earned him police commendations and Senator Bob Kerrey inducted Kelly into the Governor's Great Navy of the State of Nebraska for his service and assistance to law enforcement.
Kelly McCann escorted Tucker Carlson, the magazine and newspaper journalist and commentator, through Iraq after the 2003 invasion and was predominately featured in Carlson's ensuing article, Hired Guns, The inside story of the private armies of Operation Iraqi Freedom, published in Esquire Magazine. You can read the article here: https://classic.esquire.com/hired-guns/
Kelly McCann was featured on the June 2008 cover of Black Belt Magazine and in a two part article which continued in the July issue. In 2008, McCann was voted Black Belt Magazine's "Self-Defense Instructor of the Year". In 2010, Black Belt Magazine began running a monthly column written by McCann titled, "Mil-Spec". In his column, Kelly explores various aspects of Combatives and details mind set, physical skills, personal security and awareness and avoidance skills.
McCann is a CNN security analyst and has made numerous appearances as a commentator on FOX News, CNN, MSNBC, and he is also a writer.
Kelly McCann has developed two knife designs. The first was with Blackhawk Masters of Defense known as the Crucible II, which features a flush-ground liner-lock locking mechanism for dependable weapon security and Phillips-head screws for easy user maintenance. The other design, the Canis, in collaboration with Ernest Emerson, was unveiled in January 2011, at the SHOT Show (Shooting, Hunting, Outdoor Trade show) in Las Vegas, Nevada.