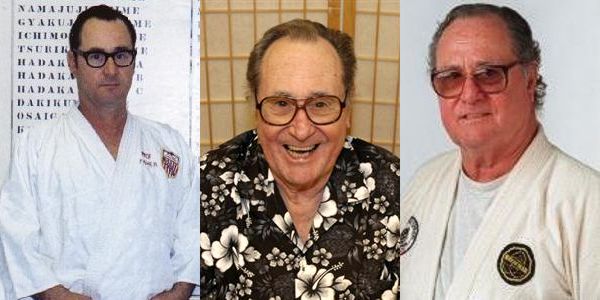 Lamar Fisher was born on April 25, 1926 in Chico, California. He grew up in Chico and graduated from Chico Senior High School. He attended Chico State and received a BA degree in Business. He was a veteran of World War II, serving in the Pacific Theater.
For 38 years, Mr. Fisher worked as an Interior Decorator at Chico Interiors, Oser's of Chico, Chico Carpet and Interiors, Westfield's and Standard Brands. He was a member of the Civil Air Patrol, Masonic Lodge and Ben Ali Shriners. He also served the American Amateur Union Swimming Association for 30 years.
Senior Professor Lamar Fisher, Judan, lived his life practicing jujitsu. In December of 1948 he became a student of Professor Merlin "Bud" Estes. He went on to teach at the Chico Judo and Jusitsu Academy from 1950 to 1972. He was promoted to Shodan in January of 1950. He achieved the rank of professor in December of 1956. Prof Fisher taught women's self-defense courses for 10 years at Butte College and he taught numerous police clinics throughout northern California. In 1981, he became head of the Nibukikan school in Chico, California, and was sensei there for 23 years. Prof Fisher was the Senior Professor of the AJJF until he passed.
Senior Prof. Lamar Fisher was the highest ranking instructor of Danzan Ryu Jujitsu in the American Judo and Jujitsu Federation (AJJF) and is ranked as a Judan, 10th Degree Black Belt.
Professor Lamar Fisher passed away on September 10, 2009 at Enloe Hospital in Chico California.