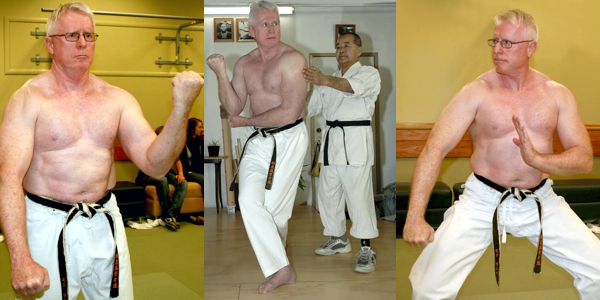 Ed Sumner, Nanadan, Okinawan Goju Ryu Karate, Jundokan International was born in Alton Illinois, on October 30, 1947. He currently resides in Buckeye, Arizona.
Ed began his martial arts training at age 17 in Judo while at Goodfellow Air Force Base in San Angelo, Texas. He was introduced to Karate by a fellow Judo student who had been trained in Okinawa previous to being assigned to Goodfellow. Once assigned to Asia, Ed immersed himself in Karate, receiving a black belt from the Cross Winds Dojo in the Philippines, and in Goju Ryu from Katsuyoshi Kanei of the Jinbukan Dojo in Okinawa. On coming back to the states, Ed continued his training under Teruo Chinen Sensei of the Jundokan International, based in Spokane Washington.
With his Sempai, Jim Botsford, Ed served as the Base Karate Instructor during his 18 month tour of duty at Tan Son Nhut Airbase in Vietnam from 1967 to 1969.
Ed Sumner left the military after four years, and took advantage of the GI bill to further his education, graduating cum laude from Eastern Washington University in 1974. After years in management for large corporations, Ed moved to Reno in 2001 to start his own publishing business and then to Hayward, California.
Ed Sumner's wife, Irene, is Chinese, and originally from the island of Borneo, in Malaysia. Ed has two sons from a first marriage, and two stepsons. He also has four grandchildren, two girls and two boys.
Ed's many passions in life include his wife and family, his business, the Martial Arts, physical conditioning (Ed completed 9 marathons after having surgery on both knees and one foot to repair training injuries) and motorcycling being primary among them.
Learn more about Sensei Ed Sumner and The Buckeye Goju Ryu Center in Buckeye Arizona from his listing on the Martial Arts Schools and Businesses Directory by clicking on the image on the left.