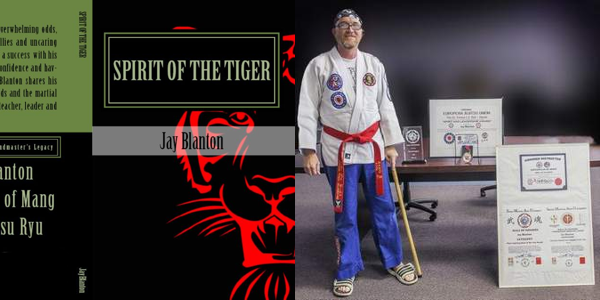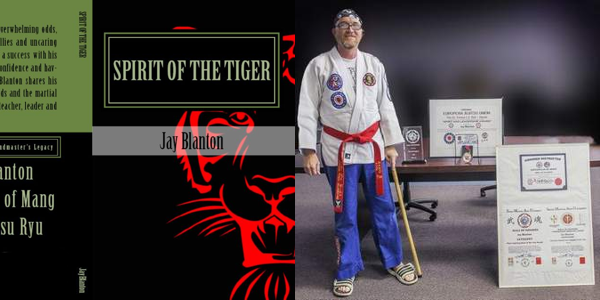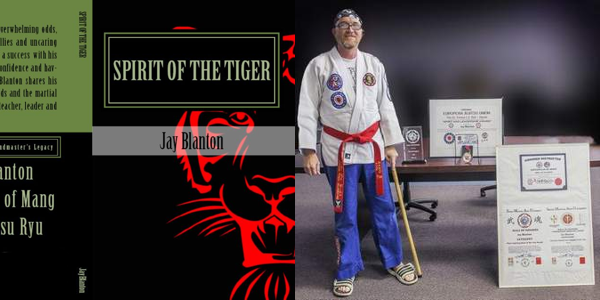 Chris Bernhardt, Jr. – Hernando Today ~ When Jay Blanton accepted the invite to the Shinja Martial Arts University Hall of Honors seminar, he figured he'd sign a few books and spread his anti-bullying message.
He never imagined what more the event, held Sept. 13-15 in Sarasota, would bring.
Blanton, a 53-year-old Brookridge resident and local martial arts grandmaster, received five awards, primarily honoring him for his recently published book, "Spirit of the Tiger."
"I was overwhelmed," Blanton said. "I didn't know what to do. I sat there for a minute while they were saying my name. My wife said 'They're saying your name, go up.'"
Blanton was awarded a Certificate of Merit as an Honored Instructor, was named Christian Martial Arts Chaplain of the Year and an Honored Recipient at the Hall of Honors, and garnered the rare Original European Ju-jitsu Union's Spirit and Leadership Award.
He additionally was given the Most Inspiring Book of the Year Award by the Hall of Honors.
A 10th-degree blackbelt, Blanton is no stranger to garnering such recognition. Last year the World Head of Family Sokeship Council inducted him into its Hall of Fame.
He's also been recognized by the United States Martial Arts Association, the United States Jiu-jitsu Alliance, the Hawaiian Islands Martial Arts Society, European Ju-jitsu Union and International Hall of Fame.
But the title of author is a more recent development. His book chronicles his personal struggle with bullying that ultimately led to his career in martial arts.
He's credited with creating mang ho, a combination of taekwondo, judo, jiu-jitsu and aikido, and has taught self-defense classes in the area.
Dealing with a lifelong speech impediment, Blanton endured teasing and abuse at a young age and wanted to share his story with children going through similar struggles.
After initially having trouble finding a publisher, Blanton finally released "Spirit of the Tiger" in January.
The book is already available in high school and public libraries in Hernando County, as well as his hometown of Muscle Shoals, Ala.
He recently received a letter informing him that the book would be carried by the library at the University of Alabama. Ball State University has also added the book to its library, as has the public library of Muncie, Ind., where Ball State is located.
"The University of Alabama blew my mind," Blanton said.
Blanton added that the book can be purchased at places such as Amazon.com, Barnes and Noble and Books-A-Million.
The key, though, for Blanton is helping today's youth to cope with bullying.
"I've been there," Blanton said. "I know how the system is. We've got to get the word out. Bullying is real."
Soke John C. Enger, president of Shinja Martial Arts University, got wind of Blanton's work and invited him to the seminar, yet left the awards a secret.
Blanton dedicated the night to his father who passed away on Aug. 23, and admitted the seminar helped to clear his mind following such a trying ordeal.
Now he plans to begin teaching more self-defense classes, along with his son, Robert. They have reached an agreement with the owner of Tone U, a fitness center with plans to open early next year at the former Dollar General location in the Weeki Wachee Village Shopping Center at the intersection of Cortez Boulevard and Commercial Way.
There also could be another publication coming in the near future, one he said will feature more illustrations.
"Everybody is asking me to write another one," Blanton said. "Everyone is begging me to write another one.
"I want to write a new one showing what to do with bullies. I'll work on that next."
cbernhardt@hernandotoday.com
(352) 544-5288