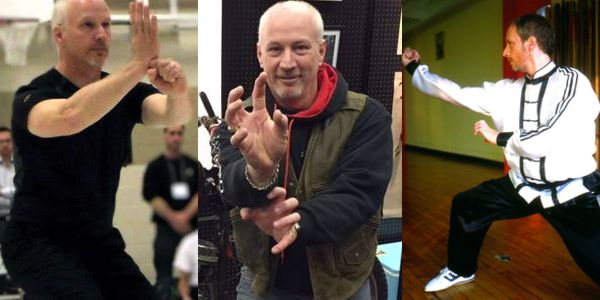 Shifu Lorne Bernard is the head instructor for the White Crane Kung Fu Academies. He is in charge of the North-American headquarters of the Flying Crane branch.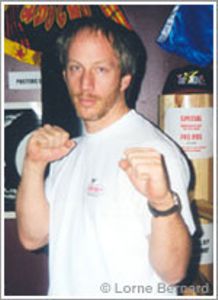 Shifu Lorne Bernard has dedicated his life to the mastery, preservation and propagation of authentic traditional Chinese martial arts most especially the Flying crane branch of Fujian White Crane Kung Fu. He presently teaches at the White Crane Kung Fu academy in the city of Laval, Canada. He regularly holds seminars in various martial arts schools and events. Recently Shifu Bernard was invited in Malaysia to perform at a reunion banquet for the White Crane kung fu community.
Over the years, several of his students have excelled in martial arts and have opened their own clubs in the Montreal area and in the United States. Besides teaching and practicing kung fu, he is also the owner of a well known martial arts supply store called "Kontact sports".
Lorne Bernard's Martial History
Lorne Bernard was born in Montreal, Canada in 1964. Although he had been exposed to western boxing and some Judo at a young age, he did not commence serious martial arts training until 1982. In that year, he met Shifu Augustine Ngu and commenced his training in the rare Fukien White Crane (Fukien Bai he chuan) system -flying crane style. In time, Lorne Bernard eventually became the first Caucasian instructor in the history of the Flying Crane style.
In 1989, Lorne went to visit White Crane Grand-Master Lee Kiang-Ke and his son Lee Joo-Chian in Malaysia. During his five month stay, he was fortunate enough to further his understanding of the system's history, theory, fighting applications, and weapons techniques.
Upon his return, Mr. Bernard took charge of his teacher's original school in downtown Montreal. The following year, he arranged for the flying crane system's present leader, Shifu Lee Joo-Chian, to come and teach in Canada for a period of three months. Shifu Bernard continued his closed door lessons with master Lee and went on to honor the latter by winning two first places medals at the Canadian Chinese Kuo Shu federation's new tournament.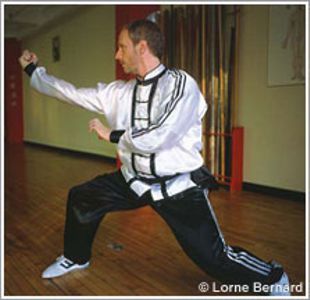 Since then, he has returned to Malaysia on numerous occasions thereby forging very close bonds with his Kung fu family and learning directly from the highest ranking Fukien White crane masters in the Orient. The head of the system, Grand-master Lee Joo-Chian has also returned to Canada for several extended stays.
In 1993, Shifu Bernard wrote the first English language book on Fukien White Crane Kung Fu. Ten years later, he wrote a second work entitled "Shaolin White Crane Kung Fu: A rare art revealed".
Shifu Lorne Bernard continues to sponsor visits from senior White Crane Masters to the Western hemisphere. These and other efforts have helped him develop a reputation as one of top western experts on the rare Fukien (Fujian) White crane system. Shifu Bernard is also actively promoting White Crane kung fu by helping Grand-Master Lee publish a series of DVD's and a new book on his family's white crane heritage.
In addition to his White crane training, Shifu Lorne Bernard has also learned some Cha chuan with Master Xu Gong-Wei and some Wing Chun. In the year 2000, he started to study under the guidance of famed Bak Sing Choy Lay Fut Master Chiu Kwok-Chung. Since then, he practices exclusively White crane and Choy lay fut.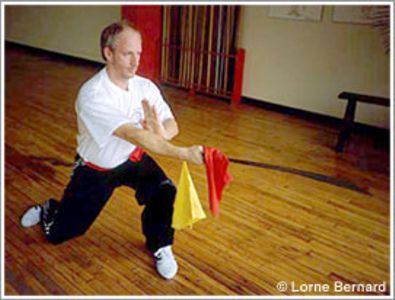 Shifu Bernard's students have distinguished themselves by winning several first place medals in Canadian and international Kung Fu tournaments. They have won medals in forms, weapons, light-contact and full contact fighting. In 1989, Shifu was elected vice-president of the Eastern Canada Chinese martial arts federation. In 1994, he became the federations' president. In these capacities, he has played a prominent role in promoting traditional Chinese martial arts in Eastern Canada. Although he does possess a Master's degree in political science, he has decided to consecrate most of his time to the study and dissemination of authentic traditional Chinese martial arts.
Shifu Lorne Bernard sums up his martial career as such: "I am very happy as I wanted to learn and preserve authentic Chinese martial arts (chuantong wushu) before they had completely disappeared. I feel that I have had some measure of success as was lucky enough to have studied with several great masters. I can only thank them for their kindness and generosity. I feel confident that I can pass along a good percentage of precious knowledge that was handed down. So I am living my life's dream!"