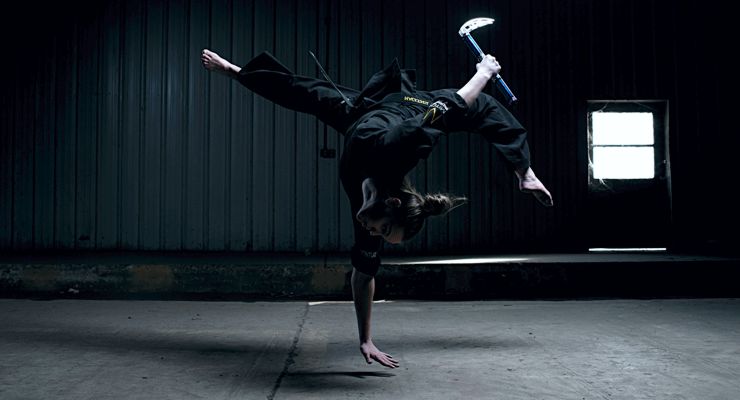 At 10 months old Mackensi Emory began her passion for flipping and tumbling around in her first "mommy and me" gymnastics classes. In addition to recreational gymnastics, she would also add ballet, jazz, tap and hip hop dance to her list of activities. Through dance, Mackensi learned she loved to be up on stage and perform. She has performed in numerous roles in the Sacramento nutcracker Ballet over several years.
At the age of 5, Mackensi began taking piano lessons and she developed an interest in and an appreciation for music. As she progressed she enjoyed showing off at her recitals. Around this same time, Mackensi had the opportunity to attend a karate class with her 15 year old Black Belt cousin, Tamara. Mackensi was allowed to lead the class in calisthenics as she could do more push ups and sit ups than anyone else in the class (adults included). She fell in love with karate and begged her parents to allow her to take karate lessons. At only 5 years old and with a full plate of other activities, she was told to wait 6 months and if she was still interested her desire would be consider. Her parents figured she would forget all about it, but boy were they wrong! At 6 years old Mackensi started karate classes at Kovars Karate Center in Granite Bay, California. From her very first day it was apparent that she was a natural. Since Mackensi always liked to push herself to the limits of her ability, karate allowed her to do this. She progressed from belt to belt and always left wanting more.
At the age of 8 Mackensi Emory left her recreational gymnastics classes and joined Miyagi Gymnastics Academy in order to pursue competitive gymnastics. At the same time she was asked to join the competitive jazz dance team at her dance studio. This would be a big decision for Mackensi because she could not do it all. Ultimately, Mackensi decided to pursue her love of gymnastics and give up dancing for the present time. Competitive gymnastics required a lot of time and dedication and with her other activities there was just not enough hours in the day.
In 2005, Mackensi experienced her first local karate competition. Even though it was her first competition this did not keep Mackensi from winning first place in all her Under Belt Divisions as well as the Under Belt Grand Championship. Two years would pass before Mackensi would experience her first N.A.S.K.A. (North American Sports Karate Association) competition in 2007 at Compete Nationals in Ontario, California. Mackensi would come in 3rd place as an unseeded competitor in most of her Black Belt divisions. It was evident that she would need some specialized coaching. It was at this competition that Mackensi would meet NASKA world champions James Solis and Rudy Reynon. Together, they would work with Mackensi to bring her skills and performances to where they needed to be for NASKA competitions. A hard worker and quick learner, Mackensi progressed quickly. Mackensi would not return to NASKA completion until mid 2007 where she would represent Team Prorank National. In August 2007, Mackensi would win her first NASKA Forms Grand Championships at the Battle of Atlanta and get a chance to perform in the night time show on the big stage. She loved performing on stage and vowed to perform again.
In 2008, with a handful of NASKA tournaments under her belt, Mackensi Emory dedicated herself to strengthening her basics and bringing her tricks up to the next level. Working with world champions Rudy Reynon and Scott Wu, Mackensi's goals became clear — to become a NASKA World Champion. Mackensi knew she had her work cut out for her. As a relative unknown and unseeded competitor, she would be competing against existing seasoned world champions, but this did not discourage her. One of the cornerstones for 2008 would be learning and competing in traditional forms in order to strengthen her basics. Mackensi worked hard and often, but she started off the year with a leg/hip injury that would limit what she could do. Even with this injury, Mackensi started the year off well with a number of firsts and grand championship stage appearances. Once the injury fully healed, there was no stopping Mackensi in both forms and weapons. By mid year, Mackensi was promoted from the Prorank National Karate Team to the Prorank World Elite Team. In July at the 2008 US Open, Mackensi was invited to take part in the ISKA Night of Champions where she won the 13 & under musical forms world championship title. Mackensi's musical form and Prorank demonstration team performances from this event were featured on ESPN2. Not only did Mackensi excel beyond even her expectations but she also was one of the top competitors on the NBL and Tiger Claw Elite Circuits as well. Mackensi would end the 2008 karate season with 5 NASKA World Championship titles, 4 NBL Supergrands World Titles, 3 Tiger Claw Elite Grand Championship titles, and 1 ISKA Musical Forms World Championship title, all this in her first full year on those circuits.
In 2009, Mackensi moved into the 12-13 year old age divisions. She would battle the first seed and multi-time NASKA World Champion the whole year. Despite missing the last NASKA seeding tournament, Quebec Open, Mackensi managed to win world championship titles in extreme weapons, creative weapons, and musical forms. This was no small feat! Mackensi earned second place in extreme forms, creative forms, and traditional forms. In October 2009 at Diamond Nationals, Mackensi would compete in two new divisions: traditional weapons and sync forms. For traditional weapons, Mackensi worked with NASKA legend Caitlin Dechelle to learn a traditional sword form and continues to work hard on perfecting it for the 2010 NASKA season. For sync forms, Mackensi partnered up with Prorank Elite teammate and long time friend Tyler Weaver to excite the crowd. Now known as the "Wonder Twins", this dynamic duo planned some exciting content for their sync forms in 2010. Mackensi finished the 2009 NASKA season with 15 Grand Championships and 5 overall Grand Championships plus NASKA world titles in extreme weapons, creative weapons, and musical forms.
2010 was another very successful year competing on the NASKA circuit. Mackensi Emory attended only 9 out of the 14 NASKA tournaments during the year, missing one 5a tournament and the last seeding tournament, but still managed to win world championship titles in extreme forms, extreme weapons and creative weapons. Graduating from 8th grade with straight A's and starting high school in early August, combined with being on the West Coast and having two parents who work full-time, limited the amount of tournaments she could attend during the year. Mackensi put school before competitions and was very proud of all her accomplishments. Mackensi also joined team 100 percent in late May and performed in their team demonstration performances. In July at the ISKA Night of Champions during the 2010 US Open, Mackensi competed in musical weapons where she placed a close second and in demo team where her team, 100 percent, won another world title. Mackensi finished the year with 14 grand championships and one overall grand championship. Mackensi won double grand championships in six out of her nine tournaments.
In 2011, Mackensi entered the 14-15 year age divisions. The year started off on a bad note with Mackensi suffering a broken bone in her foot right before the season started. Mackensi managed to compete with simpler forms until her foot fully healed in late spring. Mackensi did well enough to gain a spot for musical forms in the ISKA night of champions. Mackensi also performed with her team, 100 percent performance, where they would win a third straight world title in demo teams. Mackensi finished the 2011 NASKA season with world championships in extreme forms, musical forms, extreme weapons, musical weapons and creative weapons. That makes 26 world champion titles since 2008. Mackensi and also competed in sync forms with teammate Danny Etkin in 2011 where they finished second behind Caitlin Dechelle and Marc from Team JPM. Overall 2011 was a great year!
2012 was another busy and outstanding year. Since attending most NASKA tournaments means missing 2 days of school, Mackensi Emory tried to accomplish her goals by attending as close to the minimum number of NASKA tournaments as possible. Instead of 14 or 15 tournaments to accumulate division wins and grand championships, Mackensi's accomplishments were over only 11 NASKA tournaments. She ended the 2012 NASKA season with 5 more world championship titles in extreme forms, creative forms, extreme weapons, creative weapons, and traditional weapons. That brought her total to 31 world champion titles since 2008! Mackensi also ended the 2012 season with 11 grand championships which brings her total to 59 since 2008! At this time she was most proud of her traditional weapons title because she was told at the end of 2011 that she should not compete in this division because she was not winning firsts. Since learning her sword form, Mackensi worked hard on the form by herself and improved enough to earn a world title. Another highlight of 2012 was being invited to perform in the ISKA Night of Champions at the US Open for the 5th straight year. She proudly represented team 100 percent but in July the team was disbanded. Mackensi was asked to join Team Emig for 2013 along with Tyler Weaver, Danny Etkin and Aidan Considine. Outside of NASKA tournaments, some highlights of 2012 include performing in Cuba with Sideswipe Live and performing in the 2012 Macy's Thanksgiving Day Parade. Mackensi also traveled all over the U.S. teaching seminars and she launched her Hyper inspired shirt and campaign. Mackensi then headed  to Australia at the end of December for a few weeks where she taught seminars and attended the ATG gathering. Teaching and sharing what she does with others is one of her passions. Overall, 2012 was one of the best!
Each passing year got busier and busier and went by faster than the previous years. That was certainly the case for 2013. Mackensi attended 12 of the 15 NASKA world tournament events. She finished the 2013 season with 6 more NASKA world championship titles in creative weapons, extreme weapons, musical weapons, creative forms, extreme forms and musical forms. In addition, she added another ISKA world championship title, this time in synchronized forms. That brings her total to 38 world championship titles since 2008! One of the highlights of 2013 was reuniting with best friend and teammate Tyler Weaver to compete in team synchronized forms. It was a very successful partnership. Another highlight of her year was being asked to perform in the ISKA Night of Champions at the U.S. Open for the 6th straight year where she performed in the 14-17 forms and the team synchronized forms championships. She added another ISKA world championship with an ISKA win in team sync forms. This brings her ISKA championship titles to four. But competing in tournaments was only a small part of her year. Mackensi also taught many seminars across the U.S.. She even traveled to Australia at the beginning on 2013 and taught many seminars over a three week period in different cities. It was an amazing experience and a chance for Mackensi to spread her love of tricking and XMA. Other highlights include performing with Sideswipe in the Macy's Thanksgiving Day Parade and traveling to Moscow, Russia to teach a seminar and compete in the Russia Open Cup. 2013 was an unforgettable year!!!
Mackensi Emory started 2014 with an invitation from world renowned Team JPM to join their team. She was honored and joined team JPM to start the year. 2014 was Mackensi's last year competing as a junior competitor. Even though she has only been competing nationally since 2008, she has managed to accomplish a lot in that time on the mat. Here are some of her stats from her short time competing as a junior on the various circuits: 500 + first place finishes, 150 + grand championships, 40 + overall grand championships, 44 world championship titles, 15 ISKA night of champion performances with 6 ISKA world championship titles.
Mackensi only attended the minimum 10 NASKA tournaments this year because of her busy schedule with traveling, teaching seminars and going to school. She had a few drops in her weapons divisions throughout the year which dropped her out of first place in those divisions because she didn't have any extra NASKA tournaments to replace those points with. With that said, Mackensi was still able to win 6 world titles in 2014 – 4 NASKA titles in creative weapons, creative forms, extreme forms and team synchronized forms plus 2 ISKA world titles in 14 – 17 girls weapons and team synchronized forms with her JPM teammate Tyler Weaver.
Outside of NASKA competition, Mackensi Emory taught many seminars across the U.S., Canada and Europe and even managed to trick with others now and then. At the end of February she headed to Dublin Ireland to compete at the Irish open. Mackensi competed in 16-18 open forms, 16-18 open weapons and team sync and got first place in every division. She then went from Ireland to Spain and taught seminars with Tyler Weaver. It was a great experience! In early October, Mackensi flew to Cuba for a week to perform with Sideswipe for our military for the second time. In December she performed with Sideswipe again at the Disneyland Hotel for a large corporate party. Mackensi also traveled to Puerto Rico with Team Emig to teach and compete. What an amazing 2014!!!
2015 was another incredible year for Mackensi. This was her first year competing in the NASKA adult divisions. Mackensi finished the 2015 NASKA season with 8 more world championship titles – 6 NASKA titles in creative forms, extreme forms, musical forms, creative weapons (bladed), extreme weapons and traditional weapons (bladed) plus 2 ISKA world titles in 18+ women weapons and team synchronized forms with her JPM teammate Tyler Weaver. That brings her total to 52 world championship titles! In addition, Mackensi was the 18+ women overall champion in both forms and weapons! Outside of NASKA competition, Mackensi taught many seminars across the U.S., Europe, Guatemala and the Cayman Islands. In February, Mackensi headed off to Ireland with Team Paul Mitchell for the Irish Open where she won woman's forms, weapons and team sync. She then flew back to Los Angeles to film an episode for NBC's show I Can Do That with the jam performance team which was fun! In April, Mackensi flew to japan to perform with Sideswipe for the U.S. military troops. After the U.S. Open, Mackensi boarded a plane with some of her JPM teammates and headed to Las Vegas for the Martial Arts Supershow and the Las Vegas Open. Mackensi and Team JPM taught seminars and manned the Century booth. Mackensi won all her divisions for the Las Vegas Open Tournament. In September Mackensi got to realize one of her bucket list dreams which was to go sky diving. One of her biggest accomplishments in 2015 was moving to Los Angeles to begin working in the entertainment industry. In December, Mackensi would head to Amsterdam as a guest attending the hooked tricking gathering. 2015 was another big year for Mackensi.
Each year Mackensi Emory continued to add to her list of titles and accomplishments. At the very end of 2015 at the hooked tricking gathering, Mackensi tore her meniscus and had to have surgery to remove the portion of the meniscus with the tear. Mackensi healed quickly and returned to tricking and competing. Although still active on the NASKA circuit with Team JPM, Mackensi only did a handful of tournaments per year. Mackensi continued to  complete her college courses online, traveling for seminars and competitions, and working on various other projects in entertainment. In early 2018, Mackensi unveiled a signature line of kamas sold through Century which are an overwhelming success. Mackensi has appeared in various videos over the past years. In 2018 People Are Awesome approached Mackensi to become an official ambassador. Mackensi's introduction video currently has over 20 million views at the time of this writing. In 2018, Mackensi won every overall grand championship in which she competed. She won 12 (6 forms and 6 weapons) in the 6 NASKA tournaments she attended. She also won the coveted Triple Crown Award for every division she competes in as well as for overall forms and weapons Mackensi has won 24 out of 28 Overall Grand Championships in the past two years. In addition Mackensi was awarded the SMA Viewers Choice Awards for both forms and weapons. This is the second year in a row she was voted the Best Woman's Form and Weapons Competitor. At this time Mackensi held 61 world championship titles including 14 ISKA world championship titles.
Mackensi continues concentrating on her goals of teaching seminars, competing and completing college.
Mackensi Emory also continues to use her talents in the entertainment industry as a stuntwoman. She is known for her work on Star Wars Jedi: Fallen Order (2019), I Can Do That! (2015) and Yellowjackets (2020).