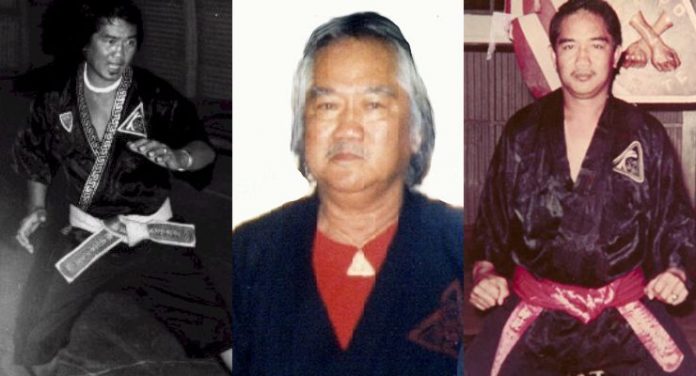 Marino Tiwanak began his Kenpo training under Adriano Emperado in 1947. Tiwanak had been an amateur boxer for 3 years, from 1945-1948. He held the 1944 AAU boxing title and was known for his final fight against flyweight world champion Dado Marino. Tiwanak lost by KO.
Tiwanak first trained in Halawa Housing in Honolulu, Hawaii and then moved with the Emperado group to Palama Gym in the Kalihi area of Honolulu, Hawaii were they were joined by Woodrow McCandless, a certified Black Belt from Professor James Mitose.
Tiwanak trained for eight years under Adriano and Joe Emperado and Woodrow McCandless and was promoted to the rank of Black Belt in 1955, at Dot's Drive Inn located in Wahiawa, Hawaii. Tiwanak then became one of the four Black Belts who took charge of the infamous "Palama Gym".
Woodrow McCandless died in 1956 and Tiwanak left Palama Gym and started the first branch of the C.H.A.3 Kenpo System in the Civilian Housing Area #3 located in the Pearl Harbor area. When Tiwanak left Palama Gym, Frank Suan and Leonard "Manini: Cuarisma, two colored belts at the time, went with Tiwanak and joined the C.H.A.3 school.
Frank Suan, Jaime Abregano Sr., Edward Wallace, Marine Antoque, and Leonard Cuarisma were the first generation of Black Belts to come out of the Pearl Harbor branch and in the early 1960's they were known as the Central Hawaiian Activities 3 Kenpo Association, and Frank Suan opened the second C.H.A.3 Kenpo branch in the North Shore of Oahu.
Professor Tiwanak credited Frank Suan as the Co-Founder of the C.H.A.3 Kenpo Association. After receiving his Black Belt, Leonard Cuarisma moved to California and opened the C.H.A.3 West Coast branch in San Diego. Kenneth Bonachita would open another C.H.A.3 Kenpo Branch on the island of Kauai and a C.H.A.3 branch opened in Waianae on the West Coast of Oahu under Instructor Marce Totor. The C.H.A.3 system began to spread when instructors began classes on military installations throughout Oahu including at Schofield Barracks, Wheeler AFB, West Loch, and Barber's Point.
Many of the military personnel who had trained on base returned home from the Vietnam war and spread the C.H.A.3 Kenpo System to the U.S. mainland. Tiwanak and his instructors stressed the importance of family and camaraderie among their students, the C.H.A.3 system became known as the Central Hawaiian Activities 3 Kenpo Brotherhood Association.
Professor Marino Tiwanak was inducted into the World Martial Arts Hall of Fame twice, receiving the Golden Life Achievement Award for Martial Arts and as a Pioneer in the Art of Kenpo Karate.
On July 29, 1998, Professor Marino Tiwanak passed away at the age of 71. On December 12, 1998, his C.H.A.3 Association was passed to his son Michael at Aloha Stadium, Honolulu, Hawaii.
Professor Marino Tiwanak's Kenpo schools can be found in Hawaii, California, Florida, Illinois, Kentucky, Louisiana, Montana, Nevada, Pennsylvania, Tennessee, Texas and in Canada and his legacy lives on through his philosophies and teachings.
Marino Tiwanak died on July 29, 1998 after he went into cardiac arrest after open hear surgery to replace a heart valveat. He was 71 years old.