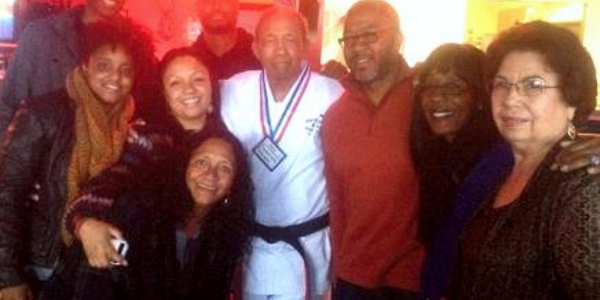 Still young as ever, Inland Empire local Frederick Peterson Jr. or better known as Soke Grandmaster Frederick "Big Cat" Douglas Peterson Jr., celebrated his 89th birthday earlier this month.
A long-time master martial artist and boxer, Frederick Peterson Jr. was recognized by Grandmaster Kidd Jason, as the oldest and highest ranked Martial Artist in the United States. He was joined by family, friends, and past students at Sweet B.O.B's Bar-B-Que in Moreno Valley for the celebration.
Jason shares, "Moreno Valley never got enough credit for having martial artists." Soke Grandmaster "Big Cat" Peterson is the founder of Tai Chi Jitsu, a mixture of Judo, Kung Fu, Jui Jitsu and Filipino Martial Arts Escrima. Over his many many years of teaching, Big Cat has trained over 200 advancing martial arts students privately, and officiated nearly all Southern California Professional boxers, when they were amateur, at one time or another, including boxer Oscar De La Hoya, through Amateurs Athletic Union (AAU) and with the USA Boxing Commission.
Frederick Peterson Jr. has been a boxer since the age of 9. He began his training in martial arts in 1943 as a United States Navy sailor under Master James Matose of the First Marine Raiders. Since then, Peterson has trained in Jui Jitsu, Kempo, Judo, and Filipino Escrima and Kali. "As a boxer, he wanted to expand his knowledge and passion," said Grandmaster Thomas Hardie, who studied Tai Chi Jitsu for 30 years, four of those years under private instruction with Soke Grandmaster Peterson. Grandmaster Hardie will be taking over Grandmaster Peterson's teaching style as he steps into retirement. "I am humbled and honored to have the opportunity to carry on his legacy in Tai Chi Jitsu," Grandmaster Hardie shared.
Frederick Peterson Jr. shares, "I am the first American to turn over his legacy (teaching style) while he is still alive." By 1945, Peterson was a lightweight Champion in the American Division smokers of the South Pacific, after first getting involved during his time serving in the Navy. In 1971, he decided to give back to the community by founding Tai Chi Jitsu self defense, and opened a school of martial arts in Compton, California. Peterson commented on the stylistic influences that helped him found Tai Chi Jitsu, "None of us invented martial arts, we are all great thieves." "He not only is a strong man for his age," Peterson's wife Elida Peterson said, "he is a good person and a great father. It's very nice for him to be recognized."
With 3 daughters, 12 grandchildren, about 38 great-grandchildren, and 8 great-great-grandchildren, Frederick Peterson Jr. says that he is still in tip-top shape. "I exercise and do martial arts demos all the time!" Peterson shared.