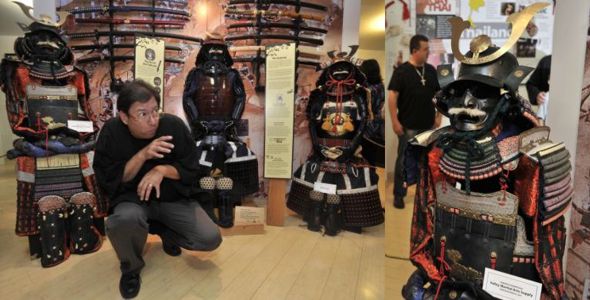 The world's first Martial Arts History Museum Burbank opened its doors at 2319 W. Magnolia Blvd. The Museum is an Asian cultural museum focusing on history, tradition and how it connects with Asian forms of martial arts. Exhibits include martial arts items from the countries of China, Japan, Korea, the Philippines, Hawaii and Thailand. (John McCoy / Staff Photographer)
BURBANK – Billed as the first of its kind in the world, the Martial Arts History Museum reopened in its permanent home in Burbank on Saturday amid a flurry of martial arts celebrities and fans itching to get a glimpse of more than 300 artifacts.
The grand opening boasted 12th century Samurai armor replicas donated from Japan, colorful magazine covers, a variety of weapons, movie props and a time line of martial arts films dating back to the 1920s.
It's not just all about Bruce Lee, Chuck Norris, Jet Li or Jackie Chan, according to Michael Matsuda, owner and founder of the museum, which left Santa Clarita in 2008.
"It's not a who's who, even though there are obviously key figures that you need to put up to represent the history of martial arts," said Matsuda, a 10th-degree black belt in Monkey Kung Fu. "These people are a part of Asian culture and show how it connects and is a part of American history as well. It's a blending of the two."
Asian martial arts first appeared on film in the 1921 movie "The Outside Woman," and continued with Japan's "The Seven Samurai," and the original "Green Hornet" TV show, according to the time line, one of the more popular exhibits at the 3,500-square-foot museum.
Later came 1971's "Billy Jack," which kicked off the Kung Fu craze of that decade, including the rise of David Carradine in his "Kung Fu" television series and Bruce Lee and Chuck Norris in "Way of the Dragon."
Those movies paved the way for "The Karate Kid," "Big Trouble in Little China," "Xena," and more recently, the "Kill Bill" movies and "Kung Fu Panda."
Displayed below the time line were props used in several popular movies, including the Karate Kid's Japanese sun-emblazoned headband, the medallion worn by Jackie Chan in "The Medallion" and the costume worn by Cynthia Rothrock – the female equivalent of Chuck Norris in the martial arts world – in "Sci-Fighter."
The idea behind the fighting icons, costumes and weapons is to give people a chance to learn about Asian cultures and the hundreds of fighting styles that have sprung from it, such as Japan's Judo, Korea's Hapkido, and Thailand's Muay Thai.
"This will give a glimpse into how deep the history is and how deep the influences are in today's movies," said Douglas Wong, a Northridge-based martial arts instructor who trained Lucy Lawless for "Xena," Kevin Sorbo for "Hercules," and Carradine. "It's part of Chinese history. You can't talk about Chinese history without martial arts."
And it's a chance for people to learn about the martial arts greats, said Rothrock, a five-time World Karate Champion who holds six black belts in various fighting styles.
"This will keep their memory forever," said Rothrock, who posed for pictures with fans beside her costume. "I think the history gets a little bit lost in martial arts. People don't really know the ancestors. If it wasn't for them, we wouldn't be where we are today. They taught all of us. They were our inspiration."
Prince Albert Jackson, a martial arts fan from Sherman Oaks, was beside himself. He recalled watching many of the movies listed on the time line growing up in Bermuda.
"It's fantastic," said Jackson, who said he would return as the museum displays new artifacts. "I'm glad something like this exists."
Call: 818-478-1722
If you go:
What: Martial Arts History Museum
Where: 2319 W. Magnolia Blvd., Burbank
Tickets: $6 for adults, $3 for children ages 6 to 12, and free for children under 6
Hours: 11 a.m. to 6 p.m. Thursday to Sunday.