Maurice Elmalem is a Seven Time World Champion, 6th Dan Black belt with W.T.F. and 9th Dan Black belt with PWMAF. He holds Five World records and is a Seven Time U.S. Cup Gold Medallist and Four such as Dr. Richard Chum, World Champion Joe Hays, Tiger Kima and Gidon Cadari. Maurice's fighting and breaking skills and documented and have been witnessed by millions on television, live shows at Madison Square Garden, Nassau Coliseum, Studio 54, Apollo Theatre and the Gleason Arena. Maurice Elmalem has become a consummate martial artist. He credits discipline, hard work and dedication to his being the best. Winning with honor has made Elmalem a hero to both adults and children alike. Maurice is the "World Champion Greatest Martial Arts Daredevil" and has been featured in over 200 magazines and newspapers, has participated in over 600 Championships worldwide, and has accumulated over 550 trophies and 47 gold medals in fighting and breaking.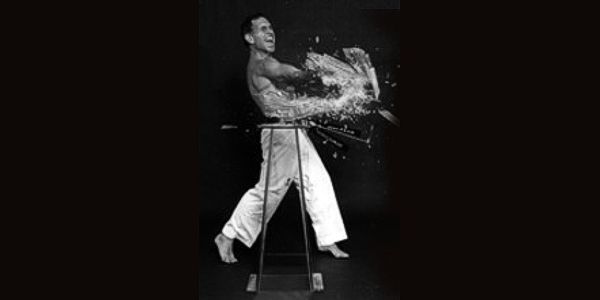 Maurice Elmalem has been inducted into many Halls of Fame. He holds Five World Records in breaking, splitting in half four 1″ boards with speed head break, shattering 90 sheets of glass with an elbow strike, and 50 sheets of glass with a knife hand strike, breaking five 1″ board with flying side kick over six chairs. Most boards broken simultaneously while in mid air with both feet "double flying side kick," breaking five boards with each leg while in mid air, won Maurice Elmalem his 6th World Championship Title. His records are documented in the Guinness Book of World Records and have been broadcast live. Many who see Master Maurice Elmalem look up to him and try to emulate him. They understand the discipline, hard work and commitment to excellence and to a dream required to master such feats. Maurice has perfected his art of breaking and transforming his potential to fighting and has become a master fighter. He is known as the "Greatest Martial Arts Daredevil." Guinness World Records Organization awarded him the title of "A Renaissance Man." He was nicknamed, "The Houdini of Martial Arts" in September 2000. After his performance in "Oriental World of Self-Defense" at Madison Square Garden, movie star Chuck Norris presented him with the world champion belt, which was engraved "World Extreme Daredevil Champion" and said to him "You are a Great Champion."
The two most recent Guinness World Records held by Maurice Elmalem were established 2001. He shattered 50 sheets of glass, amounting to 8 1/2 inches of glass, with a karate chop at Fox Studios in Hollywood, California. It was televised on Fox Channels worldwide. In April 2002, Maurice established a new world record at Budo Martial Arts Magazine Studio in Madrid, Spain, breaking a hundred sheets of glass reaching to 13 inches high and in May 2003, Maurice established World Record at Placio de Vistalegre in Madrid, Spain, breaking a hundred and five sheets of glass measuring 15 5/8 inches high with one single elbow strike downward. With his outstanding grades in school and high IQ he achieved and experienced everything in life. He went on to become a musician and artist with 148 paintings. He is a sculptor, marathon runner, gymnast, acrobat, photographer, craftsman and real estate developer. He studied at Columbia University and New York University.
Maurice Elmalem is listed several times in "Who's Who" in the East for outstanding contributions to Architectural Design, and he was voted among the Top 400 General Contractors in the U.S.A. by Engineering Report Magazine. His Motto is, "Work hard and go for the best, win and nothing less."
To contact Maurice Elmalem and Maurice Pro Martial Arts visit the Maurice Pro Martial Arts listing on the Martial Arts Schools and Businesses Directory using the image on the left.