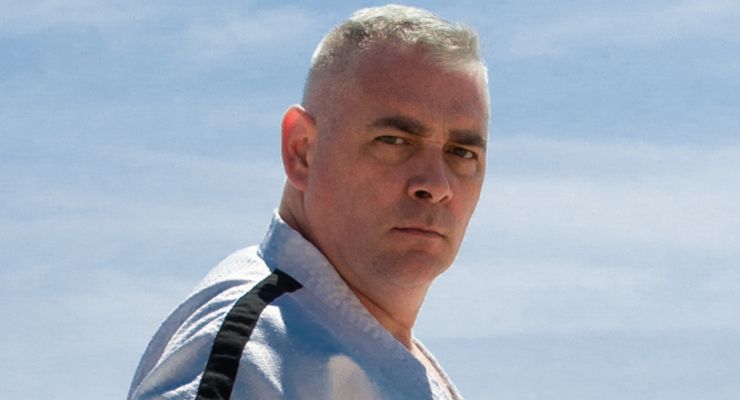 Master Michael Munyon is the owner of the Munyon's Korean Martial Arts Academy/TRISENS-USA Security Services LLC located in Oscoda, Michigan and travels throughout the state giving lectures and training on topics such as Work Place Violence, Active Shooter, Physical Security, Verbal De-Escalation and more. Additionally, he is the President/Founder of the International Taekwon-Do Federation Headquarters-USA and the President/Founder of Moo Sool Won-USA with students/members throughout the United States.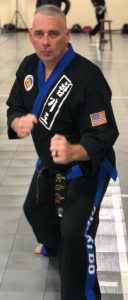 Michael Munyon entered the Air Force in 1992, serving his entire career in the Security Forces career field. His assignments include Montana, Michigan, California, Korea (Kunsan and Osan Air Base), Mississippi, Portugal and Nebraska. During this time he has deployed to Kuwait, Saudi Arabia, Iraq and Afghanistan on numerous occasions. While serving in the United States military he has taught civilian and military members martial arts at every military installation he's been assigned to. Some of his notable accomplishments include training thousands Security Forces members in Self-Defense, Rifle Fighting and Defensive Tactics, over 1,000 female civilian and military members in Women's Self Defense in cooperation with the Air Force's Sexual Assault Response Coordinator's Department, trained U.S. Air Force, Army and Navy personnel, Canadian, French, Belgian, Australian and other North Atlantic Treaty Organization (NATO) military members in martial arts. Additionally, Mr. Munyon has been recognized for his work with the United States and Foreign military by senior enlisted leaders and has received numerous awards of recognition for his talents and volunteer work. His position in the Air Force allowed him to offer training to localized US Marshals, FBI, Executive Security businesses and other federal agencies.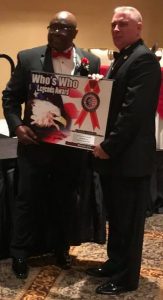 In 2009 Mr. Michael Munyon was inducted into the Masters Hall of Fame in Long Beach, California. Later in 2013, Mr. Munyon was inducted into the Official Taekwon-Do Hall of Fame in Las Vegas, Nevada. Nominated again in 2016, Mr. Munyon was inducted into the United States KiDo Federation Hall of Fame earning the award entitled "ITF Master of the Year". Later in July 2018 Master Munyon was inducted into the Korean Martial Arts Masters Hall of Fame in Atlanta, Georgia. Finally, in 2019 Master Munyon was inducted into the Who's Who in the Martial Arts as a LIVING LEGEND/PIONEER by the American Martial Arts Alliance and inducted into the United States Martial Arts Hall of Fame as a "Distinguished Master" by the International Martial Arts Council of America.
From the mid 1980's until present, Mr. Michael Munyon has competed in tournaments ranging from local events, fundraisers, State, National and even world championships. Sport Karate International magazine listed him as being rated #1 in the Korean Forms division for the Yellowstone conference and has been invited to compete in the SKI/NBL Amateur Martial Arts World Championships. In July of 2013, Mr. Munyon competed in the Korea Moo Moo Kwan HapKiDo World Championships and won 3rd in patterns. Recently, Master Munyon came out of retirement to compete in the CAN-AM Classics where he won Gold in patterns, Silver in Self-Defense and Silver in Weapons. Master Michael Munyon currently coaches his students who have competed and won in local tournaments to World Championships.
EDUCATION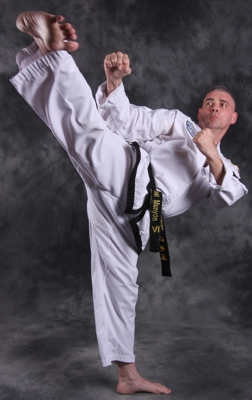 Criminal Justice Degree: Community College of the Air Force
Professional Manager Diploma: Air University
Air Force Security Specialist Academy Graduate
Nevada P.O.S.T. Academy Graduate
Senior Non-Commissioned Officer Academy Graduate
Executive Security/Bodyguard Instructor Certification (TriSens out of the Netherlands)
Principles of Instruction Graduate
Desert Warfare Training Center (Silver Flag Alpha, NV and Fort Bliss, TX) multiple time graduate
ITF International Instructor: IC 1020
Attended numerous ITF Instructor Courses, ITF HQ Umpire/Referee Course, Technical Seminars and Master Class Seminars hosted by various ITF organizations.
Global HapKiDo Association Leadership Seminars
Global HapKiDo Association Umpire/Referee Course
Meditation Instructor Level 1
Taser Instructor
Active Shooter Instructor
Krav Maga Defensive Tactics Instructor
RANK/AFFILIATIONS
Mr. Michael Munyon is a 7th degree black belt and member of the ITF H.Q. (South Korea) and works with the leadership team as a member of the Council of Masters.
Founder/President: ITF HQ-USA
Additionally, Mr. Munyon is a 5th Dan in HapKiDo and is affiliated with the International HapKiDo Federation (IHF) out of South Korea.
Founder/President of Moo Sool Won-USA
Krav Maga Association Level 2 Instructor
Ambassador for the Masters Hall of Fame
Ambassador for the Korean Marital Arts Hall of Fame
Master Munyon is an honorary member of the World Taekwon-Do Masters Association and has been awarded a 7th Dan rank and Grandmaster certification
During martial arts career Master Michael Munyon has trained in numerous martial arts such as Tang Soo Do (stateside and in Korea), Shotokan, Shorin Ji Kempo, American Kenpo, Kali/Escrima, Wing Chun, Savate and more.
Master Munyon is also a certified NRA instructor and offers training in firearms and tactics.
Additionally, Master Munyon is a Michigan Commission of Law Enforcement Standards Defensive Tactics Master Instructor.
Upon retiring from the United States Air Force Master Michael Munyon has worked with the Alcona Sheriff's Department with Active Shooter training, Weapon Retention and Disarming, Alcona Community Schools with Active Shooter training, College Bound Self-Defense programs for teens, Church Security Trainer, Realtor Self Protection training for numerous Board of Realtors throughout the state of Michigan, Women's Self-Defense Levels 1-3, Less than Lethals (Pepper Spray, Kubaton, Everyday Carry Knife and more) and more.
For more information about Master Michael Munyon and Munyon's Korean Martial Arts visit their listing on the Martial Arts Schools and Businesses Directory by clicking on the image on the left.