Mike Esmailzadeh is the head instructor of Suigetsukan. He holds the following ranks and licenses:
Hachidan in Danzan Ryu Jujutsu
Professor in Danzan Ryu Jujutsu
Kyoshi in Toyama Ryu Battodo
Rokudan in Toyama Ryu Battodo
Shihan in Shinkendo
Godan in Aikido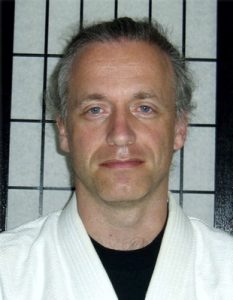 Mike Esmailzadeh has been actively involved in martial arts since 1976. He was born in Germany, and immigrated to the United States when he was 12 years old. Months after arriving in the United States, he began studying Jujutsu under Professor David Bellman. Other Jujutsu Professors, instrumental to his education, are Prof. Tony Muran, Prof. Tim Lynch, Prof. Dom and Helen Carollo. He is equally grateful for the many years of Aikido and Toyama Ryu Battodo instruction he received from Obata Kaiso in those arts. Michael Esmailzadeh is also thankful for having studied the Inayan system of Eskrima under the direction of Mangisursuro Mike Inay, Suro Jason Inay and Masirib Guro Jena Inay. He also wants to thank Shihan Russ Rhodes for the teachings he has provided in that system.
Mike Esmailzadeh has also trained in a variety of other martial arts/sports, including fencing, wrestling and Iaido. He trained and taught within the Chinese Gung Fu schools of Tai Mantis (Kam Yuen) and Wu Tang (Jason Tsou). He is currently continuing his education in Chinese Martial Arts by studying Bagua Zhang under Maija Soderholm.
In 1990 he left Los Angeles for Oakland, and founded the Suigetsukan Dojo. Suigetsukan now consists of 1700 sq./ft of mat space, and living quarters for Mike Esmailzadeh and five others. Mike currently teaches Toyama Ryu Battodo, Aikido and Jujutsu. He also co-teaches women's self-defense classes.
Suigetsukan
103 International Blvd.
Oakland, CA 94606
510-452-3941