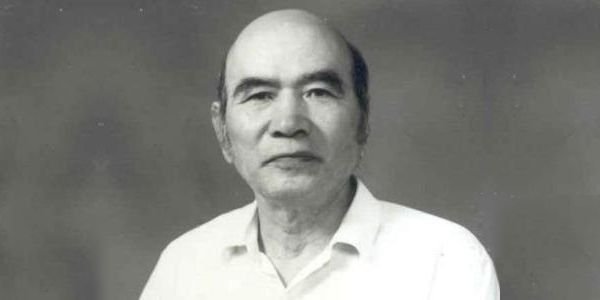 This speech was presented by Futao Motai at the Kenshiro Abbe Jubilee Celebration on May 14, 2005 at the Crystal Palace Sports Centre London, UK.
Ladies and Gentlemen,
Thank you very much for inviting me to the memorable occasion of the 50th anniversary of the introduction of Aikido into the United Kingdom. It is my highest honor to be with you to celebrate 50 years of Aikido in the UK. I am also thrilled to see so many guests from the whole range of Budo disciplines, including of course Aikido but also Judo, Kendo, Karate and so on.
May I also say how happy I am that these celebrations have been included under the banner of the 2005 EU-Japan Year of Exchanges. More than 100 events have been arranged for the UK so far, which shows a healthy level of interest in this initiative.
As we meet today, it is clear that relations between Japan and the United Kingdom have never been better. This is not something that has come out of the blue, but reflects the tireless efforts and dedication of numerous people and organisations on both sides. Perhaps we can gauge the extent of the progress in our bilateral relations, and the significance of the achievement we are celebrating today, by considering what the world was like 50 years ago, just 10 years after the end of World War II.
In Japan at that time, people were living from hand to mouth, quite literally. The country had still not recovered from the devastation of war, and relations with the outside world were at rock bottom.
There were no smooth lines of communication between here and Japan. Air travel linking the two countries was almost non-existent. It must therefore have required a tremendous amount of energy and time for Mr Abbe to plan and realize a trip abroad. Nonetheless, despite such trying circumstances, he did whatever it took and made his way to the UK.
I understand that his trip was made possible thanks to an invitation from the London Judo Society. It must have required enormous courage for the Society, in such acrimonious circumstances, to issue an invitation to someone from a country with which the UK had recently been at war. I would therefore like to pay tribute to the perseverance and determination of both Mr Abbe and the London Judo Society in making his visit possible.
The fact that the London Judo Society identified Mr Abbe and nobody else as the person to be invited shows the extent to which he already stood out at that time. And no wonder.
Born in 1915, he started Judo at the age of 3. He was awarded the 5th Dan when only 18. His progress continued, and in 1945 at the age of 30 he reached the level of 7th Dan in Judo and 6th Dan in Kendo. In 1949, he took up the position of Chief Instructor to the Kyoto Police and Doshisha University.
After Mr Abbe came to London, his road was by no means smooth. On the contrary, it was full of ups and downs.
First of all, he was obliged to sever his links with the London Judo Society due to a disagreement concerning their approach to martial arts. Then, during his absence between 1964 and 1969, his Judo Council embarked on a course that was contrary to his philosophy.
However, during such a turbulent life, he constantly adhered to the philosophy underpinning all the martial arts, whether Judo, Kendo, Karate or Aikido, which emphasises spiritual harmony.
Mr Abbe promoted Aikido in word as well as in deed. He has left quite a legacy here in the UK, where the traditional martial art of Aikido is in such rude health.
I am sure he would be delighted to see you all, chips off the old block, celebrating the 50th jubilee today. In fact, if I may paraphrase a Japanese expression, I daresay he is smiling in his grave.
Thank you
This speech was delivered at an event which took place on May 14, 2005 at the Crystal Palace Sports Centre London, UK.