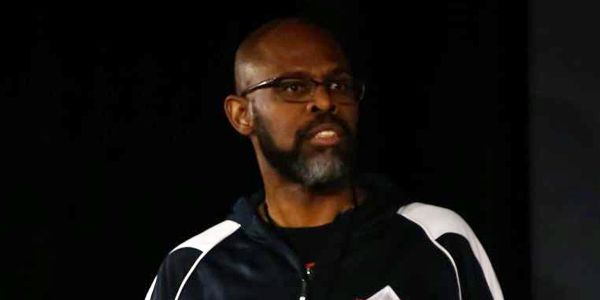 1. When did you start Martial Arts and why?
I began training at 13 years old on October 27, 1973. My brother worked at a bank and there was a Taekwondo school across the street. The instructor had his account at the bank and talked my brother into training. My dad told my brother 'take him with you'. After a few months, my instructor informed my brother that my parents were wasting their money on me. However after my dad insisted that I stay in class, I got my black belt in 18 months and became the teacher's pet. My instructor is Won Chik Park now out of Fort Worth, Texas.
2. Do you currently own a school?
I opened my school in March of 1988. A number of my students have done well competitively including: Jermond Wiggins, Willie Hicks, Richard and Jayne Stone, Askia Allison, my nephew Travis Plowden, Bernard Frost…on sparring nights we have had some wars.
3. What year did you start fighting BB Adults?
I competed as an adult black belt for the first time in June 1975. My first few years of competition was in classical Taekwondo tournaments. My first 'open event was in 1978 and my first national event was in 1979. I placed first at the AKA Grand Nationals and lost the grand championship to Scorpion Burrage.
4. What National or World Titles do you have?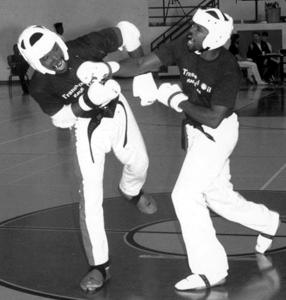 I won grand championships at many of the major NASKA events, but never paid to join NASKA. I never wanted to be a point chaser and actually remember a conversation with a former competitor who is now a NASKA promoter that we would never buy a membership. I was more into winning first place and grand championships than chasing points. I am proud of winning a WAKO world title in Stuggart, Germany; winning a WAKO pro world title defeating Great Britain's Alvin Mighty in a five round match and later defending it against Emmanuel St. Louis in Montreal in a seven round match; and winning a WKA world title in Toronto, Ontario, Canada defeating a fighter from Turkey in the final. After awhile it was the international competition that really intrigued me.
5. What National teams have you been apart of?
I was part of the Budweiser National Karate team which started it all, the Atlantic and Transworld Oil teams which were the absolute best monetarily and talent wise, Team Paul Mitchell, coached Team Elite (later CJB) for one event and coached Team SES.
6.Who would you train with when you were competing?
A ton of my training when I was competing were the actual tournaments. I literally fought every weekend possible. One year I won 26 grand championships and of course that did not count when I lost. During the week I had students I would spar with and once I graduated from college I would hop from place to place here in Detroit in search of people to spar, but it was difficult. Because of Steve Anderson and Billy Blanks however, I discovered lifting weights, running and doing drills as supplements to sparring.
Also once we were on teams together and Chuck Merriman would organize training camps we had awesome training, motivation, and learning atmospheres.
7. Who were some of your hardest opponents individually?
Wow, I have fought a ton of great fighters. Steve Anderson and Anthony Price were in my estimation probably the best I entered the ring with. Steve was so cunning and driven and Anthony had skills that a guy 6'4″ should not have. Also Billy Blanks was great, Anthony "Mafia" Holloway was a phenom, people don't know how good Alvin Prouder was, Tony Young, Terry Creamer, Kevin Thompson…the 1980's and even the 1990's rocked.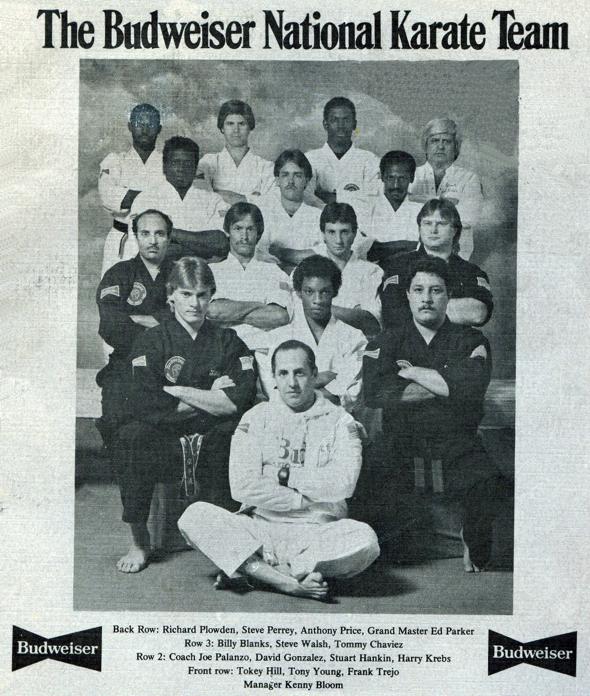 8. What were some of the teams that battled against Budweiser and Trans Atlantic?
Well Budweiser had the benefit of being the first team to really attempt to bring the best competitors in the land together. Because Harry Krebs and Kenny Bloom were able to sell a concept to ESPN, we needed foils. So your dad, Manny Sr. was able to put together the Cuban American team (with non Cuban Mike Smith) to match up with us on ESPN. Then there was an All Star team we fought on ESPN, along with Canadians, and Great Britain. With the Atlantic and Transworld Oil Teams we battled with national teams from across the world the American Airlines team, and Paul Mitchell. With Atlantic, the line up of myself, Steve Anderson, Billy Blanks, Terry Creamer, and Anthony Price never lost. People can talk about the Chuck Norris teams of the 1970's but I know in my heart that our five man line up would have beaten any team in sport karate history. All agile heavyweights, plop any of those guys in their prime in a heavyweight division today and it is over.
9. What was the most money you ever made in one event, including Sponsorship, Bonuses, Spending money and Prize money?
In December 1987 we had the first Atlantic Grand Slam event giving away over $40,000 in prize money to the winners. The men's and women's sparring grand championship and the coed forms grand championships were each worth $5,000. First place in EVERY black belt division was $750; second place was $500; third place was $300. In sparring it was double elimination (wonder where the NBL got the idea?). That day I beat Steve Anderson, Billy Blanks, and Mafia Holloway each TWICE to win the $5,000, plus $750 for first, plus we got something like $500 apiece for beating Great Britain in five man teams, plus a $500 bonus from the sponsor for winning grand, plus another $300 bonus for winning my division, plus a $300 bonus for winning first place in teams. What a day…over $7,000 cash for doing something I loved…
10. Ok, lets talk circuits. Was PKL the first National Circuit? Can you tell us more about the PKL? Also how did it start and why did it end?
11. To my understanding Naska and NBL both evolved thru PKL, can you tell us more about how they started?
Part I
Also to clear up some misinformation, Billy Blanks was not an original member of the Budweiser Team. The Budweiser Team made their debut at Joyce Santamaria's Empire State Open in 1985. The weekend that the team debuted happened to also be the same weekend as Chuck Merriman and Skipper Inghams first Bermuda Invitation Grand Championship (BIG). Billy was at BIG. Tokey Hill was responsible for putting together much of the roster for the Bud Team and it included: myself, Anthony Price, Steve Perry, David Gonzalez, among others…
10. Black Belt magazine was the first to come out with ratings. In their yearbook, beginning in the 1960's they would rate the top 10 tournament fighters in the country regardless of weight. Robert Trias with the United States Karate Association (USKA) was probably the first to come up with a national points race to determine an association champion. At this time the USKA Grand Nationals was one of the top events in the country. The American Karate Association (AKA) followed suit. Top competitors would join these organizations, wear their patches and compete.
Around this time a ton of things were happening that would lead us to where we are now. Jhoon Rhee was one instructor who had many students in sport karate's upper echelon. One of them, Pat Worley had his jaw shattered with a heel in an east coast event. This led Rhee to develop protective gear to protect competitors who competed in tournaments. Initially, this innovation was met with a ton of hesitancy from the 'traditionalist' who thought that bare knuckles and feet were the way to go.
Another innovator, Texan Mike Anderson began producing Professional Karate Magazine. Along with the magazine, Anderson offered ratings based on results from the nations top events (as determined by attendance from top competitors). In being a visionary, Anderson approached promoters and told them he would anoint their events in his magazine if they did two things: 1) safety gear had to be mandatory 2) they had to give away prize money, grand championships of $1,000 in 1973! One of the events was Anderson's own Top Ten Nationals so he put his money where his mouth was.
Through professional karate magazine, Anderson founded the Professional Karate Association. He partnered with a couple, Don and Judy Quinne who had connections in Hollywood. Through the PKA he began to market en masse the concept of full contact fighting. The PKA's board of directors and advisors were many of the top names in Hollywood at that time. Via these connections Anderson was able to produce on ABC television the first PKA World Championships where Joe Lewis, Jeff Smith, Bill Wallace, and Isiahs Dueanas were crowned champions. As a side note and also as a testament to his role as a visionary, Anderson years later founded WAKO. Now talk about timing being everything, being in the right place at the right time, being a visionary, and not being afraid to take a chance, Joe Corley realized Bill Wallace's appeal. He also knew that it would be great if he could promote Wallace's first title defense at his event the Battle of Atlanta. And he knew he himself could get coverage for himself and his businesses if he fought Wallace in Atlanta in this historic occasion. Forget about winning, Joe put his face on the line for a lifetime of fame and glory in sport karate circles. But I digress…
With the advent of the PKA many of America's top tournament fighters abandoned tournaments for the full contact ring. Wallace, Smith, Lewis, Benny Urquidez, Everette Eddy, Ross Scott among others left tournaments for good. (Part II coming)
Part II
The void that was left by the exodus of fighters looking for glory via full contact was quickly filled. Black Belt magazine now had a sister publication that had spent years looking for an identity that would separate it from Black Belt. Karate Illustrated had a new energetic editor, Renardo Barden who recognized the potential in tournament karate. Barden reviewed results from various national events and created Karate Illustrated's national ratings anointing fighters like Keith Vitali, Bobby Tucker, Steve Fisher, Dan Anderson among the countries elite. Starved for recognition for toiling in an activity that they loved, competitors quickly embraced the magazine sold on newsstands across the country. Barden and KI's staff broke the country into 12 regions (much like Anderson's' Professional Karate Magazine had done a few years before) and offered regional ratings providing greater recognition to competitors who might not have the means to travel but also offering exposure and marketing to those individuals and events that might cater to a greater audience. In 1978, one of those events was the Mid America Nationals.
In order for a sport to thrive three things are imperative: an event of some sort; contestants or athletes; and recognition. Barden quickly identified events with a history like Ed Parker's Internationals, S.Henry Cho's All American, Roy Kurbans Fort Worth Pro-Am, and the Battle of Atlanta as among the country's elite. However, because of the hard work of some imports to the state of Minnesota, The Mid American Nationals quickly vaulted to the top of the sport karate world. Any martial artist with a minimum amount of knowledge about the evolution of karate in America knows of Jhoon Rhee's contributions to the activity. Sparring gear, musical forms, billing/consulting companies, tournaments, competitors, and instructors, Rhee's family tree includes influences over it all. In the mid 1970's Rhee disciples John and Pat Worley and Gary Hestilow decided to relocate to Minneapolis, Minnesota and open up the Mid America Karate Schools. They were later joined by Larry Carnahan and Gordon Franks. Part of their business plan for the franchising of their schools included the growth and development of the Mid America Nationals. Because they enjoyed a wonderful relationship with most of the movers and shakers in the sport karate world, they worked to bring in many of the top competitors to their event. In 1978 they decided to change the name of their event to the Diamond Nationals and offered a diamond ring to the grand champion, a innovation that would lead to the event being considered sport karate's elite tournament for decades. The first Diamond National grand champion was Keith Vitali who defeated Mac Jaggers for the title. Vitali also won the PKA Nationals and was named the top karate fighter in the nation by Barden and Karate Illustrated.
At this time the Karate Illustrated ratings became the standard for sport karate in America. The Worley's briefly produced their own sport karate publication, Sport Karate Report which also enjoyed brief success. Sport Karate Report's national ratings were based on a poll of the players, who too recognized Vitali as the nation's best. But it was Karate Illustrated who produced a comprehensive regional and national ratings system that required events to meet certain criteria in order to be considered a "A" (national), "B" (regional), or "C"(spur of the moment rated) event. In order to be considered a national event, tournaments HAD to have a certain number of nationally rated fighters and forms competitors in attendance in addition to prize money requirements. This also allowed certain competitors to negotiate with the promoters for airfare, rooms, and expense money in order to enhance their events.
In a nutshell, the tournament movement took on a life of its own, did not lead to enough increased revenue for the magazine for such a labor intensive operation, and Karate Illustrated in the mid-1980's fired Renardo Barden and abandoned the best tournament and ratings system in the history of sport karate. Once KI shifted gears, Glenn Hart, a former martial arts competitor from the East Coast formed the Professional Karate League to offer ratings services to event promoters as well as purchase space in Karate Illustrated to run his ratings. It was then that having a specific number of competitors to run an event was eliminated to favor promoters. Without Karate Illustrated to offer regional ratings, many regional groups gained momentum in their areas. On such circuit was the RSKC in Kentucky coordinated by Ken Eubanks' student Mark Reeves. At some point and time it was determined that Reeves could do the ratings, a guy from Upstate New York named Boice Lydell had a magazine called SMASH and he could provide event coverage, and a new league the North American Sport Karate Association first under the leadership of Ceasar Borkowski, then under the leadership of Bluegrass Nationals co-founder Jim Lantrip and later under the leadership of Larry Carnahan was formed. The PKL stayed around briefly with newer events, but because people were used to supporting particular events as opposed to a circuit, the PKL did not have a long life. One of NASKA's most innovative moves was to limit the amount of prize money that they would ALLOW a promoter to give out, making sure that no NASKA promoter was priced out of the market. Other sports would eventually follow, but NASKA was one of the first groups to institute a salary cap. With Reeves running the ratings, Lydell providing the coverage and Carhahan and the NASKA board making administrative decisions, tournaments flourished because on the national 'open' level there was no alternative.
11. So they were all working together at that time. I think I remember events being sanctioned by Naska and NBL at the same time. Anyways, how did they end up separating?
I think that Mark and Boice got wind that their services would no longer be needed so they decided to do their own thing. Boice had the magazine and Mark created the NBL taking out ad space in Boice's publication. A nasty split between them led to Boice having everything and Mark being out of sport karate. NASKA could and has flourished without a magazine and obviously does not need a comprehensive ratings service. For years the NBL was NASKA's little sister until Boice could be influenced to 1) eliminate groin techniques 2) take a greater interest in point fighting putting it back in the finals 3) begin to give away prize money, which when it happened, forced NASKA to up the ante also…. Now however the league is stagnating because many of the creative minds have moved on….
12. How do you compare the fighters of the 80's to the fighters of today? How about the fighters of the 90's?
In the 1980's we were much deeper. Every division was stacked. I can remember the Battle of Atlanta around 1983 or 1984 having two rings for each adult male sparring division. Each ring fought down to two fighters and then you had your semi-finals. But also in the 1980's you had kickboxers who could come into a point event and have a good scrap, they were allowed to 'fight'. Also you had future kickboxing champions who used point tournaments to sharpen their techniques. When Mafia Holloway hit you with a hook kick he would not fall down. Scorpion Burrage would hit you with three techniques before the judges could separate you. You were afraid to fall down because you might get stomped so you had to have balance with your techniques. In the early 1990's Pedro Xavier, John Payton, Ronald and Donald Brady were all great fighters because they had a pedigree from the 1980's. They had instructors who trained them well. So many of the fighters today don't have guidance. They don't know that they should not get a point for slop. They don't know that they should not get angry because they got hit hard, just go back to the 'line' and get it back. Tokey Hill once told me that the open circuit would never grow because it is a rebel circuit. Competitors have broken away from instructors have no roots and are just gypsies. There is no unity, no continuity of thought.
13. In a way I feel that maybe sport karate has abandoned the fighting. The promoter?s are catering more and more to the Forms, Weapons and young under belt competitors. Before the fighters were the heroes to everyone, I believe now that aunt the case so much. Why has this happened?
The fighters have only themselves to blame for this fact. Casey Marks can go to a tournament and pick up a ton of cash for doing privates at the event. Darrell Lewis can do privates at a tournament and pay his car note. But when it comes to competing against the best, Casey and Darrell represent themselves well. They compete hard and want to win and it shows. Not just against the lesser skilled but against the best. The top fighters today don't want to fight each other. They want to be on the same team, fight donors and embarrass the lesser skilled not realizing that this person might have a school and schedule them for a seminar. Top fighters today want to bow out to each other and split money. Who wants to emulate that? With his NBL Supergrands Boice Lydell has some things right. One of them is offering what he calls amateur divisions (although all of the divisions at the Supergrands are amateur because it is the only NBL major event that does not have to give away money). I have seen these divisions draw black belt fighters that know they can't defeat the stellar fighters. So they enter the amateur divisions. This way their students will not see them embarrassed, won't see them get patted down or someone hit them and dance in front of their face, or any of that nonsense. With the WSKF we had a meeting here in Detroit earlier this year where it was decided that at each of our WSKf National events we would have WSKF-Elite or WSKF-Pro. Three divisions, light, middle, and heavyweight represented with one title fight at each WSKF national event. Immediately I attempted to negotiate with the top two fighters who would fit the heavyweight category—a three round fight, expenses and pay around $2,000 each! One accepted immediately. The other I never heard from again, although he told a friend "Why does Mr. Plowden want me and X to fight when there are all of these other people we can beat up?". That alone took a lot of my steam out of me. Mark Russo runs an awesome event. But to have his finals played down because fighters just go out and play with each other instead of banging because they are friends ruins the integrity of the sport. What is the point of having the best fighters in the house if they won't fight each other? Where is the passion? When we were on Atlantic/Transworld Oil, Chuck Merriman had a no bow out/no split money rule! And while some of us certainly looked out for each other financially, we could not bow out. We had to fight. I literally love Anthony Price. He is one of my best friends for life. But when we fought, we fought. None of these guys can be as close as we are. The forms and weapons competitors have more integrity and out work the fighters in my mind.
14. You were the head coach of NBL Powerhouse Team SES. Can you tell us about this great team?
With SES we had a sponsor, Dennis Lambka who was a martial arts fan. Mr. Lambka allowed me to offer sponsorship to individuals that I thought would represent the company and the sport well. I love to teach and motivate. Therefore I had/have little interest in working with athletes that think that there is little more for them accomplish in the sport or those that are basically un teachable. When Mr. Lambka gave me the green light, the first phone call that I made was to a fighter from South Carolina named Brian Plempel. Brian at that timed weighed 230lbs, but I sensed in him a fire, a burning that he wanted to be great. Also I knew his pedigree as a student of Rick and Nikki Carlson. I did not expect that he would show up for our first tournament at around 205lbs. That secured my faith in Brian who went on to give Jason, Jadi, and Raymond problems while wearing a SES uniform. I also picked up a fighter that I had watched kill people at an event in Canada, Carlos Tearney. Ryan Huntley fit in well with our team and could have been a great adult fighter. Regena Thompson was a key to our success and a fighter named Tara VanDusen called me and asked if I had room for another woman. She is a class act. Matt Bowles, Darrell Lewis, Matt Mullins, Suzanne Wanckett carried the torch for us for forms and weapons. And the SES sponsorship allowed me to expose my students Askia Allison, Willie Hicks, Jermond Wiggins and Travis Plowden to consistent competition on the national level. What people did not know was that those of us from Detroit flew to most events in a private Gulf Stream II. Talk about mind blowing, Mr. Lambka looked out for us.
15. You have a great school team of fighters, where have they been lately?
After my break from the NBL, my students competed in the WSKF. But life happens as well. Askia was hired by the Detroit police department, Willie started college (although he is off this semester), Travis graduated from the University of Detroit and entered the working world, Jermond Wiggins, Richard and Jayne Stone are in college. Most are competing some locally and might soon make more consistent appearances. We don't dislike NASKA as a whole, but my guys are spoiled and hate five point matches. The WSKF offers two minutes, total points which just makes sense. Each team match is total points. I see absolutely NO logic in the first two fighters going to five and the last match going total points in teams. How is that logical and why do people support it?
16. You are now the head coach of team Victory which is owned by Garth Binns, what can we expect from Team Victory now with you as the coach?
Again I love to coach and motivate. I use some unique tactics that many may consider eccentric or crazy. Chemistry is important. In Las Vegas I was intrigued by the passion of the Team Victory members. Little Jack Felton and I had a few conversations and his responses demonstrate his potential. That kid is one who wants to be great. Mike Pomberio is a forgotten man. At one time he was considered a member of the elite club. I think that I can help motivate him back to that status. He is getting married this weekend and has the full support of his wife which is so very important. The fact that many have forgotten or given up on him is going to fuel him to quite a few wins, that I believe. I have challenged father and son Dawson and think you will see some outstanding things from them soon. How rare is that opportunity? To create competitive magic with your father/son at your side fighting too? Garth Binns is going to set some seniors on their behinds. Marrielle Elliot is a baby. She is only 20 years old, and when the books are written she is going to have a ton of titles under her belt. Justus Lawrence has an outstanding pedigree, kicks well off of both legs. We just need him to get stronger and meaner and watch out. Hakeem Walker has not hit full stride yet. When I can get him to adopt the attitude of win or die, it is on. With some training camps, I believe in training and being in shape, I think that we can have a very, very competitive team. Already, Garth and I have some top competitors offering to wear Team Victory. We shall see what happens.
17. What happened with the WSKF are you still in charge?
18. In your opinion does this sport have any chance of going mainstream?
17-18
The WSKF was always a democracy. I was a voting non promoter and could not make decisions carte blanc. Barbie Dickinson, Mark Russo, Mike Bernardo are some of the best in the world. In one year the league surpassed the one that we all left because we need to be fair and listen to the needs of the competitor. However, NASKA is a two headed monster with a "loyal" following that is difficult to crack in a short amount of time. In order for sport karate to become mainstream another level must be reached. In order to reach that level, people have to change their thinking.
When we made the decision to start the WSKF Rick Lee of South Carolina and I communicated via email. Rick shared with me that he thought that as long as events are owned by promoters, as opposed to an organization (AAU, USTU, etc.) we would never go anywhere. You see ultimately, the promoters care about making a profit and catering to their students/team members. Therefore they might be inclined to cut corners here and there. You have people who want to be judges only to influence other judges so that their students prevail.
In the 1980's Chuck Merriman had it right. With Bermuda and the Atlantic Grand Slams you could not interact with his pre-selected judges. They were dressed professionally, hand selected because of their integrity and ran professional events. Today we might have one event who pre-selects judges, but it has more to do with availability than integrity. However, we do need a mechanism for choosing who we have as officials at our events. We don't test/screen the individuals who we entrust our competitive futures to.
Imagine 20-20, or 60 minutes getting an invitation to demonstrate who bush league we are. They send a reporter posing as a black belt into one of our tournaments to judge and expose our total lack of integrity. To add insult to injury, the official is dressed in biker gear, tattoos, bandana, etc.. And we are so hard up for help that we use them! We need to copy the AAU, USTU, (one tournament administrator points out however that these entities work because they are non profit) and begin certifying and training officials. We have had team sponsorship, and everyone wants to be on a team but we need event sponsorship. We can't expect promoters to go into their pockets and up the prize money. They are in business to make money and they certainly don't make much because the so called top competitors are in attendance. We are not marketing minds. We have copied sales/marketing minds when it comes down to running our schools. However, we have people versed in kicking and punching trying to sell/market sport karate.
Tournament or sport karate does a horrible job of selling the activity to the martial arts schools. We have thousands of schools in this country, purchasing and using sparring gear, XMA curriculums, but we don't sell the tournament concept to them. Our activity is incestuous. You support me and I will support you. That is short sighted. Jack Felton should have an imagine, cultivated and sold to martial arts schools. Jadi Tention doesn't drink, smoke, or do drugs. We should be able to market that. Chris Mallaries is a wholesome college student that parents should want their kids to look up to. We control the factors of production, but complain when others don't do what we want to with them. If sport karate is a viable commodity, it is up to us to make it known.
19. In your opinion who is the greatest fighter of all time?
Steve "Nasty" Anderson is the greatest of all time. As a fighter Steve evolved and a lot of people like to keep him in one place. When he first came on the scene, Steve was a 185lb runner. He would run, dive and do anything to win and it worked for a time. However he competed every weekend literally and he got better at fighting. In the early years people said that he could not kick. But over time he developed a great counter side kick and great hook kick. He was long and his backfist and blitz were on point. Once he got up to 230 he hit harder. He had a fantastic counter reverse punch and a great offensive reverse punch. He stopped running and began hitting angles. He refused to lose. Sometimes his methods were unconventional. At one event he dismantled the eight foot grand championship trophy before the tournament began, stating he needed to be able to get it into his car since he was going to win it anyway, which he did. Another event he called one of his nemesis the night before they were to fight, around 3:00am and told his rival all of the things he was going to do to the rivals wife after he won. The rival was trying to kill him and Steve was scoring points. He had his girlfriend call up one group of fighters, told them that she was the promoters secretary and convince them that an up coming event had been postponed a week. Steve went to the event, won the grand championship and color television and then called the fighters asking where they were. Colorful, crazy (and I mean really crazy), but great. I can honestly say, I never fought someone that tried so damn hard to win regardless, and I never fought alongside a team mate that wanted to win more than Steve "Nasty" Anderson.
20. Final question, tell us about some of your memorable fights as a fighter and spectator.
I am a sport karate addict. Therefore I have a ton of memories, my only regrets that I can't relive them. On your site, some of the west coast people have mentioned Mark Foster's victory over Nasty at Ernie Reye's event in San Jose. A side bar to that event was a conversation Billy Blanks and I had as the match was taking place. Billy was in the mist of his 13 match losing streak against Steve. After Foster had won, Billy mentioned to me that Steve had a difficult time with people who fought from a southpaw stance. Ray McCallum gave Steve problems, John Longstreet gave Steve problems, in the future Terry Creamer would give Steve problems. The next month were the LAMA Nationals in Chicago. I fought Steve in the finals and decided to try putting my right leg (my kicking leg if there was such an animal) in front. Low and behold I beat him. Immediately after the match I asked Billy why he never tried this strategy for himself and he just shook his head and said "I don't know". Now as a side bar, over the years I would switch back and forward against Steve. And he always, and will still always say that fighters should only fight on one side. I always felt as if he were sending me a veiled message to fight him in a more conventional right side back to match his right side back. However, I know that he would fight a little more conservatively when my right side was in front. At no time was this more obvious to me than when we fought for the right to represent the United States at the WAKO world championships in Evansville, Indiana. I was determined, Steve was determined, but he struggled to score when I went southpaw.
Another stand out moment for me was the first time I fought Alvin Prouder. It was at the Battle of Atlanta in 1984 (I remember because it was the weekend Marvin Gaye was killed). In the grand championship run-off I defeated Larry Kelly, Scorpion Burrage and Terry Creamer to make the final four in the night time show. My opponent was Alvin and the other semi-final was Billy Blanks and Jessie Thornton. I was aware of Alvin's reputation, but figured I was hot and he his timing would be off because of kickboxing. At the start I went to reverse punch (surprise?) and he hit me with a fade away hook kick that did not hurt, but had to look so damn pretty. He went on to win the match (I did beat him two times after that) but I gained so much respect for how smooth he moved and how sharp a fighter he was.
I used to love watching Kevin Thompson and Pedro Xavier go at it. When Pedro was cutting his teeth in the adult division, Kevin would try to test his heart and intimidate him. He knew Pedro was going to be a force, would hit him late, get in his face and growl. And to his credit Pedro would never back down. Which would frustrate Kevin even more. Once Kevin got so upset that he invited Pedro into the restroom to settle it like men. What a sport.
Last thought for now….when a group of us left Budweiser to sign contracts with Atlantic there were a lot of bitter feelings. Chuck Merriman had briefly been brought in to coach us with Budweiser but could not see eye to eye with the team's management and left. Under Budweiser we did not have a contract, they were the only game in town and some things were quite interesting to say the least. One night I get a phone call from Coach Merriman. He explains to me that he has a sponsor who is going to pay us a 'salary', bonuses, all expenses, plus spending money. I hung up the phone and told my then fiancée that 'coach has been drinking'. The only requirement that Coach Merriman had was that I use the plane ticket that he was sending me to go to the Ocean State Grand Nationals in Rhode Island and he would explain everything there. I called Anthony Price and we decided to go. Again, remember that we are still on the Budweiser Team. Once in Rhode Island, Merriman held a meeting in one of the hotel's meeting rooms. Myself, Anthony, Billy Blanks, Steve Anderson, Terry Creamer, Chip Wright, Tony Young, Chavela Aaron, Christine Bannon, Kelly Cerio, Doreen Cogliandro, Anthony "Mafia" Holloway, Nikki Quist, Domingo Llanos, Jean Frenette, Sonny Onowa, Keith Hirayabiashi, Cherly Nance were all presented with contracts by Coach Merriman and Skipper Ingham's legal representation T.Rondo VanClief. And we blinked. "We are not signing any contracts", was the prevailing theme. "I want to take this for my attorney to look at", Billy said. Coach Merriman was frank, "take it or leave it". He said. "Can we go off and discuss this among ourselves?", he was asked. "Of course," Coach said. We went into one of the guest rooms and it did not take us long to do the math. We were going to get hundreds of dollars BEFORE we hit anyone! Plus bonuses and expense money. With Budweiser we were getting $25 a day. There was no comparison and a legal contract must benefit each party. We quickly came to our senses, went back to Coach Merriman in the meeting room and accepted. At that point he opened up a briefcase full of cash and began calling names and handing out money. I was in sport karate heaven and could only think about what a bright future the activity had.
Alex I have a ton of stories…these are just a few….thanks for the chance to vent and go down memory lane….