I want to make a difference and leave a legacy to this world. ~ Romero Jacare´ Cavalcanti
Born in 1952, Romero Jacare´ Cavalcanti nick named Jacare´ began his Brazilian Jiu Jitsu training at 11 years old. At the age of 16, he joined the famous Gracie School in Copacabana where he grew up. Jacare´ and the Gracies lived in the same neighborhood, so, he got to met all of them. He was in the same BJJ class as Carlos Gracie Jr., Crolin Gracie, Fabio Santos, Mauricio Gomes, the Machados, Rickson Gracie, and many others.
After competing extensively from 1972 to 1985 and working as an assistant instructor at the Gracie School, Jacare´ opened his first school in Ipenema, Brazil. He soon became one of the most respected instructors in Brazil going on to found and coach the the famous powerhouse Alliance Team. Among many important titles the Alliance Team has won is two World Championships (1998/1999). The Alliance is home to world class fighters like Fabio Gurgel (four time World Champion), Roberto Traven, Rodrigo "Comprido" Medeiros (two time Absolute World Champion), Leo (ADCC Champion) and Rico Vieira, Fernando Gurgel, Gigi, Roger Brooking, Felipe Neto, Terere, Anderson, Jameláo, Ratinho, and many others.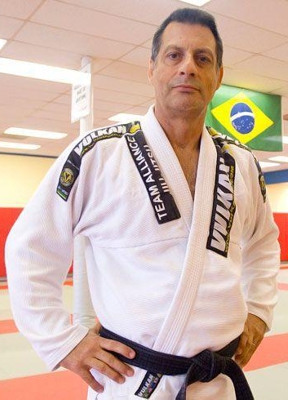 After attending school in New York in the 70's, Jacare´ came to love this country like his own, so, he moved backed to the US with his family in 1995 and opened his first American school in Miami, FL. He later moved to Atlanta in late 1996 and quickly established a very successful school. He developed a very solid team with competitors like Bull Shaw, Elijah Gardner, Byron Stone, Ron Miller, Jason Miller, Ryan Ellison, Damien Stely, Jeff Joslin, Pat Harvey, Mike Hanson, Kenny McLendon, Chad LeBrun, and many others. Jacare`s school is now the main school in the Southeast US for BJJ, self-defense, and mixed martial arts (MMA).
Respected and recognized for his outstanding technique and expertise in training competitive fighters for over twenty years, Jacare´, in association with Matt Larson, was chosen by the Army Rangers in Fort Benning, GA. and several Law Enforcement Agencies as their main instructor. He makes his system very easy to learn and his classes are fun and exciting where everyone is treated like family. Jacare´ says BJJ has made him a better person by teaching him patience, respect, and confidence.
As told by Jacare´ – I met Rolls in 1971 when I was training at the famous Carlson Gracie School in Copacabana, Rio, Brazil. He was a young and polite guy wearing a kimono wrapped with a Black Belt. When I asked who he was they said this guy will be champion of the family very soon. In 1972, I went to live in New York to study languages and stayed for almost three years. One day, out of the blue, Rolls showed up at my apartment on the upper east side. His mother lived a few blocks away and he was there to visit her. We became very good friends. In 1974, I returned to Brazil and started to train with him until June, 1982 when he died in a tragic hang-gliding accident. I had just gotten my Black Belt from him four months before.
Rolls was an innovator and in his classes he taught everything like throws, takedowns, strikes, no gi, wrestling, and variations from positions that I never saw before. His classes were very fun and exciting. The incentive he gave us all to compete I still try to instill in my students today. He was by far the best fighter of his time; intense, cold, fast, technical, unbelievable, and never refused a challenge. With all of that, he was still a true gentleman who traveled the world and spoke three languages.
I owe everything to him. I was part of his first competition team with: Carlos Gracie Jr., Paulo Conde, Nissin, Mauricio Gomes, Ricardo Azoury, and a few others. He was like a father to me. Growing up in a tough neighborhood, he set a good example for me and influenced a whole generation. I think I will never meet a person like him again.
I feel very blessed to have met and learned with him and wherever he is I know in my heart that he keeps an eye on us. To finish, I just want to say thank you, thank you very much Rolls for being my instructor, mentor, and friend. From the bottom of my heart, God bless you.