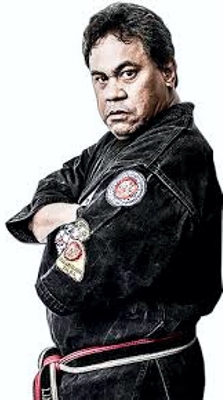 In June, 2004, Grandmaster Tino Tuiolosega officially passed the Limalama legacy and the responsibility of overseeing the future of the system to his son, Rudy Tuiolosega by promoting him to Senior Master/Soke, 10th degree black belt, Malamalama. The promotion ceremony was held in Las Vegas, June 24, 2004 at Jeff Speakman's International Training Camp, where Sr. Master Speakman and Black Belts from around the world were present to witness this historic event.
Rudolph Ponali K. Tuiolosega, son of Tu'umamao "Tino" Tuiolosega, and Claire Puanani Tuiolosega was born in Queens' Hospital, on the island of Oahu, Hawaii on December 15, 1956. He along with his two brothers and sister were raised in American Samoa by his grandparents as the culture dictated, and later was reunited with his father and mother. His father began his training in Limalama along with his brothers and sisters, but Rudy became so absorbed in learning the art, he excelled rapidly. At 16 Rudy began teaching daily at this father's academy in Westminster, California working and training closely with his father's senior instructors, George Molifua, and Futi Semano. Rudy developed into an effective and respected competitor early on and participated in the tournament circuit sometimes competing in two tournaments a day, winning over 2,000 competitions, worldwide. In 1975, he married and moved to Escanaba, Michigan where he opened the first series of Limalama schools, working closely with the Cartwright family. In 1977, he moved to Alabama where he and his wife settled down, raising their three children. During that time, Rudy joined the U.S. Army and served 5 years in Germany on border operations. While in the military, he continued to teach Limalama.
Senior Master Rudy Tuiolosega has over 40 years of experience in self defense both as a competitor and instructor. He has traveled extensively and has done numerous seminars worldwide specializing in combative arms and well as specialized self defense training for police officers, and anti-terrorist groups.
Senior Master Rudy Tuiolosega has a deep love and respect for his father's teachings and holds a deep commitment and passion to carry on the quality and integrity of Limalama to the new generation of practitioners. He speaks Samoan fluently and his love of his Samoan culture is reflected in his teaching. He believes Limalama will enrich the lives of those who study this unique martial arts system and asks of his students, "What can I do to benefit you."