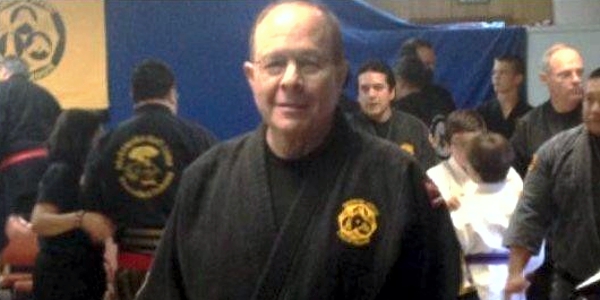 Russ Coelho was born and raised on Oahu in Rural Koolaupoko. His father was Operations Superintendent of Koolau Boys Home Juvenile Delinquent facility and Russ was raised there. The facility was located at the base of Mt. Olomana and part of the Koolau Mountain range which splits the Island of Oahu in half.
At an early age he began Judo training with Sensei Tony Gonzales at St Anthony's Dojo Kailua. He trained until he left St Anthony's Elementary and went to St Louis High School in Kaimuki. He played football on the Koolau team and met his match. Tired of getting "beat up" he talked to Sensei Libert O'Sullivan about training with him. Sensei made no promises that Russ would be able to defend himself with his instruction. He did ensure that he would continue his Judo tournaments, learn Dan Zan Ryu Jujitsu, and study Karate, and with total dedication to the Arts he would be stronger in mind and body.
Professor Russ Coelho moved to the mainland and began his training under Professor Sig Kufferath at the Los Altos Aiki Jitsu dojo in Los Alto, CA. Nikko Jujitsu and View Aiki Kai was established by Professor Kufferath, Fermin Urmeneta, Bob Nadeau and Professor Coelho. He studied under Koich Tohei Sensei for many years, Prof. Bill Montero Sr. and others. However, the teachings of Prof. Kufferath had more meaning then anyone who taught him or he trained with. Professor Kufferath is missed more than any words that can be spoken. Professor Coelho gave the final eulogy at Punchbowl. It was at that moment when he was interned that he realized a major part of the system had died with Professor Kufferath.
Professor Russ Coelho holds rank in Jujitsu, Judo, and Aikido and has studied many martial arts styles throughout the country and in Taiwan.
Honors:
Danzan Ryu Jujitsu Hall of Fame inducted by Shoshin Ryu Yudanshakai 2013
Granted title of Hanshi and 9th Dan by Prof. James Muro under the Chow Hoon Goshin Jitsu System 2013.
Granted Professor and 10th Dan by Hawaii Martial Arts Society headed by Professor Jaime Abregana in 2000.
Granted 7th Dan by Kilohana Martial Arts Association in 2008 and Professor in 2010.
Granted Grandmaster title by Prof. Randall Choy Chinese Athletic Arts Academy May 2002.
Kufferath family requested Prof. to take Professor's seat, as a "representative" for the Dan Zan Ryu within World Head of Family Sokeship council. WHFSC is headed up by Grandmaster —-Frank Sanchez, who in the 60's was a dojo mate of Professor's.
Danzan Ryu Jujitsu Hall of Fame inducted by Shoshin Ryu Yudanshakai 2013,Master's Hall of Fame 2002, Hawaii Martial Arts Hall of Fame 2002, WHFSC Hall of Fame Sept. 2000.
LAPD Gang Intervention program, Las Vegas Metro Police License and instructs other agencies within the US.