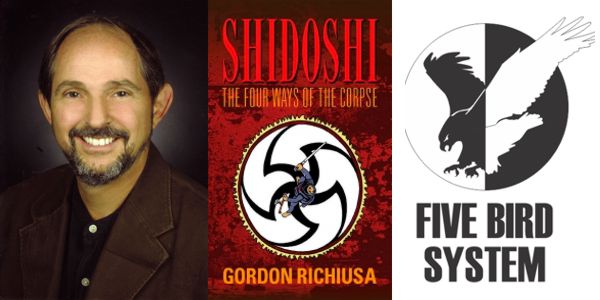 Shidoshi: The Four Ways of the Corpse is a gripping and adventure-filled novel, one man reluctantly takes charge of an underground war that has been raging across international borders, between feudal factions for 300 years. By ending petty struggles his objective is to follow his teachers' path to enlightenment and change the world. However, he must pit himself against old allies, and various secret societies in pursuit of a title that he never asked for, at the peril of his own family.
His current army is made up of men and women who have been trained in the secret knowledge from the warrior and mystical clans of old, including Sanford Two Bulls and Ramona Red Wolf. Derrick's task is complicated by John Suess, a martial artist of superior ability who some already call by the disputed title, Shidoshi.
Shidoshi: The Four Ways of the Corpse is a riveting and realistic read, based upon nearly century of martial arts training by Gordon Richiusa, who was inducted on June 19th, 2010 into the Martial Arts Masters Hall of Fame. He is also a respected journalist and writing instructor and the only person I've ever acknowledged publicly for his insight into and knowledge of the martial arts. Frank Dux, author of The Secret Man, and namesake for the film Bloodsport.
About the Author:
Gordon Richiusa lives with his wife and writing partner in Laguna Woods, California. While working on several projects with her, he is currently working on his next true-life adventure novel, which is based upon an undercover police officer named Rico Rose who was known as "The Panda" on the streets of Los Angeles, Legends and Legacies and The Five Principles of Everything. He is an inductee of the Martial Arts Masters and Legends Halls of Fame.
Author's contact:
Email Gordon Richiusa
Call 949-206-0977