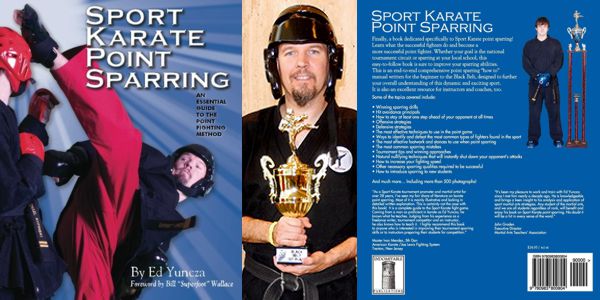 Sport Karate Point Sparring – An essential guide to the point fighting method is a book dedicated specifically to Sport Karate point sparring! Learn what the successful fighters do and become a more successful point fighter. Whether your goal is the national tournament circuit or sparring at your local school, this easy-to-follow book is sure to improve your sparring abilities. This is an end-to-end comprehensive point sparring "how to" manual written for the beginner to the Black Belt, designed to further your overall understanding of this dynamic and exciting sport. It is also an excellent resource for instructors and coaches too.
Some of the topics covered include:
* Winning sparring drills
* Hit avoidance principals
* How to stay at least one step ahead of your opponent at all times
* Offensive strategies
* Defensive strategies
* The most effective techniques to use in the point game
* Ways to identify and defeat the most common types of fighters found in the sport
* The most effective footwork and stances to use when point sparring
* The most common sparring mistakes
* Tournament tips and winning approaches
* Learn the natural nullifying techniques that will instantly shut down your opponent's attacks
* Learn how to increase your fighting speed
* Other necessary sparring qualities required to be successful
* How to introduce sparring to new students
And much more… Including more than 500 photographs!
About the author:
Ed Yuncza is a Trenton, New Jersey-based professional martial artist with more than 25 years of training. He is the owner and chief instructor of E.Y. Martial Arts & Self-Defense Concepts, L.L.C. located in Mercerville, New Jersey.
Ed is also an inducted member of both the U.S.A. Martial Arts Hall of Fame and Action Martial Arts Magazine's Hall of Honors. He is a frequent contributor to Black Belt Magazine and has been writing for the magazine since 1995. He has also written for other martial arts publications such as Inside Kung Fu magazine.
Ed holds a 5th degree black belt in the Superfoot System under Grandmaster Bill Wallace, a 5th degree black belt in American Taekwondo under Master John Graden and a 4th degree black belt in WTF Taekwondo (Kukkiwon certified) as well as teaching certificates under Grandmaster Richard Chun and Master Sang H. Kim. He also holds a 4th degree black belt in the Okinawan/American based system of Gu Ju Dao Te Karate Do under Master Jeffrey A. Mack and is an Apprentice Instructor in Jeet Kune Do Concepts under Sifu Paul Vunak. In addition, he is an NRA certified firearms instructor and a licensed C.O.B.R.A. self-defense instructor.
Ed has been employed in the Information Technology field since the mid 1990s and currently works as an IT Manager at Princeton University. When he is not working, he enjoys spending time with his family.
---