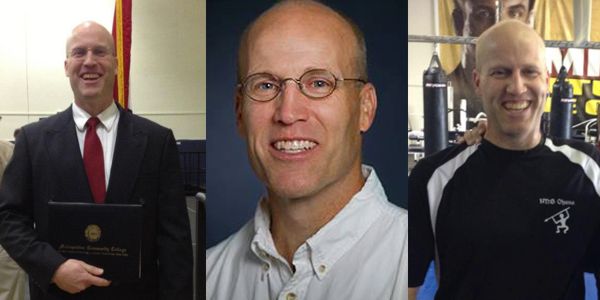 Born and raised in the Kansas City area, Stephen Taylor grew up playing baseball, basketball, football, golf, soccer, and tennis. But after years of watching classes at the karate school next door to the dance studio his sister attended, he finally began training in the martial arts after graduating from high school in 1987. Stephen continued playing sports and studying various styles of karate and tae kwon do throughout college, eventually earning a bachelor's degree in business administration at the University of Missouri Kansas City.
Stephen continued playing sports while attending law school at the University of Kansas, and during his second year there he began studying kung fu. While Stephen enjoyed the training, from everything he had read and heard about the martial arts he couldn't help but think that there had to be more to it than what he had seen so far. Then one day in the summer of 1994 the kung fu school hosted a visiting instructor. As soon as Jesse "Duke" Garcia began to move, Stephen knew that he was in the presence of a true master.
Unfortunately, at that time Duke was not accepting new students. But one week before graduation the next spring Stephen received a call from a mutual friend who told him that Duke was accepting new students and invited him to class that weekend. After one class with Duke, Stephen changed his post-graduation plans and decided to remain in Kansas City and train with Duke. It was a decision that would change the course of his life.
As a bi si (with honors) graduate of the Shanghai Chin Woo (Jing Mo) Academy, Duke is considered a master of more than a dozen different styles of kung fu. Rather than focusing on a particular style, Duke emphasizes the principles inherent in any complete style or system. This foundation has allowed Stephen to train with other masters such as Richard Bustillo, Dan Inosanto, Shou Yu Liang, and Erik Paulson, incorporating their lessons with Duke's rather than trying to keep each style separate.
By emphasizing principle rather than technique, Duke's lessons also apply regardless of the situation be it self defense or competition. Stephen has competed in judo, pankration, push hands, sanda, stick fighting, and submission wrestling tournaments throughout the US and China. While Duke has trained many successful competitors, perhaps his greatest contribution to the martial arts is his ability to apply the structure of taiji to all ranges of combat from ground to weapons. Duke is one of only a few instructors in the world who can teach the artistic, fighting, healing, and internal aspects of the martial arts.
After training with Duke for several years and assisting him with seminars throughout the Midwest, Stephen began teaching his own classes at the Olathe, KS YMCA in 2002. He also taught kung fu for the University of Kansas's Upward Bound summer session before moving to San Jose, CA and working as the head instructor at a women's only studio called Women Kickin' It. Stephen returned to Kansas City in 2005 to begin working as an assistant strength and conditioning coach at Johnson County Community College.
At JCCC, Stephen spent seven years as the assistant to Istvan Javorek, Emeritus Professor of Romania and one of the only internationally ranked strength and conditioning coaches in the US. As one of the developers of the Soviet, now European, approach to weight training and the creator of 'complex' conditioning, Coach Javorek is one of the most influential strength and conditioning coaches in the world. In addition to working at JCCC, Stephen's interest in the healing aspects of the martial arts led him to earn a master's degree in cellular and molecular biology from UMKC in 2007. Stephen then taught biology labs at KU and self defense at Penn Valley CC in Kansas City, MO while developing the self defense and tai chi classes at JCCC.
Today Stephen continues to train with Duke as well as visit martial arts schools in the US, Canada, China, and Thailand. He even competes occasionally, always looking for opportunities to gain additional experience and improve his teaching ability. After more than 10 years at JCCC, Stephen will begin teaching at the University of Iowa in the fall of 2016.