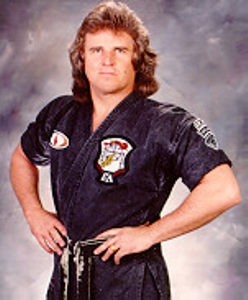 The American Kenpo of Grandmaster Steve Spry is a combination of several Hawaiian and Polynesian martial arts that he studied and learned from their Masters.
In 1999, Grandmaster Spry took first place in the Masters Division of the International Karate Championships in Long Beach, California. Grandmaster Spry was inducted into the TPA's Black Belt Hall Of Fame as The Black Belt Competitor of the Year in 1989, and again in 1997 to The World Black Belt Hall of Fame for his Outstanding Contribution To The Martial Arts.
Grandmaster Spry has enlightened, motivated and inspired thousands of people throughout the world with his knowledge and wisdom. By listening to Grandmaster Spry's message, you will learn what a Champion is. It is well documented with Grandmaster Spry having over 300 International Karate Victories from students he has trained, that "one does not become a champion until one has realized that they are a Champion!"
Grandmaster Spry has been the recipient of numerous Honors, Awards and Titles, one being "The Master of his Craft." Thromgh his mastery and understanding from God that his gifts are greater than his talents. Grandmaster Spry is committed to sharing his:
Knowledge from Man… Wisdom from God
Since 1990, Grandmaster Steve Spry has produced over 300 International Champions who competed at Grandmaster Ed Parker's International Karate Championships held for the past 35 years in Long Beach, California.
Credentials
1999 Champion, Masters Division, International Karate Championships.
Inductee, World Black Belt Hall of Fame for Outstanding Contributions.
Inductee, California Black Belt Hall of Fame as Black Belt Competitor of the Year.
Recipient of the Prestigious Golden Master Award for Teaching Excellence.
Recipient of the Prestigious Hero's Award.
Holder of Numerous State, National and International Titles.
Grand Champion in Kata and Fighting.
Rated #1 Black Belt Competitor 1989-1991.
Over 300 International Victories 1990-1998.
Experience and Certifications
State Licensed and Certified School.
Owner of the World's Largest IKKI School.
Trainer for Federal, State and Local Law Enforcement Agencies.
Trainer for Special Forces.
Staff Karate Instructor for Parks and Recreation.
Deacon at St. John's Lutheran.
Motion Pictures and Media
Star of IKKI American Kenpo Teaching and Testing Video Series.
Featured in Black Belt, Master, Masters & Styles, Secrets of the Masters, and Inside Karate Magazines.
Movie: Dragon, The Life Story of Bruce Lee.
Featured in the OC Register and LA Times.
Special Guest on OCN's Sport Talk Show.
Skills and Training
Writer, Author, Producer, Actor and Speaker.
Movie Fight Scene Choreographer.
Promoter of the Masters Championship.
Founder and President of the International Kenpo Karate Institute (IKKI).
Christian, Husband, Father, Parent, Teacher, and Martial Artist.