Chinese Training History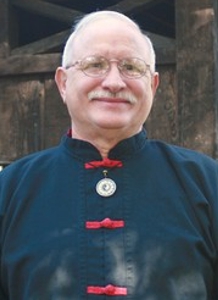 Steve Aldus started his martial training in 1971 while serving in the military during the Vietnam War. He spent most of his tour in Hong Kong as a MOTU unit electronics specialist. He was introduced to the arts of Hsing-I Ch'uan, Ba-gua Ch'uan, and Old Yang Style Tai Chi Ch'uan. His primary art is Hsing-I Ch'uan (5 element, 12 animal, 6 trigram). His second art is Tai Chi Ch'uan and he had a basic introduction to Ba-gua Ch'uan. Li Chi Lan was my instructor. He passed away in 2000. His training line is Hopei. It is orthodox in its training methods. His great, great-grand father is Li Ts'uan-I. He trained for four years, an average of four hours each week night. He then returned home to the United States. Before being discharged, He was stationed at Jacksonville Naval Air Station in Florida. He shared techniques with different martial stylists (Korean, Japanese, Okinawan, and American Boxers) in the area.
His training included but was not restricted to:
| | | |
| --- | --- | --- |
| Weapons Training | Forms | |
| Tai Chi Sword | Five Element | Chin-Na |
| Broad Sword | Animal | Chi Kung |
| Staff – 3 foot to 10 foot | Trigrams | Chinese Philosophy |
| Cane – Hook and Straight | Chi Kung | Acupressure and Acupuncture |
| Double sticks | | Herbal medicine and massage |
| Rope | | |
| Cudle sticks and various other weapons | | |
After Steven was honorably discharged from the service, he returned home to Galesburg, IL where he resided until he moved to Peoria, IL in 1979.
In 1996 he began teaching at the Contemporary Art Center with Preston Jackson. He continues teaching at this time. He teaches the Old Yang Style long and short forms of Tai Chi Ch'uan, Hsing-I Ch'uan, weapons, and self-defense applications.
On March 31st, 2007 he was inducted into the USA Martial Arts Hall of Fame under the category of Martial Arts Master of the Year.
February 2008 he placed 2nd in the nation with the Alliance for competition of Men Black Belts, 7th Degree, age 50 and over.
On March 15, 2008 he received his Doctorate of Martial Arts Philosophy & Martial Arts Science Ph.D./Ma.D.Sc. from the University of Asian Martial Arts Studies.
On April 12, 2008 Steven Aldus met all requirements of the International Alliance Sokeship Council and was promoted to 10th Dan. The Alliance awarded him a Sokeship in recognition of being the only student in the United States continuing the teachings of Master Li Chi Lan in the arts of Old Yang Style Tai Chi Ch'uan and Hsing-I Ch'uan.
On April 12, 2008 He was inducted into the USA Martial Arts Hall of Fame under the category of Soke of the Year.
Tae Kwon Do In 1980 he joined the Choi Brothers Tae Kwon Do School and spent 8 years training and was promoted to 1st Dan. He attained the rank of 2nd and 3rd Dan through Bob Lawrence at Lawrence's Tae Kwon Do and 4th, 5th, 6th and 7th Dan through Kelly O'Keefe at United Black Belt Academy. He operated his own school for 8 years. He taught Tae Kwon Do and Chinese martial arts.
Over the years he has worked out and helped teach at many martial art studios in the Peoria Area. (Lawrence's Tae Kwon Do, United Black Belt Academy, Al Nimmo's Tae Kwon Do, Auvenshine's School of Tae Kwon Do, etc.) He has participated in demonstrations for the Chinese New Year celebrations showing Hsing-I Ch'uan techniques for Master Dwight Edwards. He held Black Belt workouts at the park for many years on Saturdays. Friends, visitors and black belts from the area would come together to work out and exchange ideas.
He has considerable tournament experience as both a competitor and referee/judge in the sport of Tae Kwon Do. He is qualified to referee or compete in, Olympic sparring, point sparring, etc. He have placed as National Champion in the AAU Tae Kwon Do organization, the USKK organization of Master Phillip Koeppel, and the Alliance under Dr. James Thomas.
He has had or now has affiliation with the following organizations, AAU, USNTF, WTF. He has helped to referee and judge at tournaments for fellow inductee, Ms. Vera Harrison, for many years. He has known Vera for over 20 years.
He has taught numerous women's self-defense seminars throughout the Peoria area. He has also taught other seminars such as weapons, Tai Chi Ch'uan, etc.
Kuk Sool Won
He began studying Kuk Sool Won in September of 2002 under Mr. Ben Mitchell in Peoria, IL. Mr. Mitchell's instructor is Grandmaster In Hyuk Su. He was with Mr. Mitchell for one year. His student identification number is #3099102. Seito Matsumura Ryu He started training in Seito Matsumura Ryu under Master Jim Price in June of 2003. His instructor's teacher is Master Phillip Koeppel. He has completed the requirements for 1st Dan under the instruction of Master Price. He am a member of the USKK organization. He is certified to referee or judge for USKK tournaments. He continue to train in the Seito Matsumura Ryu system at this time. His USKK membership number is He-3641.
In 2005 He placed 4th in the nation in Kumite (sparring) at the USKK Grand International Championships.
In 2006 He placed 3rd in the nation in Kumite (sparring) at the USKK Grand International Championships.
Sangaku Bujutsu Renmei
On October 22, 2007 Steven Aldus was accepted into the Sangaku Bujutsu Renmei Organization headed by Soke James Horne located in Sarasota, Florida. He has participated in various organizational demonstrations and training events. Soke Horne is also an Alliance Hall of Fame member. His rank of 7th Dan is recognized by Master Horne.