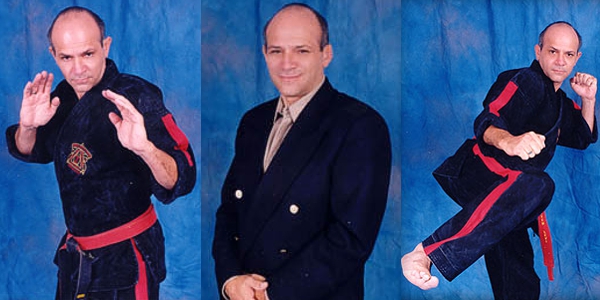 Professor Steven Levi has studied with numerous instructors throughout his life. Some of the more notable instructors include but not limited to Shihan Frederick Hamilton who taught Shotokan Karate in Jamaica Queens, Kyoshi Richie Barathy, the founder of American Combat Karate, Master Tiger Kim, a Tae kwon-do practitioner in the Bronx, New York, Master Tony Arneud, a Tae Soo-do expert, Professor James Powers a master in Vee-Jitsu, Master David Chung in Tae kwon-do, Master Denny Chow a master in Wing Chun, Master Sharma in Vajramuski, just to name a few.
He earned his 9th Degree Black Belt from Grand Master Manuel Agrella in 1997 in addition, he was given the title of Professor from Grand Master George Cofield.
Professor Levi was a wrestler in High School for three years and entered the U.S. Army in 1975 and became an Airborne soldier in the 82d Airborne Division. He served in the 2nd Battalion, 325th Infantry. In his last year of service he was brought over to the 5th Special Forces to help teach self-defense to the Green Berets. He also studied boxing during the 1976 Olympic training that was held at Fort Bragg.
He studied Kick Boxing with Master Gary Marder and Master Vincent Romano and later became a trainer of kick boxers. One of the members of his kick boxing team, Tony Arneud became a PKA Welter Weight Kick Boxing Champion.
He also coached and owned one of the top point sparring and form competition teams in the U.S. His team named T-2 included Jerry Fontanez, George Calderon, Tony Morrison, and Garth Binns.
Professor Steven Levi was a founding member of O.R.A., Official Referee Association under Grand Master Manuel Agrella. He is also a founding member of World Black Belt and can be seen with other founding members on the WorldBlackBelt web site along with Chuck Norris and other well known martial artists.
Professor Steven Levi has been inducted into several distinctive Hall of Fame societies, to include those held by Siga George Crayton, Sifu Alan Goldberg and Master Pierre Rene'.
He was also the Director of America In Defense and was responsible for 150 Karate Masters whom he taught specific self-defense. Some of these Masters included Masters Don Rodriques, Tom Festa, Dennis Brown, Robert Mason, Pat Burleson, Jim Harrison, Jim Alexander, Eric Lee. All of these Masters worked one on one with Mr. Levi in learning specific self-defense techniques against terrorists on airplanes.