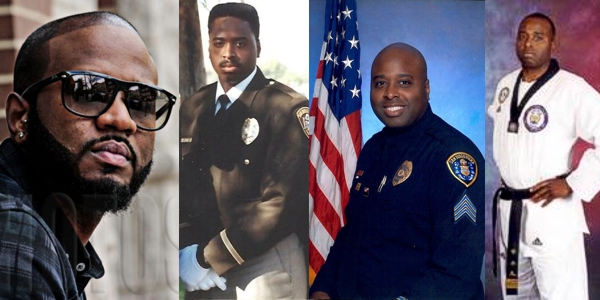 When San Diego Police officer Benjamin Kelso isn't patrolling the mean streets of East San Diego, he can be found in the dojo (karate school) teaching Tang Soo Do Mook Kwan (form of Korean Karate) to high risk kids. This second degree black belt uses his influence as a police officer and a karate instructor to help keep kids off drugs by teaching them martial arts through the D.A.R.E. Program.
"The area I patrol has a lot of gang activity and is probably the highest crime area in the city of San Diego," said Kelso. "Drugs are a big problem and one of the ways we fight this problem is through the D.A.R.E. Program."
Drug Abuse Resistance Education (D.A.R.E.) is a program designed to educate kids about the pitfalls of being involved with drugs and gangs. Kelso faces the dangers of this 20th Century plague every day on his beat and he sees first hand how destructive gangs and drugs are. As a cop he fights crime with the power behind his badge, as a martial artist, he fights it another way. After working a full shift, Kelso will trade one uniform for another, but his goal is still the same. As a cop he takes the bad guys to jail, as a karate instructor he takes them to his dojo.
"I teach D.A.R.E. to 5th and 6th grade students by using karate as a tool to get them interested in something positive," said Kelso. "Karate teaches them about having self confidence, self esteem and self respect."
Working with Kelso is his instructor Richard Smith. In 1993 Smith pioneered teaching citizenship through the martial arts at Morse High School in San Diego.
"We wanted to set a social standard, a grade standard, and a conduct standard through karate, explained Smith. "The city school system said 'we'll give it a try and see what happens."
Although well received, it wasn't until Kelso got involved that the program took a dramatic turn in the eyes of the city. As a police officer and D.A.R.E. teacher he was able to blend the needs of those who roamed the street with the needs of the city.
Ben and I started working together in 1993, and the program has made a lot more progress with his support than it did before," said Smith. "Ben brings two elements together. He has some super-nice none-problem kids in his class, and he has the other kind too, and I think that's the beauty about what he is doing. He is mixing the two different types together. The kids who don't normally associate with the high achievers are introduced to a new type of peer group, and visa versa. They develop a respect for each other, which outside of the dojo probably would never happen."
Some of the kids Kelso teaches come from the street, and many of them approach his karate class as a way to learn how to become better fighters so they can beat people up more effectively. From the first day of class these would-be-gangsters get a rude awakening from Kelso.
"They may come in initially thinking that they are going to learn how to kick butt, but from day one they are taught respect and discipline," said Kelso. "They find out they have to do push-ups and say yes sir to people and they begin to develop a code of conduct that they have not encountered on the street. A lot of these kids are challenged mentally and physically by the discipline of a karate class and it's that challenge that keeps them involved. They learn that in my class respect was something they were going to have to give in order to receive."
"When the kids say sir, they are addressed as sir," explained Smith. "That brings about some changes like you wouldn't believe. Most of these kids feel like what they do doesn't matter, so, when they address someone as sir and they are suddenly addressed back as sir by someone they respect, boy, does their life start to take on a different meaning."
Kelso's martial arts program has been hailed as a success by the city and his peers. For every kid he keeps in his dojo that's one less kid on the street looking for trouble.
"There are several kids in my class who had real potential to get in a lot of trouble with gang activities," Kelso said. "They idolized the gang style dress and the life of crime looked glamorous to them. It was their involvement in the martial arts that pulled them back away from that."
There are always going to be a few that can't be helped because they won't allow anyone to help them. One female gang member went into Kelso's class with a major chip on her shoulder. She had a number of warrants for her arrest and when Kelso tried to explain to her how she could square away the problem she responded by making a threat on his life. However most of the kid's respond to both officer Kelso and Sensei Kelso in a positive manner and thanks to him they improve their attitude and their life.
"When you have high self esteem and believe in yourself you don't need other people to think for you," said Kelso. "And when you think for yourself, other people can't pressure you into doing things that you know are wrong or dangerous. When you feel good about who you are and what you can do, then you're not going to give in to peer pressure."
The first thing Kelso noticed about his D.A.R.E. karate students was a dramatic improvement in their grades.
"Once the kids become involved in my program they have to maintain good grades in school and they absolutely must get positive citizenship grades." Kelso said. "Everyone of my kids have improved their grades and I even have a few who are straight A students as a direct result of their involvement in the karate program."
Candidates for Kelso's program are recruited from a variety of sources. Once the word got out about what Kelso was doing and the positive results he was achieving, parole officers and other officials began going to Kelso for help with some of their problem kids.
"They (the kids) come to me from all over. Probation officers, youth centers, and the Juvenile Diversion Program work with me to find kids that could benefit from the program," explained Kelso.
Kelso teamed up with his instructor Richard Smith, to expand his karate-D.A.R.E. program.
"Mr. Smith teaches the off sight schools," said Kelso. "These are schools where kids go who don't work well within a regular school system. He will also steer some of his kids into my D.A.R.E. program."
"For the San Diego City Schools to allow this to go on has taken a tremendous vision on their part," said Smith. "Schools do not normally say 'yes develop a karate program'."
Kelso and Smith teamed up with the City of San Diego and the Southeast Merchants Association to put on a special martial arts event for their D.A.R.E. students.
"We wanted to put an event together for the kids who wanted to compete, but couldn't afford to go to the large tournaments," said Kelso. "We wanted to bring a competition to them and make it affordable for them."
After months of hard work, Smith and Kelso put together a group of sponsors that would pay the costs of a large tournament. In addition to providing these budding martial artists with a forum to display their talents, Kelso and Smith also brought in prospective employers.
"For the high school kids we brought in some job recruiters and military recruiters," Kelso said. "We also had a mini-carnival for the younger kids. We tried to make it a fun family type of atmosphere because they normally don't get these kind of things."
To put this event together Kelso and Smith enlisted the aid and support of numerous local martial arts groups. Each took on a specific assignment ranging from organization to hard labor. All of these dedicated men and women worked under the umbrella of the City of San Diego and the San Diego Police Department to give the area's martial artists something special to kia about.
More than 900 competitors showed up for this unique martial arts tournament. The event went off without a hitch, and while only a few left with trophies, everyone went home a winner.
Using the Yin and Yang philosophy Kelso takes the lessons he teaches in his D.A.R.E. program back to his regular karate class.
"The lessons that I teach in the D.A.R.E. program can relate to what I teach in the martial arts," Kelso said. "I try to teach more than kicking and punching. The kids need to learn about the different kinds of drugs that are out there and how to handle peer pressure and most of all they need to learn about taking responsibility for their own actions. All of those things correlate to what I teach as a cop and a karate instructor. They get it from me in the classroom and in the dojo. I spend extra time with these kids, I try to teach them about life and that's where the D.A.R.E. program comes in."
Kelso also uses what little free time he has to introduce his D.A.R.E. kids to new environments. He will take them to football and baseball games, to parks and on other special outings around the city.
"I am trying to get to the kids who can use me and benefit from me in a positive manner as oppose to having to catch them afterwards and having to lock them up. The important thing to me is that I've made a difference to these kids. I don't care if I never have a great car or wear expensive clothes. What is important, is that I've used my time to help keep someone off the street and guide them toward a more positive and productive life."