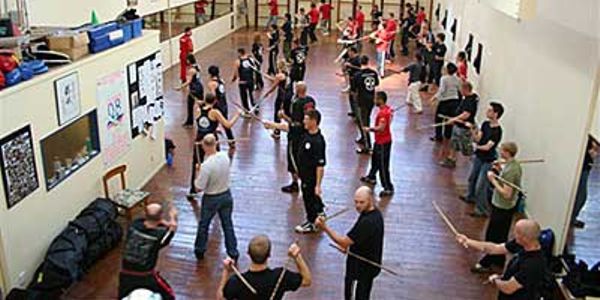 Labour weekend 2008 marked a historical event in New Zealand's martial arts stick fighting history. Christchurch played host to the first full contact sport stick fighting tournament ever to be held in New Zealand.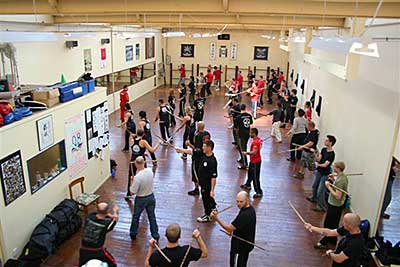 Up until 2007, New Zealand had a spread of individual instructors of the Philippine martial arts. During 2007, the first seeds of unity were sewn when it was decided that a national body needed to be formed.
Among reasons given for forming this governing body were so members of the public could have some idea of an instructor's legitimacy and that the individual schools could meet and compete against each other in tournaments.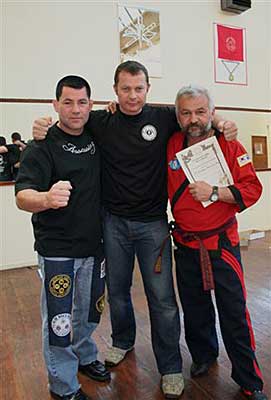 The body was called NZCKEAI or the New Zealand Council of Kali, Eskrima, Arnis Instructors and membership consisted of instructors who reside from Northland to Invercargill.
Master Leigh JENKINS, a member of the council and head of the Cacoy Doce Pares Lineage in New Zealand organized and hosted the tournament.
Master JENKINS invited his instructor Grandmaster Vincent Palumbo from Adelaide to conduct a coaching clinic to train referees and judges for the event.
Grandmaster Palumbo a 9th degree black belt holds multiple world stickfighting titles. He has trained a number of world champions both male and female and he bought some of these world class fighters with him in a South Australian Team of 10 competitors.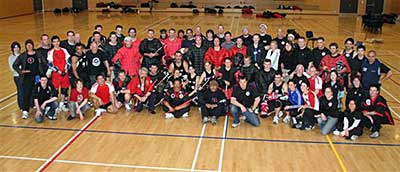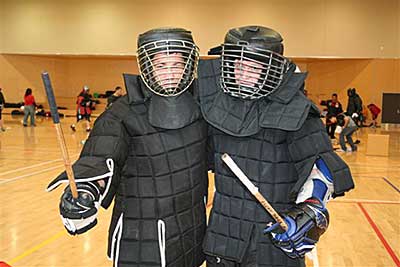 The invitation to attend spread throughout New Zealand and then the globe resulting in a total of 60 competitors attending from:
Northland
Auckland
Wanganui
Nelson
Christchurch
Dunedin
Invercargill
Indonesia
Queensland (Australia)
New South Wales (Australia)
Adelaide (South Australia)
Poland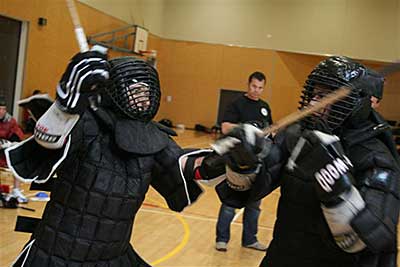 Further credibility was lent to the tournament by the attendance of Master Glen Gardiner of Indonesia and Grandmaster Chris Nasalowski of South Australia and their assistance ensured that the tournament ran smoothly.
Over the course of one day 26 divisions were decided during 180 bouts. The competitor's fitness was tested and all bouts were contested in good spirit and in an atmosphere of fun and enjoyment.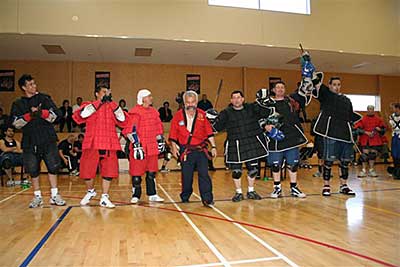 There were no injuries sustained during the course of the tournament which was testament to the safety of the sport. All competitors are required to wear a minimum amount of protective equipment which is thoroughly checked prior to the competition start and each individual bout.
There were 20 sets of medals up for grabs and 5 plate divisions. The medals were spread amongst the provinces/countries as follows:
| | | | | |
| --- | --- | --- | --- | --- |
| Country/Province: | Gold | Silver | Bronze | Total |
| South Australia | 10 | 4 | 2 | 16 |
| Christchurch | 8 | 9 | 9 | 26 |
| Indonesia | 1 | 1 | 2 | 4 |
| New South Wales | 1 | 1 | 3 | 5 |
| Nelson | | 2 | | 2 |
| Invercargill | | 1 | 1 | 2 |
| Queensland | | 1 | 1 | 2 |
| Poland | | 1 | | 1 |
| Wanganui | | | 2 | 2 |
As well as the medals and plate divisions, two special trophies were up for grabs. The first was the for the open men's single stick champion.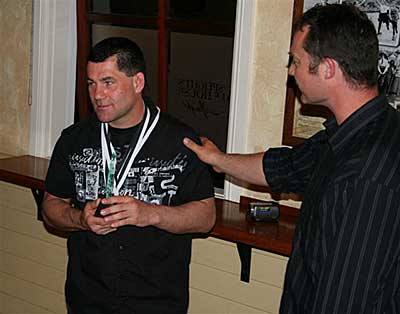 This trophy required winners of all the men's single stick divisions to fight off in order to find the champion of the champions. Grandmaster Vincent Palumbo took this trophy with him to Adelaide.
The second trophy fought for is dedicated to Gordon Carnie of Invercargill who has a special place in the history of Filipino martial arts in New Zealand. Sadly Gordon lost his battle with cancer in 2006.
This trophy was awarded to the New Zealand team which progressed through the furthest in the teams division of the tournament.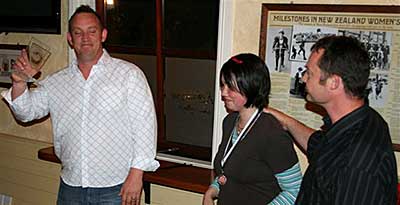 Gordon's daughter Channelle was present to award the trophy which fittingly went to the Invercargill men's team.
Sport stick fighting is now a legitimate sport in New Zealand and will go from strength to strength.
Some competitors had lengthy and decorated backgrounds in fighting arts (world champion boxers, kick boxers & grapplers. People from Karate, Kung Fu, Ju Jitsu etc) and compete in the sport as it is something they can continue doing that is not punishing on the body due to the protective equipment.
Some had never studied a martial art at all and were using the sport to keep fit for other sports such as rugby.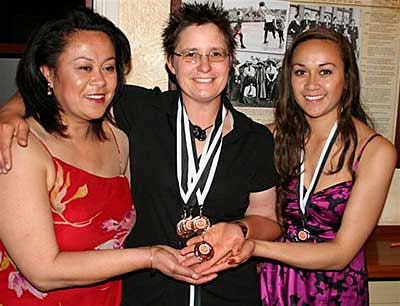 Competitors ranged in age from 14 to 65 years old and the occupations of combatants ranged from school kids to University Lecturers & Academics to ex Military personal, Police Officers, Architects, Engineers and everything in between.
If you would like to know more about the sport of stick fighting, or where your local Instructor and club is, please contact Master Leigh Jenkins, NZ Cacoy Doce Pares, Christchurch, ph: 03 3389032, 027 226 4045
email: nzwingchun@xtra.co.nz, website www.nzwingchun.com.
RESULTS TABLE NEW ZEALAND STICKFIGHTING TOURNAMENT 2008:
| | | | |
| --- | --- | --- | --- |
| Divisions | Gold | Silver | Bronze |
| Womens Forms (Open) | Nadine  Maynard (CHCH) | Malia Talapea (CHCH) | Channelle Carnie (Invercargill) |
| Mens Forms (Open) | Glen Gardiner (Indonesia) | Pawel Zaremba (Poland) | Kyle McWilliams (CHCH) |
| Womens Single Stick (open) | Vicki Simos (SA) | Helen Alexandrou (SA) | Cyd Keeble (NSW) |
| Mens Single Stick (18-39) Under 18/Under 69kg | Luke May (CHCH) | Daniel Mowatt-Gardiner (CHCH) | Joshua Oh (CHCH) |
| Mens Single Stick (18-39) 70-79kg | Dominic Lavelle (NSW) | Ross Holmes (Nelson) | Leonardo Arruda (SA) |
| Mens Single Stick (18-39) 80-89kg | Patrick Flaherty (CHCH) | Kyle McWilliams (CHCH) | Anthony Fenn (Wanganui) |
| Mens Single Stick (18-39) 90kg + | John Moore (SA) | Michael Harris (SA) | Andrew Wallace (CHCH) |
| Mens Single Stick (40+) Under 79kg | GM Vincent Palumbo | Glen Gardiner (Indonesia) | David Ferris (CHCH) |
| Mens Single Stick (40+) Over 80kg | Tony Willard (CHCH) | John Verschaeren (CHCH) | Jason Cleghorn (Queensland) |
| Womens Double Stick (Open) | Nadine  Maynard (CHCH) | Shelley Lee (NSW) | Cyd Keeble (NSW) |
| Mens Double Stick (18-39) Under 18/Under 69kg | Luke May (CHCH) | Daniel Mowatt-Gardiner (CHCH) | Daniel Bowden (CHCH) |
| Mens Double Stick (18-39) 70-79kg | Leonardo Arruda (SA) | Tony Smith (Nelson) | Patrick Durney (CHCH) |
| Mens Double Stick (18-39) 80-89kg | Pedram Naderi (SA) | Kyle McWilliams (CHCH) | Anthony Fenn (Wanganui) |
| Mens Double Stick (18-39) 90kg + | John Moore (SA) | David Millar (CHCH) | Andrew Wallace (CHCH) |
| Mens Double Stick (40+) Under 79kg | GM Vincent Palumbo | David Ferris (CHCH) | Glen Gardiner (Indonesia) |
| Mens Double Stick (40+) Over 80kg | Tony Willard (CHCH) | Jason Cleghorn (Queensland) | Arthur Mousis (SA) |
| Womens Kulata (Open) | Helen Alexandrou (SA) | Tammy Nicholas (SA) | Nadine Maynard (CHCH) |
| Mens Kulata (Open) | Kyle McWilliams (CHCH) | GM Vincent Palumbo (SA) | John Moore (SA) |
| Womens Teams (Open) | South Australia | Christchurch | NSW |
| Mens Teams (Open) | South Australia | Invercargill | Indonesia |
NEW ZEALAND SPORTSTICKING OPEN CHAMPION 2008
Grandmaster Vincent Palumbo (South Australia)
PLATE DIVISIONS
| | | | |
| --- | --- | --- | --- |
| Mens Double Stick Plate 40+ | Colin Pope (Queensland) | John Verschaeren (CHCH) | Tony Soeharto (Indonesia) |
| Mens Double Stick Plate (18-39) Under 79kg | Nick Hartnell (CHCH) | Arjie Prasetyo (Indonesia) | Irwan Hemanawan (Indonesia) |
| Mens Double Stick Plate (18-39) Over 80kg | Michael Harris (SA) | Glen Rein (Auckland) | Patrick Flaherty (CHCH) |
| Womens Double Stick Plate | Tammy Nicholas (SA) | Vicky Simos (SA) | Malia Talapea (CHCH) |
| Womens Single Stick Plate | Rosanna Lavelle (NSW) | Tammy Nicholas (SA) | Malia Talapea (CHCH) |