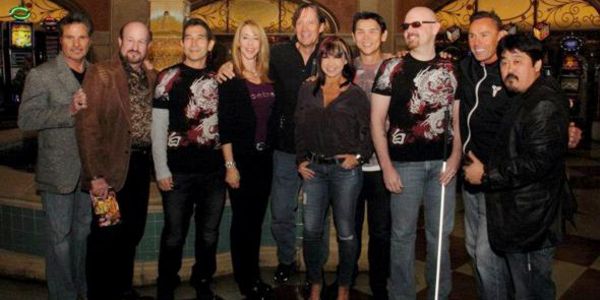 The Action Martial Arts Hall of Honors Mega Weekend bills itself as "The Ultimate Destination For Martial Arts" and, once again, lived up to that billing.
Freelance writer for the Philadelphia Daily News ~ Action Martial Arts Magazine's "Hall of Honors" Mega-Weekend bills itself as "The Ultimate Destination For Martial Arts – and for the 13th year in a row, proved that was not hyperbole.
"The greatest thing about the Action Martial Arts Hall of Honors is we have probably the top martial arts people and champions at one time coming to our event", says organizer (and publisher of this magazine) Alan Goldberg. Indeed, with most other events, martial artists as legendary as Cynthia Rothrock, Don "The Dragon" Wilson and Bill "Superfoot" Wallace would be the main – maybe only – headliners. At the 2013 Hall of Honors , they were merely an impressive part of an incredible lineup that included nearly 24 world champions.
"The Action Martial Arts Hall of Honors was a fantastic event. It keeps getting better and better every year, even though it seems almost impossible to do", says Rothrock, who has made every Hall of Honors since it's inception and convinced friend Kevin Sorbo ("Hercules: The Legendary Journeys") to attend this year. "It's the biggest martial arts event in the world and a very classy event. Alan knows how to do it right."
"There were successful (vendors) and Thousands people were there", says Rothrock. "There were new stars..some new fans…some new martial artists…There's really something for everybody and it's just such an amazing time and the only thing that upset me was that it seemed over so quickly! Alan makes this unique and apart from every other martial arts event in so many ways."
Don "The Dragon" Wilson agrees. He says he has been to every the Action Martial Arts Hall of Honors except the first one and last year's, which he missed because he was working on a film. He credits Goldberg with being the main reason for his anticipation. "I went to it (the second year of the event) and I saw what a great guy Alan was. He is the (definitive) Master of Ceremonies, you know?", he says. "It's a great event – that's true – but if he was like an egotistical kind of jerk or whatever, it would not maintain the success it has year after year."
"He treats us (martial arts celebrities) so generously", Don Wilson continues. "First of all, (most promoters) if they get an audience, it's all about them. You know what I mean? They get an audience (and) they're the ones that are going to be holding up the microphone and talk about everything and talk about what they did – I call it, 'Me,me,me'. That's what usually happens. Alan is the only one that is just the opposite", Don Wilson goes on. "For him, it's all about his his, quote, 'Celebrity Martial Artists' (that) he brings in. It's about them, their accomplishments…taking care of ALL the people that are there and making sure they're comfortable. I travel all over the world – and there's just never been a better host of an event than Alan Goldberg."
"The event experience is great and it's a great venue. Of course those are big (reasons) I came out. But I've been to other big events and other nice venues and they did not have a quote 'Master of Ceremonies' like Alan – and if they didn't pay me the money, I wouldn't go", Don Wilson says with a chuckle. "With them, if I didn't get big bucks, I wouldn't go. But Alan's is a different thing."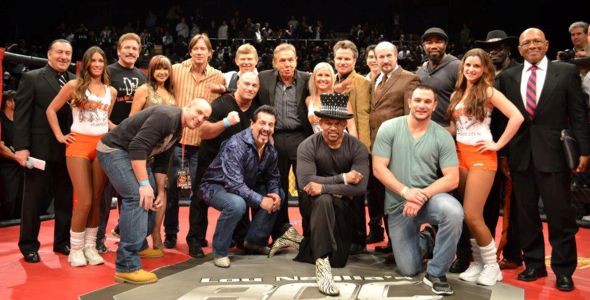 "You may be able to to do it once or twice, right", asks Don Wilson. "Maybe three times, because it may take a while to reach so many people – to find out that you're just an egotistical guy, right? It may take a while, but you can't get to 13 (shows and foll everybody). He's been doing it every year and everybody loves him more every year and that's why every year the show's sold out and the dinner's sold out."
Don Wilson also says the amazing collection of talent Goldberg assembled for the Action Martial Arts Hall of Honors – which includes not only Rothrock, Wallace, Sorbo and himself, but stunt woman and three-time WKA World Kickboxing Champion Cheryl Wheeler-Duncan; Olympic gold-medalist and WBO Heavyweight Champion boxer Ray Mercer; stunt woman and 9-time world champion martial artist Christine Bannon-Rodrigues – is a huge reason he made sure to come this year.
"He had some different celebrities. so I got to spend some time with Kevin Sorbo and Mark Grove, a guy who I've worked with in films before and that's different for me", says Don Wilson. "Usually it's the same – the usual suspects – and I see the same people. But it was all different this year because he had some different guests and he did some different things. Bannon-Rodrigues also felt the breadth and depth of talented stars on hand helped make the the Action Martial Arts Hall of Honors a unique experience."The Action Martial Arts Hall of Honors is always such a fun event", she says. "(I got) to see all my friends from all over the country and (was) making new friends as well!""Mr. Goldberg always outdoes himself from year to year!", Bannon-Rodrigues continues. We all put this date aside, a year in advance, and do all we can to be there! Hats off to Mr. G for all his hard work and for bringing so many Martial Artists together under one roof! And also for his hard work at getting new celebrities to be guests each year!"
Bannon-Rodrigues was one of over 20 world champions out of a whopping 60 martial artists total that gave free seminars. Don Wilson was another "You can't do it, right?", he asks rhetorically. "I teach them the technique, show them what soft areas of the body are there that you can hit…then if someone attacks as soon as they walk out the door after "The Dragon"'s seminar, they can utilize what i teach right then. It's not going to take them years…(it will only take) an hour."
Don Wilson says what he teaches is very simple: You figure out what your target is and go for it."That's what I taught", he says. "I still believe that the core of martial arts is self-defense. (That's why) I don't teach kickboxing (there), even though I can. If somebody wants to do the sport of kickboxing..that's an easy seminar for me. No doubt…There are people who just like the sport of kickboxing, but at Alan's event, I feel it is an all-martial arts audience (so) I teach self-defense." Don's brother James Wilson had a multitude of reasons for liking the event 0ne of them being it helped give their just-launched clothing line, Traditionz, featuring "the Dragon" and "Lady Dragon" Cynthia Rothrock on hoodies and t-shirts, exposure, further branding and, of course, sales at the event.
"As far as Traditionz, it ( the Action Martial Arts Hall of Honors) was great for it", says James Wilson. "Just the fact that Don and Cynthia were both there to promote it was tremendous – and we sold a LOT of shirts. Even more exciting than that, we found a lot of the people who bought the shirts, put them on (and) were walking the halls with them and making more people aware of the. So that's kind of rewarding. (Plus), having Cynthia there, as an extra bonus, some people were buying them and having Don and Cynthia sign them." "Cynthia and Don did their seminars i them and this way people could see they were of good quality", he continues, who adds that was a goal of their business partner and apparel guru, Joe Simsolo as well as his brother and Rothrock. "They are designed and made in the USA also and they are available worldwide."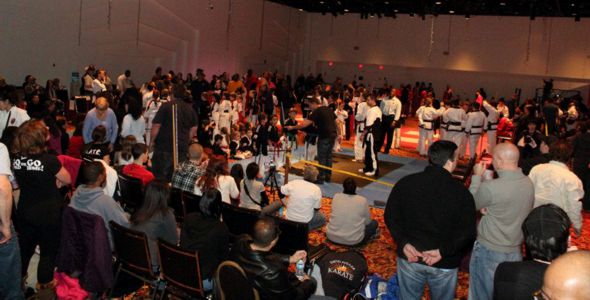 James Wilson also used the weekend to hammer out a venture in which both Don Wilson and Rothrock will be promoting Genesis Today, nutritional food and natural supplement company co-owned by Wheeler-Duncan and her husband, Dr. Lindsey Duncan.
As for the the Action Martial Arts Hall of Honors itself, James Wilson finds it an incredibly unique, positive experience. "The thing that makes this event so rare is that even though it's packed full of people, everyone's pretty much (positive and) polite. Everybody's having fun (and ) it's real obvious", says James Wilson. There's a little excitement EVERYWHERE and one of the things I noticed (from the outset was) was even though they have all these celebrity booths and you get to talk to them (there) and look at the equipment, you really can't go anywhere at the event where you can walk ten feet and not bump into a celebrity."
James Wilson says that unlike pop culture cons, where all the celebrities charge for an autograph, you are able to approach martial arts celebrities at the the Action Martial Arts Hall of Honors on the floor, in the hall, at the Wine and Cheese Dance Party, at the event's banquet and pretty much everywhere in the Tropicana. "So that's why I came this year, because I remember what a great experience it was", says James Wilson. "My God! You have people who have been in martial arts for years smiling and dancing, you know? Guys cracking jokes. It's the ONLY event like that where people are so..happy to be around each other. I don't know how to describe it. The feeling…it's different than any other event."
"The other events are noisy", he continues. There's always a lot of stress going on – and somehow Alan (eliminates) all of that. He PROTECTS people from all of that. At all the other events, I can feel the stress. Either things aren't running quite on time or this wasn't done or that wasn't done and guys are running around, you know, with scowls on their faces because, you know, something didn't go right."
"I'm not talking about the people working – I'm talking about the paying customers or the competitors…there's scowls on their faces because they've waited too long (for something to start) but somehow Alan keeps all these things running smooth … and everybody – EVERYBODY – is in a good mood. You know, that's extremely rare for any event – especially one of that size."
One of the highlights of James Wilson's weekend at the Action Martial Arts Hall of Honors came when his brother Don and good friend Rothrock received Lifetime Achievement Awards – sponsored by Goldberg's magazine and Genesis Today. It was a special moment for Genesis Today's co-owner Wheeler-Duncan as well, who couldn't stop gushing about the Hall of Honors as a whole. "This year was my first year attending Alan's event", says Wheeler-Duncan. "James and Don 'The Dragon' Wilson invited me to go this year… I had heard about it previously over the years… Many of my martial art movie friends attended every year… James Lew loved going and always had amazing things to say about it… Same with Don and Cynthia (Rothrock)… I had plans to go last year, but had a business conflict and had to cancel at the last minute" "I finally made it this year and I was not disappointed!!! It was a blast from the moment I arrived at The Tropicana! "From the private dinner that night hosted by the gracious Alan Goldberg and attended by many celebrity martial artists and film stars, to the Wine & Cheese Party on Friday night where James, Alan and I presented two special Lifetime Achievement Awards to Don Wilson and Cynthia Rothrock, amidst much wine, cheese and dancing (lol!), moving on to exciting MMA fights to a sold out crowd, to Saturday's tremendous event which included a slew of seminars taught by famous martial artists from around the world, film screenings, expo booths filled with the best of the best from the martial arts world, a well run karate tournament featuring talented contestants and the chance to mix and mingle with the legends and greats of the martial arts world!!! I thought I had died and gone to heaven at this event and kept running into many old friends, old opponents (Elba "Cookie" Melendez), famous fighters from my tournament days, and many actors and stunt people I've worked with on films over the years" she adds. "Egos were left at the door, and everyone was treated as an equal and everyone had a wonderful time!!! It was "old home week" for me and everyone else! I couldn't have scripted a better time, or scripted spending my time with more talented and kind people! I had an awesome time and can't say enough great things about how Alan kept the entire event running smoothly and uniformly… At the same time, he floated from room to room and person to person, making sure all was okay and that everyone was happy! I was in awe of Alan and his expertise… I offered a full sponsorship to him through my nutritional company Genesis Today for next years event on the spot! I love what he is doing with this event and the service and fun that he is providing the martial arts community as a whole… I highly recommend all martial artists to attend this one of a kind event in the years to come!!! I won't miss another one that is for sure!"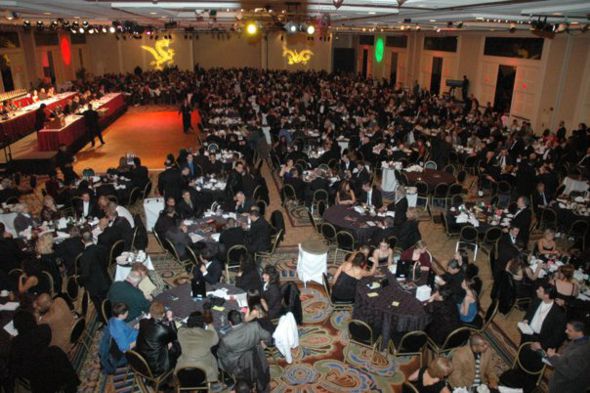 Theresa Zaino, Owner/Operator of Action Entertainment Talent Agency, says she has attended almost every the Action Martial Arts Hall of Honors since it's inception. "We've grown as the event has grown – and I don't think that's a coincidence", says Zaino. "We (husband and CEO of MASBTV Danny Zaino and herself) were there this year, with our martial arts TV, radio and magazine..mainly doing interviews for our online TV show….and like every year it was just a great experience. It seems to get better and better and we had a blast this year. We had some great interviews, made some contacts for our business..we had a successful event and a great time " "I call Alan's event the red-carpet event for Hall of Fames", Zaino continues. "You can compare it to the Oscars."Zaino says she appreciates how Goldberg has actually made the event grow every year and added new staples, like the Wine and Cheese dance Party on Friday night."Thursday night he has a dinner with the stars, Friday is the Wine and Cheese Dance party, he now has a…martial arts tournament, over 50 free seminars and I don't even know how many vendors booths – they went on for miles", says Zaino, who is impressed with how the celebrity roster for the event seems to get bigger and more impressive with each passing year. "We got to meet Kevin Sorbo. I've never met 'Hercules' before", she exclaims. "There were a few TV stations I haven't seen before either..Every year, he has something new – which means the event continues to grow – which is a great sign!" "From the moment it starts until the moment it ends, we're just laughing and having a good time", she adds. "Even if you're working, it doesn't seem like you're working – and you're disappointed if you don't see somebody from the previous year and then you hope to see them the next year and hope to see them the next year as well.""Even the stars are starstruck here!", Zaino concludes." The public definitely got their money's worth that's for sure!"
Khadi Madama, who attended the Action Martial Arts Hall of Honors as part of the MMA Fight Council, says she was excited that they had some MMA fights at the event for the first time this year. "I have been there almost every year, since the early days, in various capacities", says Madama. "In the early days (I went) just because I I am a martial artist and just wanted to be part of the event. Then I went because they were giving me an award. Now, the past two years, I go on Behalf of MMA Fight Council "This is the place to be if you have a product or a service in regards to martial arts", she says. "Even if you don't have a service and are simply a student, there just so much to be gained being able to talk to accomplished martial arts celebrities like Cynthia Rothrock or Dan "The Beast" Severen. He's really not very much of a beast, though. He's such a wonderful gentleman!" "Chuck Zito was here this year and he's a great guy as well", Madama continues. "With everyone else, no one seems to mention James Lew a lot and he's certainly a celebrity…That might be just because he's certainly a nice man as well and he's very humble." "But certainly, if you are a martial artist and interested in martial arts…(the Hall of Honors) is a banquet for the eyes", she goes on. "You're kind of like a kid in a candy store, because once you're in the door there's seminars and fabulous people speak with who are also friendly and warm and want to share who they are – and what they know – with you. Everyone is just great there." Madama says most of the credit for that should go to Goldberg. "Of course, it's Alan's event and he's always there and I have a nickname for him called "The Paragon", says Madama. "Because he is kind of a paragon, you know?… He has such charisma. he has this persona and (the result is) it's a wonderful event, really."I can sum up my feelings about the Hall of Honors this way", Madama concludes. "When I got my Hall of Honors award, I went home and cried for a couple of days. I was telling myself that I couldn't believe what had just happened. I think it's like everyone's dream in martial arts – everyone wants an award at the Hall of Honors from 'Action' and Alan because it is the highest award, the pinnacle I think for an award. It's really the highest honor..for the martial artist getting an award for the first time, it's overwhelming – in a good way. It's wonderful – so is the whole event, really".
Master Apolo Ladra, who is trying to spread the Kali Curriculum, a Filipino fighting program, is another notable guest who appeared at the Action Martial Arts Hall of Honors for the first time this year. "I got invited by Master Alan Goldberg for many years and this is the first time I ever made it – and now I really regret not coming those other times", he says. "I met all the people I used to compete with and all the…people I used to associate with, all the top Masters. It's really an awesome event." "If it's going to be run the way it was this year every year – and it is from what I heard from all the other Masters – it gets better and better every year", he continues. "So I'm definitely going to be there again next year. I was one of the vendors. I was one of the vendors. I was promoting my Kali..program. We have simply organized a Kali Curriculum that any contemporary school can complement what they have. …to work on student protection and also (get) kids working on a weapons-based program." Master Ladra says he was helped by being in a prominent spot during the Hall of Honors. "Oh gosh, we were right in the front so everybody had to pass us and there fore we had a lot of people inquiring about our program", he said. "I know we got, I believe, close to 178 people seriously interested in the process of implementing Kali." Master Ladra says one of the highlights for him was reconnecting with someone he had not seen in decades. "I went to Russia 20 years ago and Grand Master Nikolai Smirnoff was one of the guests over there and I hadn't seen him again until this year's Hall of Honors and we had a great time", he says. "So the event is an incredible way is a great way to reconnect with old-time martial arts fighters – and part of the reason for that is the organization – so i commend them for that." Perhaps Master Mark Grove can sum up the feelings everyone seems to have and share regarding this year's Hall of Honors.
"My experience at Alan Goldberg's Action Martial Arts Hall of Honors event was illuminating. Being in the martial arts for over 40 years I have seen so much political in-fighting in the various systems about which teachers were better, which style was superior, which organization had the most notoriety. None of that negative energy ever surfaced. So, in the end, this event is much more than Action Stars, Martial Arts Legends, Merchandise Vendors, and Seminars… The Hall of Honors is a place where egos are discarded to embrace the spirit of a universal brotherhood, where regardless of style or affiliation, martial arts practitioners are recognized for their personal contributions. I find this very hopeful."