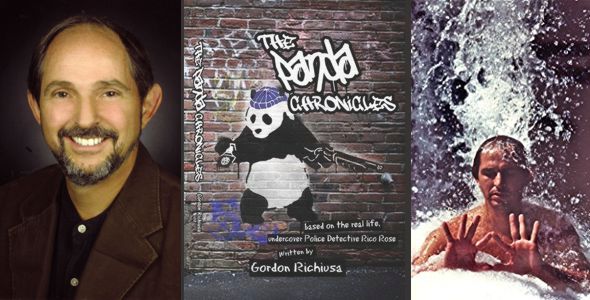 The Panda Chronicles is fiction, based on unbelievable fact. Real life undercover narcotics Detective Rico Rose was known as the Panda on the streets. He's a Jewish, Mexican Sherlock Holmes.
Just as the fictional character Doctor Watson chronicled the exploits of the famous Detective of Baker Street, Gordon Richiusa (a real person) uses the real life Rico Rose (a stocky, Hispanic, Jewish, Sherlock Holmes) as the basis for this true-life detective thriller. Make no mistake, however. This is a fiction novel. Gordon Richiusa is a fiction writer who knows when to depart from truth for the sake of safety and the telling of a good story. As Ian Fleming, the creator of the James Bond franchise based his characters on real people and incidents from his days as Deputy Director of Her Majesty's Secret Service MI5, during World War II, so Gordon Richiusa relies upon personal experience to salt his tales, as any good writer might do. The Panda Chronicles brings to the literary stage a character, based upon an actual person whose story crosses the line between fiction and reality. The result establishes Rico Rose, The Panda as one of the most memorable undercover detectives in literary history. It also sheds light on the unique quality inherent in Gordon Richiusa's fiction style where he suggests, it's always best to write about what you know. In The Panda Chronicles Gordon writes what he knows. His 50 years of martial arts experience, 20 years of working directly within the Los Angeles County Jails and many decades of teaching writing and defensive tactics to law enforcement give The Panda Chronicles all the elements required to bring these stories, and all the characters to vivid life.
Gordon Richiusa is an Italian American who has been a martial artist for some 50 years. He teaches the Five Bird System. Gordon earned a Master of Arts degree in English and has written numerous articles, stories, books and scripts under his own name and his pen-name, Gordon Rich. He has been a teacher of English Composition, Film as Literature, Creative Writing, and Scriptwriting and He holds two teaching credentials and continues to teach and to write with his wife Barbara.
---