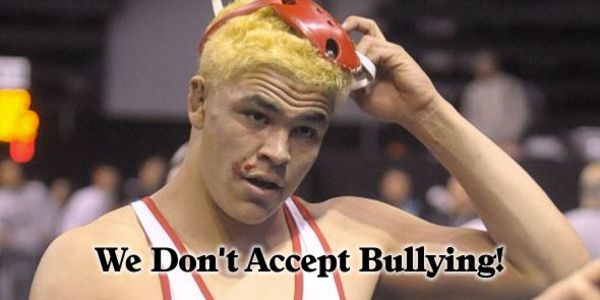 And, the winner is …. We don't know his name but he's the real champ.
"He" is the 17-year-old Rio Grande High School wrestling team member who was confronted by his much larger teammate, state champion bully wrestler Nick Chavez, in a highly publicized late February incident in the school cafeteria. A sheriff's deputy assigned to the school says he saw the 18-year-old Chavez take $15 from the younger, smaller kid, knock his lunch tray out of his hand then slap him in the face when he asked for his money back. The deputy filed a report and charged Chavez with larceny and battery. APS suspended him for three days, making him ineligible for the state wrestling tournament and therefore ineligible to defend his 195 pound title. Then someone got South Valley politicians involved. Several made calls to APS about the suspension. When APS refused to overturn it, the family got a lawyer, went to court and convinced a judge to grant an injunction blocking the suspension and letting Chavez wrestle. He's a damn good wrestler and he won another state championship.
Chavez and his supporters have tried to pass off the incident as just typical "horseplay" between two teenage boys. When all this was first unfolding, we didn't know for sure what happened. There was no reason to doubt the deputy's report, but we hadn't really heard Nick Chavez' side of the story, so we couldn't be certain that he is a bully. We still don't know his side of the story. He spoke little when the case went to court yesterday, saying only that he was sorry that he and the victim haven't remained friends. The victim did speak in court. (I hate calling him "victim" because when you read what follows, you'll realize this kid is not afraid to stand up for himself against any bully, teenage or adult.) He was not there in person because he had to take an exam. But his attorney read a statement the boy wrote, the most articulate statement by a 17 year old that I've ever seen. Read statement below. When you do, decide for yourself if it was just "horseplay". You decide for yourself if Chavez was a bully. You decide for yourself about the behavior of the politicians and other adults who inserted themselves into this sordid mess.
In the end the judge, with the "victim's" approval, let Chavez off the hook. If he doesn't get in any more trouble, the charges against him will be dismissed in 90 days. Some people might see that as another victory for "the champ." But when you read that letter, you'll realize who the real champion is. It's the kid who weighs a hundred pounds less than Nick Chavez but who pinned him to the mat with heavyweight words and wisdom.
Way to go kid!
by Dick Knipfing
Statement 
Thank you for allowing me to say a few words to this Court. I can't be here in
person today because I have to take an exam
I am OK with the agreement to continue the case and have it dismissed in 90 days. I am still angry and hurt by what Nick did to me, and he should have done the right thing after he got caught and admitted it and said he was sorry but he blamed it on another wrestler instead of taking responsibility for his actions. Nobody stood up to Nick because they are intimidated by him. I did nothing wrong. Nick is twice as big as me — twice as big, and it wasn't horseplay. Horseplay is when both people participate. This was Nick simply taking my money, and hitting me, and throwing my food on the floor. I didn't do anything to him. How could I? he outweighs me by 100 pounds. There is no doubt in my mind that if Deputy Chapa had not been there, if he had not stepped in, I would never have gotten my money back. That was money I needed to sign up for an AP exam, and it was one of those times when I couldn't just let it go.
But Nick and I are OK. We were once friends, and I don't want anything bad to
happen to him. I can get over it.
But what is a lot harder to get over, and will be a lot harder to forget is how almost
everyone else acted when Nick stole from me, hit me, and humiliated me in front of dozens of kids at school in the cafeteria and lounge. I got phone calls and tweets from people I thought were my friends telling me I should lie about what happened, so Nick would be allowed to wrestle in the state tournament. Adults — maybe even some of the adults in this room called me and pressured me to lie about it — because letting Nick finish his undefeated season — letting him compete for the state championship — was more important than anything. More important than what was right. I did nothing wrong, but it was going to be all my fault if Nick wasn't allowed to wrestle. That wasn't right. Not right at all.
I am still wondering how politicians, and people who want us young people to respect them were so quickly willing to throw out everything they teach us about honor, integrity, character, and especially all this stuff they keep saying about how they oppose bullying — when all of those principles become inconvenient. When it might mean that an athlete with political connections will have to sit out an important wresting match. How can a politician who wasn't anywhere near the incident decide the facts without ever talking to me? Or to the deputy who actually witnessed it? And when it is OK to call a robbery, an assault, a battery "horseplay" and get a judge to block the school's policies?
I am glad that Nick was allowed to wrestle in the state tournament. Everyone on our team worked very hard and I am very proud to be a Raven, and proud that Rio Grande was able to win the state championship. It would have hurt all of us and our school a lot to take that away. But I am not glad about how the politicians proved — once again — that the rules we are all told to follow only apply to some people. There isn't a kid at Rio Grande who believes that they would get the same attention and support from the politicians if they took advantage of a student half their size. But I guess this is as important a lesson as any other I take away from this event.
Like everyone else, I want it to be over. I'm tired of being called the bad guy in all this, even though I did nothing wrong. I hope Nick and I can be friends again one day, and that everyone lets all this just end.
I will never forget the lessons I have learned. I will never forget the kindness of some (a few) adults who seemed to know what I was going through and tried to support me. I will always remember the honor and integrity of Deputy Chapa —who had to take a lot of heat for doing the right thing. And I thank my parents who have both been with me through all of this.