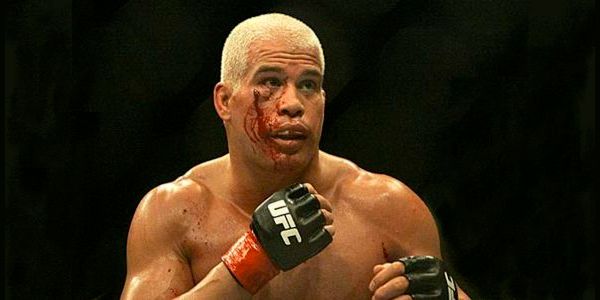 Jacob Christopher Tito Ortiz was born on January 23, 1975 and he is of Mexican American decent. He is a participant of the sport of mixed martial arts (MMA). He has fought for most of his career with the UFC organization. A former Light-Heavyweight UFC champion, Tito Ortiz has become one of the sport's shining and most controversial stars. He has headlined several Pay Per View championship undercards, and appeared on the covers of various magazines. He is a native of Huntington Beach, California. Tito is recognized as a charismatic and highly-criticized fighter. Whatever the opinions of Ortiz, he is both a showman and a talented fighter.
Tito Ortiz began wrestling in his sophomore year in high school under coach Paul Herrera. He placed 4th in the state high school championships as a senior. Following high school, Tito Ortiz continued his wrestling career winning a California state junior college title for Golden West College. Following his stint at Golden West, Ortiz wrestled at Cal State Bakersfield. While never a full-time starter, Ortiz did gain significant experience training with future NCAA and world champion Stephen Neal.
Tito's mixed martial arts debut took place at UFC 13. He beat Wes Albittron on the tournament's first round by referee stoppage due to a barrage of punches, but he then lost a bout that he was dominating early on to Guy Mezger in the next round. The Mezger match was interesting as it showed the potential Ortiz had for dominating his opponents with control and hard, sharp elbows (ground and pound). It also demonstrated Ortiz's lack of experience. The fighters were stood up over a disputed end to the fight (Ortiz claimed Mezger tapped). It was ruled the fight should restart (as custom at that time, standing) and Ortiz, as reasonably instructed by his corner, shot in to quickly to finish the fight. His slight miscalculation in distance and his technical inexperience in MMA found Ortiz caught in a guillotine choke and he did not know how to escape.
After coming back with two victories, including one against Jerry Bohlander, Tito Ortiz dominated a rematch with Mezger. This time, the much smaller Mezger was out-wrestled, and the fight was stopped, though Ortiz was doing little damage. After winning the fight, Ortiz put on a shirt that read "Gay Mezger Is My Bitch" and gave the assembled Lion's Den, with whom Mezger trained, the finger. Thus began both his rivalry with the Lion's Den and his custom of wearing t-shirts that belittled his opponent after victories.
Tito Ortiz found himself contending for the UFC Middleweight (200 pound) title and he had to battle it out in a historic fight with the prodigy Frank Shamrock. Catch-wrestler skill and conditioning won the match for Shamrock, but the lesson Tito learned that night shaped the future of the division for the next several years. Following the victory, Shamrock retired. The Middleweight title was renamed the Light Heavyweight title and Ortiz was chosen along with Wanderlei Silva as a contender These two would fight for the title in UFC 25 in April 2000. In an exciting match, Ortiz edged out Silva and took the belt. Ortiz would successfully defend the belt five times in the three years afterwards. He defeated Yuki Kondo, Evan Tanner, Elvis Sinosic, Vladimir Matyushenko and Lion's Den head Ken Shamrock, who had held a grudge with Ortiz since the Mezger incident.
When it was time for Chuck Liddell, a rising Light Heayweight star in the UFC and the seemingly perennial #1 contender, to get his title shot, Ortiz began a hiatus from defenses. Ortiz had publicly challenged Liddell previously, but now remarked that he and Liddell were friends and claimed a pact was made stating that they would never fight one another. Ortiz also expressed dissatisfaction with his contract with the UFC and they were unable to come to terms. An exasperated UFC management schemed to create an Interim Light Heavyweight Title to finally coax Ortiz to a fight. The strategy worked, and Ortiz agreed to fight with new Interim Light Heavyweight Champion Randy Couture, who had defeated Liddell at UFC 44 in September 2003. Randy Couture, who many felt was near retirement, thoroughly dominated Ortiz through five rounds, even spanking him late in the fifth round, and claimed the title outright with an unanimous decision. Couture ended the reign of one of the most dominant champions MMA has ever seen, from any venue and any weight class.
After his fight with Couture, Ortiz finally faced Chuck Liddell, and lost to him by second round knockout in UFC 47. Ortiz's future in the UFC came under question following the Liddell loss. With his UFC career in possible jeopardy, Ortiz was to face the also inconsistent Vitor Belfort at UFC 51 in February 2005. Early on in the fight, Belfort made a strong showing, but exhaustion set in and Ortiz prevailed, winning a split decision. Contract issues left Ortiz on bad terms with the UFC and its president Dana White (who had been Ortiz's former business manager), and Ortiz seemed unlikely to ever compete there again.
During his time away from the UFC, Ortiz was offered deals with several promotions, including PRIDE Fighting Championships and Don King backed promotion World Fighting Alliance, but none came to fruition.
Surprisingly, in November 2005, Dana White announced that Tito Ortiz and the UFC have patched their relationship and that he, along with his still-bitter rival Ken Shamrock, would be coaches for The Ultimate Fighter reality TV series, which premiered in April 2006. Ortiz also publicly confirmed he has signed a three-fight deal with the UFC. His first fight occurred at UFC 59 on April 15 2006 against the previous The Ultimate Fighter winner Forrest Griffin and the second fight would be against Ken Shamrock after the conclusion of The Ultimate Fighter 3. If Ortiz wins both fights, he will get a shot at a UFC title, most likely the UFC Light Heavyweight Title, currently held by Chuck Liddell. Ortiz won his fight against Griffin in a split decision, and in UFC 61, on July 8, 2006, Ortiz won against Ken Shamrock by technical knockout (referee stoppage, due to strikes) in round one.  On October 8, 2006 Tito went on to fight Ken Shamrock once again and he won Knockout of the Night. At UFC 66, on December 30, 2006 he lost to Chuck Liddell once again and then a on July 7, 2007 a Draw was called at UFC 73 when he fought Rashad Evans. On May 24, 2008 he lost to Lyoto Machida and on November 21, 2009 he lost to Forest Griffin and again to Matt Hamill at UFC 121, on October 23, 2010. On July 2, 2011 he fought and beat Ryan Bader in UFC 132. On August 6, 2011 Tito proceeded to lose in UFC 133 against Rashad Evens and in UFC 140, December 10, 2011,  against Antônio Rogério Nogueira. He also lost on July 7, 2012 at UFC 148 against Forrest Griffin. Tito Ortiz retired after his fight with Griffin and he was then inducted into the UFC Hall of Fame.
Tito Ortiz dabbled in professional wrestling with Total Nonstop Action Wrestling for a time.
*Kayfabe notice: Some events in this section and/or article are kayfabe and refer to events that take place in professional wrestling continuity. Unless otherwise stated, the outcomes of all matches and other confrontations detailed herein are fictional and/or predetermined. In May 2005, Ortiz followed in the footsteps of rival Ken Shamrock when he agreed to appear with the professional wrestling promotion Total Nonstop Action Wrestling.
On May 15, 2005 at TNA Hard Justice Ortiz served as special guest referee in the NWA World Heavyweight Championship title match between Jeff Jarrett and A.J. Styles at the behest of Director of Authority Dusty Rhodes. Ortiz played a large role in the buildup to the match as well as the outcome, in which he knocked out Jeff Jarrett with a right hook because Jarrett shoved him. This allowed Styles to hit his Spiral Tap for the pinfall victory and claim the NWA World Heavyweight Championship from Jarrett.
Ortiz returned to wrestling in October 2005, this time once again as a referee in another NWA World Heavyweight Championship match. His appearance was at TNA Bound For Glory at the behest of Director of Authority Larry Zbyszko for the match intended to be between Jeff Jarrett and Kevin Nash. Ortiz played an even bigger role in the buildup of the match this time, attacking both men on an episode of TNA iMPACT! when they brawled prior to their scheduled match.
Nash had to withdraw from the match after suffering chest pains the previous night, so TNA management inserted Rhino into the fold after he won a ten man gauntlet match. Ortiz maintained order with some success, preventing interference from multiple sources but failing to prevent Jarrett from cheating. Rhino won the match (his third of the night) and the title, but Ortiz left the ring immediately after the match as a brawl ensued involving Jarrett, Rhino, Team Canada, Team 3D, The 3Live Kru, and America's Most Wanted.
Outside the UFC
Tito Ortiz has roles in several feature films, most notably Cradle 2 the Grave and the controversial Turkish film Valley of the Wolves Iraq.
Tito was cited by film producer Jeff Most as "The next Vin Diesel". Tito knows ow to talk to an audience as well as how to act.  Intimidating as Tito is in the ring,  he is a dynamic speaker, and popular with the fans. He frequently appears on talk shows and in magazine articles and stars in the popular video game UFC: Tapout on Xbox. Having made a cameo appearance in Jet Li's "Cradle 2 the Grave", Tito delivered a breakout performance with his first starring role, opposite Edward Furlong, David Boreanaz, and Dennis Hopper, in "The Crow: Wicked Prayer" which was released in 2005.
Tito Ortiz has never forgotten his roots. He was the child of two drug-addicted parents, and in high school he chose wrestling over drugs and gangs, and he is thankful that he excelled at the sport. He went on to compete at the college level and earned two consecutive titles as California State Wrestling Champion before making the shift to Ultimate Fighting, where he became the world champion less than two years after entering the sport.
Today, Tito Ortiz is retired from fighting, but he would like to do more acting, and he enjoys running his clothing line, Punishment Athletics, his gym, Punishment Training Center. and developing new games for Xbox. Tito regularly works with inner city children, helping to motivate kids to stay in school, to stay away from drugs and gangs, and to pursue their dreams, no matter what their current situation.  Through his Tito Ortiz Foundation, he supports children's charity initiatives and raises money to establish better after school athletic programs in neighborhoods like the one he came from.