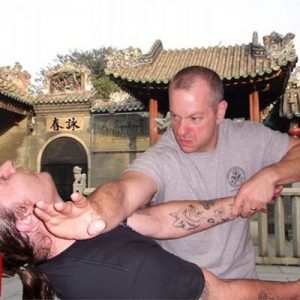 Tony Massengill was the Senior U.S. Representative for Grandmaster Samuel Kwok until February 2014 when he began his own organization, Efficient Warrior Wing Chun. Tony is the co-author of "Mastering Wing Chun – The Keys to Ip Man's Kung Fu" The only Wing Chun book ever endorsed by both sons of Ip Man, Grandmasters Ip Chun and Ip Ching.
On September 28th 2007, in Foshan China Master Massengill along with his teacher Grandmaster Samuel Kwok were honored by having their book placed in the Ip Man Museum, which was opened by the Chinese government in memory of Grandmaster Ip Man, Bruce Lee's only teacher.
Tony Massengill is the first generation of non-Chinese to be certified as a Master Level instructor in the lineage of both sons of Ip Man.
Tony has been involved in the Martial Arts for over 40 + years, and in Wing Chun Kung Fu since 1979. Tony Massengill is considered one of the most experienced Wing Chun Kung Fu instructors in the United States. He has not only trained extensively with Grandmaster Samuel Kwok, but also with Grandmasters Ip Chun and Ip Ching in Hong Kong
Master Tony Massengill has been called upon to perform demonstrations in Hong Kong at the World Wing Chun Kung Fu Conference in 2005, as well as in Foshan, China at the Ching Wu School, made famous in the Bruce Lee Movies "Chinese Connection" as well as in the Jet Li movies "Fearless' and "Fist of Legend."
Master Massengill travels providing Group as well as Private Instruction and seminars in the United States and abroad.
Master Tony Massengill is has been on the world stage in Hong Kong, demonstrating in representation of the Ip Man – Ip Chun / Ip Ching – Samuel Kwok lineage, and has written the only book on the Ip Man Wing Chun system ever to be endorsed by both Ip Chun and Ip Ching, sons of Grandmaster Ip Man.