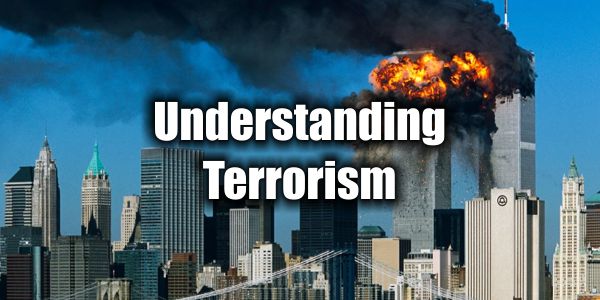 Information Necessary For Understanding Terrorism
The purpose of the Understanding Terrorism is to help us learn as much as possible about Terrorism. If you have Terrorism information to share, please feel free to contact us.
Terrorism is the uncontrolled enemy of all and must be fought by all nations together. It is anti-terrorism, through the use of education, that will bring defeat to terrorist. We must not allow any countrymen to teach children that terrorism is patriotic or "a religious right" and a justified means to an end. Instead the world must stand together, with one loud voice, and say enough is enough, terrorism is never justified, never!
"Such criminal terror acts prove that no measure is enough to fight terrorism. Actions that governments take to fight terrorism are totally justified because protecting life is a lot more important than protecting civil liberties. What hurts me the most is that there are people in our Arab world that continue to sympathize with terrorism . . . this is our sick reality and it doesn't help to pretend this mentality doesn't exist. One can't ignore the fact that Arab governments didn't act early on to crush the extreme movements growing in our midst . . . Arabs and Muslims should stand together behind the U.S. against terror."
Jihad Al-Khazan, Al-Hayat Newspaper as reported by Octavia E. Nasr, Senior Editor for Arab Affairs, CNN

Counter-Terrorism,
"If it happens to me I will counter it."
Anti-Terrorism,
"If it happens, even to my enemy, I will counter it."
At All About Martial Arts, we are all against terrorism in any form, against any one, anywhere, for any reason. It is our goal to disseminate information which may save a life or many lives.
WARNING: The information contained in Understanding Terrorism may be very graphic and sometimes the language can be offensive. Parents please supervise your children in this section!
Anti-Terrorism Information Web Sites
The US National Counterterrorism Center
CAMERA Committee for Accuracy in Middle East Reporting in America
IntelCenter: counterterrorism intelligence when, where and how you need it
Johnston's Archive Terrorism, Counterterrorism, and Unconventional Warfare
Law Enforcement Guide To Terror Groups and Their Known Emblems
World Wide Terrorist Groups
This is list of World Wide Terrorist Groups. Terrorism is in the news daily. It is important that we are all on watch for unusual events or things out of the ordinary that might be a tell of a terrorist threat.
November 17, Revolutionary People's Struggle (Greece, leftists)
Abu Nidal Organization (Iraq, extremists)
Abu Sayyaf Group (Philippines, Islamist separatists)
Al-Aqsa Martyrs Brigades (Palestinian nationalists)
Al-Qaeda (a.k.a. al-Qaida, al-Qa'ida, Afghanistan, Islamists)
Al-Qa'ida in the Islamic Maghreb
American Militant Extremists (United States, radicals)
Armed Islamic Group (Algeria, Islamists)
Army of Islam (Palestinian)
Ansar al Islam (Iraq, Islamists/Kurdish Separatists)
Aum Shinrikyo (Japan, cultists, Aleph, Aum Supreme Truth)
Basque Fatherland and Liberty (Spain, separatists)
Chechnya-based Terrorists (Russia, separatists)
East Turkestan Islamic Movement (China, separatists)
FARC, ELN (Colombia's Left-Wing Guerrillas)
FARC Revolutionary Armed Forces of Columbia
Hamas (Palestinian Militants)
Hizbollah Party of God (Lebanon, Islamists)
Irish Republican Army (U.K., separatists)
IRA Splinter Groups (U.K., separatists)
Islamic Movement of Uzbekistan
Islamic State in Iraq and Syria (ISIS)
Jaish-e-Mohammed (JEM)
Jamaat al-Islamiyya, Egyptian Islamic Jihad (Egypt, Islamists)
Jammah Anshorut Tauhid (JAT)
Jemaah Islamiyah: JI (Southeast Asia, Islamists)
Kach, Kahane Chai (Israel, extremists)
Kashmir Militant Extremists (Kashmir, Islamists)
Liberation Tigers of Tamil Eelam (Sri Lanka, separatists)
Mujahedeen-e-Khalq (Iranian rebels)
National Liberation Army (ELN)
New People's Army (NPA)
Northern Ireland Loyalist Paramilitaries (U.K., extremists)
Palestinian Liberation Front (PLF)
Popular Front for the Liberation of Palestine (PFLP)
PFLP, DFLP, PFLP-GC (Palestinian leftists)
Revolutionary People's Liberation Party/Front
Sect of Revolutionaries (Greece)
Shining Path, Tupac Amaru (Peru, leftists)
United Self-Defense Forces of Columbia (AUC)