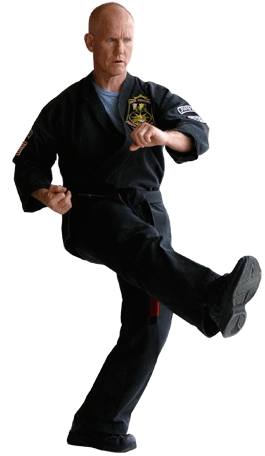 Rick Fowler started martial arts at the age of 14 in a Japanese system. By the time he was 17, he began the transition into Korean styles and eventually found his way into Kenpo when he met his instructor, Keith See. Under the guidance of Kieth See, Sifu Fowler had the privilege of meeting and working with the likes of Huk Planas and Ed Parker, as well as several other high level Kenpo practitioners. In the company of such masters, Sifu Fowler's passion for martial arts flourished.
In 1975 Sifu Rick Fowler was 21 years old and a second degree Black Belt. He opened a school, but continued to pursue his own training. He trained extensively with Danny Inosanto in the Filipino and Jun-fan martial arts, and in 2006 began training daily in the Russian martial art system.
Sifu Rick Fowler's next big venture came in the early nineties when he started RF Productions. He have since produced over sixty martial arts videos. Bill Wallace assisted Sifu Fowler in creating a series on kicking and stretching; Huk Planas and Sifu Fowler filmed a Kenpo progression on self-defense techniques, and Mike Knauff and Sifu Fowler put together a Filipino stick and empty hand progression. On his own, he produced a 25 piece series that moves through a Kenpo progression of beginning forms, basics, and defense techniques. Some of the finer points of the series include a "Lock Flow" progression that takes students through 36 locks, which blend and help to develop a flow progression through joint manipulation. In conjunction is a break flow progression he created, which enables the student to inflict an arm break upon entering any self-defense situation.
In addition, Sifu Rick Fowler developed a timing series to take beginning to advanced students through a progression of moves that gives the student the ability to defend against a boxer's jab. This is considered an attribute series, which includes a DVD on the HUBUD, a technique that helps to develop inserting and flow, whereas the jab-catch is a timing DVD mainly used to develop entries.
Building on these, Sifu Fowler went on to produce an advanced footwork DVD to help beginning to advanced students adapt footwork skills in setting up entries to all self-defense situations.

At The American Kenpo Karate school, Sifu Rick Fowler has organized a wide variety of programs in order to help his students and him self to reach maximum potential.
The list includes an MMA program taught by a professional fighter, as well as Submission Wrestling, and Brazilian Jiu-Jitsu taught by a Black Belt in Brazilian Jiu-Jitsu. He also has a Jiu-Jitsu tournament team with fighters in all weight divisions.
Over the last 35 years Sifu Rick Fowler has hosted a long list of seasoned masters: Bill Wallace, Mike Pick, Steve LaBounty, Vladimir Vaciliev, Al McLuckie, Martin Wheeler, Ranier Schulte, Ed Parker, Sr. and Ed Parker Jr., Lee Wedlake. Kevin Secours, and Dave Hebler. Huk Planas has even taught at his school more than 15 different times.
Even after 35 years of teaching and working, Sifu Rick Fowler continue to thrive on training him self and his students to higher levels of mental and physical skill. Nothing is more exciting to him than to work with those who are as full of passion for Martial Arts as he is. And as Sifu Rick Fowler has continued to train in many arts, his Kenpo skills, through a long process of development, have become his own personal brand—his signature on the martial arts world.