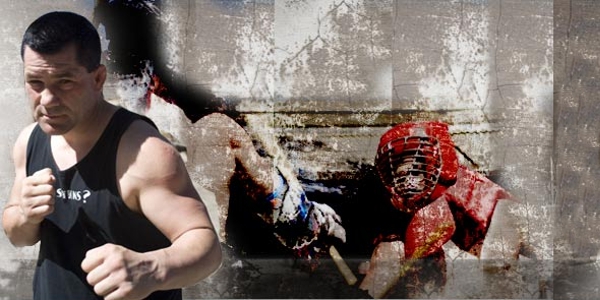 Master Vince Palumbo commenced training in 1974 as a junior boxing and gymnastics student at the Semaphore Youth Club in Adelaide, and after winning most of his junior boxing bouts, he expanded his interests to judo at the age of 11, at the McNally's Gym in Light Square, Adelaide.
In 1980 he began learning the martial art of Freestyle Karate at the Zen Do Kai Bushido Dojo in Hindley Street, Adelaide.
In 1984 Vince received his first Black Belt in Freestyle Karate, and in the same year Vince then also started to train in the art of Tae Kwon Do under Master Chris Nasilowski, then after 4 years of hard training, he earned his Black Belt in 1988 with the Grand Master Choon Bong Lee 9th Dan.
Also in 1988, it saw Vince travel to Alice Springs in the Northern Territory of Australia, and he was to commence training under Master Martin Gardiner who was a Master level instructor of the Korean Tang Soo Do Korean Karate, and the Filipino Doce Pares Eskrima system of Stick and knife fighting.
During this stay in Alice Springs, he added a 1st Dan in Tang Soo Do to his now growing collection of Black Belt rankings in the martial arts, and he also achieved a Brown Belt level in Stickfighting after doing an examination in front of Grandmaster Master Cacoy Canete, who was in Australia doing some seminars and exhibitions of the Doce Pares Eskrima. (This was the first time that the two had met!)
Other training for Master Vince Palumbo includes Muay Thai Kickboxing, for which he gives all credit to Master Fai Quoc Giang of Vietnam, and as a matter of fact, it was Master Giang who graded him to 3rd Dan, and he also encouraged Vince to open his own martial arts school.
In 1991 Grand Master Brian Dossett, 9th Dan of the World Combat Federation, graded Vince to the rank of International Instructor 4th Dan level status.
In 1992, Vince went to the Philippines as assistant coach for the Australian Stickfighting Team, and won a Gold and a Bronze Medal at the WEKAF World Stickfighting Titles in Manila and Cebu.
When he returned to Australia, he prepared for, and entered the Australian Martial Arts Association Full Contact Karate Championships that were held in Adelaide, South Australia. He won 5 titles in the one night – the Open and Middleweight Karate Fighting divisions, Kata and the Weapons Kata Divisions, and he won the Power Breaking Division.
In 1993 won Grand Champion of Australia's 1st Toughman Competition which was held in Darwin of the Northern Territory, and it was Master Anthony Kleeman who cornered for him on that night.
Vince won the tournament with opponent knockouts in his first two fights, and then a unanimous decision for the title in his last fight.
In 1994, Vince won the South Australian Amateur Boxing Title for Men's Novice Middleweight Division. (He was voted as best Novice Boxer for that year.)
In 1995 was the year Vince won a South Australian Submission Grappling Title.
In 1996 he won the Australian Title for Full Contact Kickfighting in Sydney, and in that same year Vince travelled to London to fight for a World Kickboxing Title, but unfortunately he had to settle for the runner up position.
In 1997 Vince won the title of champion at the Broken Hill Kickboxing Challenge Cup.
In 1998 Vince won the South Australian Boxing League State Title, and then a Silver medal at the Australian Amateur Boxing League's Australian Titles. (He was South Australia's Best Amateur Boxer.)
This same year saw Vince win the Australian Martial Arts Association Full Contact Karate Title again.
Vince won the WKA Australian Shoot-Boxing Title in 1998 as well.
In 1999, Grand Master Cacoy Canete graded Vince to 6th Degree Master level Black Belt in the art of Doce Pares Eskrima and Pangamot Jujitsu.
Once again Vince won the title for South Australian Full Contact Karate Champion, and he won the South Australian Amateur Boxing Title for the Open Middleweight Division too. He also went to the Australian Boxing Titles held in Darwin that year, and he earned a Silver Medal. (Just missing out on Olympic Boxing Team selection).
In 2000 he again went and competed in the Australian Amateur Boxing Titles, which wereheld in Queensland, but had to settle for a Bronze medal at this tournament. Vince also won another South Australian Title in Amateur Boxing.
In 2001, Vince won the South Australian Super Middleweight Professional Boxing Title with a real nice 3rd round knock out of his opponent from New Zealand.
In 2002 Vince was awarded the Rank of 8th Dan in Doce Pares Eskrima, Jujitsu and Filipino Karate by Grand Master Cacoy Canete.
He also won the South Australian Full Contact Stickfighting Title this year as well!
Vince was asked to appear in the movie 'FINAL Combat', and he was also telephoned personally by the great martial arts movie producer, Menahem Golan. (He discovered Jean Claude Van Damme!)
In 2003, Vince won the IKBBF South Pacific Middleweight Professional Boxing Title with a 4th round KO of his opponent, and he won an Australian Full Contact Stickfighting Title in Tasmania that year!
It was in 2004 that Vince won a World Title in Professional Boxing, under the IKBBFsanction for the vacant middleweight division title. (He also fought in the 2004 WEKAF World Full Contact Stickfighting Titles in Cebu!)
2005, Vince traveled to Los Angeles, so he could lead an Australian team to fight in the CACOY DOCE PARES ESKRIMA WORLD FEDERATION'S full contact stickfighting world tournament, he won the Openweight and Middleweight World Titles after a very grueling 12 fights on the competition day!
After the tournament, he was asked to make a special appearance in the Hollywood movie called 'PIT FIGHTER', that stars Hector Echavarria and Armand Assante. (Vince was asked to demonstrate his stickfighting skills in the movie!)