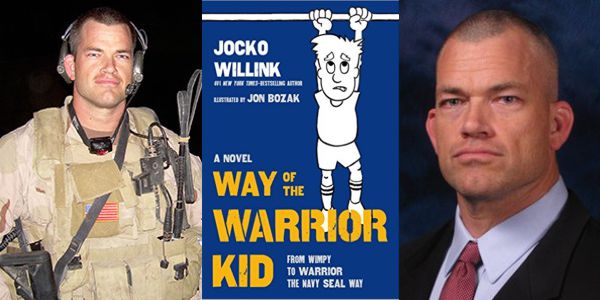 Jocko Willink has written a book to help every child and this is what he has to say about Way of the Warrior Kid: From Wimpy to Warrior the Navy SEAL Way:
This is the next book: Way of the Warrior Kid. It is about getting after it. Yes, it is aimed at kids–but I'm telling you, there are lessons in it for all of us, at any age! This is the book I wish I had as a kid and the book I wish my kids had when they were younger. It teaches them how to get stronger, smarter, and better. Of course, it is funny too–but it holds the line and gets the message across. Buy a copy for the kids you have, the kids you know, or kids down the street. Buy extra copies for the library, for the schools, for the kids on the soccer, baseball, and football teams. The wrestling kids, the jiu-jitsu kids…all the kids. Spread the word. Help a kid. Change their lives for the better. Put them on the path to freedom, through discipline. Thanks for all the support…and for GETTING AFTER IT. ~ Jocko
Fifth grade was the worst year of Marc's life. He stunk at gym class, math was too hard for him, the school lunch was horrible, and his class field trip was ruined because he couldn't swim. But what was most awful thing about fifth grade? Kenny Williamson, the class bully, who calls himself the "King of the Jungle."
When Marc's mother tells him that his Uncle Jake is coming to stay for the whole summer, Marc can't wait. Uncle Jake is a for real, super-cool Navy SEAL. And Uncle Jake has a plan. He's going to turn Marc into a warrior.
Becoming a warrior isn't easy. It means a lot of pull ups, sit ups, pushups, squats, swimming, eating right, and studying harder than ever before! Can Marc transform himself into a warrior before school starts in the fall – and finally stand up to the King of the Jungle himself?

About the Author
JOCKO WILLINK is a decorated retired Navy SEAL officer. He was a Navy SEAL for 20 years, and was the commander of SEAL Team Three, Task Unit Bruiser, the most highly decorated special operations unit of the Iraq War. Now, Jocko teaches leadership, strategy, tactics, fitness, and jiu-jitsu to people all over the world.