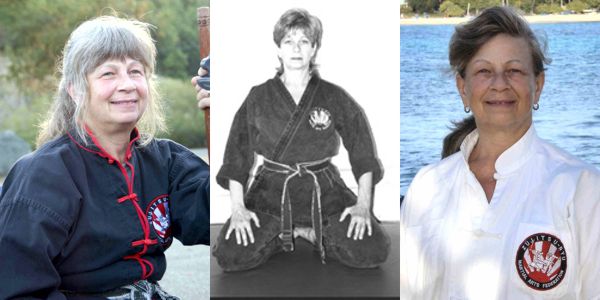 Kyoshi Zosia Gorbaty has been studying martial arts since 1976. She practiced the arts of Nisei Goju Karate and Mas Oyama Karate before joining Master Zulu in 1981 as a brown belt. In Sept. 2005 she received the rank of 8th degree black belt in the Zujitsu-Ryu system. Kyoshi Gorbaty has been teaching at various sites in the N.Y. area for more than 20 years. She has taught children at the Asphalt Green Community Center, 12th Street Block Association, and ran the children's program at the Zujitsu Training Center in Manhattan from 1993-2001. She is a well received trainer at annual trainings of the National Women's Martial Arts Federation, Pacific Association of Women Martial Artists, Association of Women Martial Arts Instructors, and has been a guest instructor at the Jujitsu America Convention, Camp Danzan-ryu and Camp Suigetsu. She has been featured in Van Clief's White Belt Guidebook, the New York Times, Our Town, Hot 97FM "Street Soldiers", Cable News 12, "Best Talk" WPIX TV, and most recently on Fox TV News Network "Fox and Friends." In 2000, she was inducted by the World Head of Family Sokeship Council International Hall of Fame as Millennium Master Instructor, and in 2002 received their National Achievement Award.
Kyoshi Gorbaty has been an adjunct college professor since l984, formerly on the faculty at Adelphi University and Bronx Community College, and currently teaching self defense and yoga for the physical education department at Queensboro Community College of the City University of NY. A certified rape crisis advocate, she has volunteered her time and skills as both an advocate and self defense instructor for the Mt. Sinai Medical Center Rape Crisis Intervention program. As a speaker and seminar leader on crime/rape prevention, empowerment and self-defense, she has motivated many audiences with her dynamic presentation style. Her client list includes the NYNEX Corporation, N.Y.U. Law School, YMCA of Greater NY, School of Visual Arts, Prudential Securities Women's Council, and Foote, Cone & Belding Advertising.
In 1981 Kyoshi Gorbaty received a Master's Degree in Physical Education from N.Y.U. She has been a Red Cross Certified Community CPR and First Aid Instructor, A.C.E. Certified Aerobics Instructor, YMCA Certified Fitness Specialist, and Kenneth Cooper Institute Certified Group Exercise Instructor. Kyoshi Gorbaty served as Chair of the Board of Directors of the National Women's Martial Arts Federation (NWMAF) for the 2002-2004 term. She is currently a member of the NWMAF Self Defense Instructor Certification Board. As Grandmaster Zulu's wife/business partner, she assists him in both administrative and teaching aspects of the Zujitsu system and Federation.