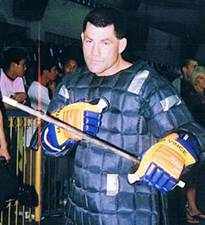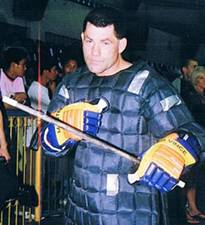 At the 75th Anniversary Cacoy Doce Pares World Federation, the Australian Team consisted of many players from Adelaide who train at the International Combative Martial Arts Academy at the club in Welland of South Australia.
The stickfighters are the following – Master Vince Palumbo (coach/player), Vlad Mihal, John Moore, Michael Harris, Gary Smith, Barry Jamieson, Joseph Scali, Vickie Simos, Andrea Wheatley and Melissa Lopresti.
The Australians really dominated the tournament in every division of the event, and the Aussie Team went on to win most of the Gold medals in the entire tournament held there in Jakarta of Indonesia.
Every member of the team won a medal, either Gold, Silver or the Bronze medal!
Master Vince Palumbo had an outstanding 20 fights in the one day, and went on to win an amazing effort tally of 10 Gold medals, 2 Silver medals, and Bronze medal. (He was named player of the tournament GM Canete!)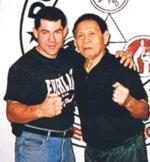 Other World Champions from the Australian Team include the following: 'Big' John Moore, Joseph Scali, Andrea Wheatley, and Melissa Lopresti.
The Australian Team literally won the hearts of all the initially hostile and unwelcoming Indonesian crowd of spectators that all just booed the Australian Team when they first marched out into the big stadium with all of the other countries in the parade of players when the games first started.
This is when Master Vince Palumbo asked his team members, "Remain calm, and just keep marching on, and don't worry, because they'll love us in a couple of days!'."
What he said was true, and in the second day of the big competition, every time an Australian team member won a fight, the whole team started to dance in the middle of the sports arena, and before they knew it, all of the Indonesian crowd were also dancing in their chairs, and it was a really great atmosphere, because everyone had fun, and they all politics and religion aside, and just treated each other with respect and warmth, says Palumbo.
On the closing ceremony of the games, Master Palumbo was awarded with a certificate of 'Grandmaster 9th Degree Black Belt' status from the 88 year old legendary Supreme Grandmaster Ciriaco Canete who is the highest ranked martial artist in all the world, and who is the only living 12th Degree Black belt on the planet.
This rank advancement makes Palumbo who's won 10 World Titles with over 100 bouts in the sport of Full Contact Stickfighting, now one of the youngest 9th Degree Black Belt Grandmasters in the world now!
Master Vince Palumbo Receives the Title of Grandmaster, and he also gets awarded as World Champion in the World Stickfighting Titles in Jakarta in Indonesia 2007.
Master Vince Palumbo recently attended the 4th Cacoy Doce Pares World Tournament for full contact stickfighting along with his Australian team-mates.
After several months of hard training Master Vince had a prepared a team of 9 other sport stickfighters also from Adelaide, all ready to fight in the championships action in the city of Jakarta.
Over the days of the World Stickfighting Tournament, Master Vince exhibited some real great refereeing skills, which is an attribute to his 23 years of experience as a fighter.
As an observer it was an education to watch this man who was not afraid to get amongst the action in the "eye of the storm" when things were getting out of hand during the 2007 World Stickfighting Championship fights, and with his keen eye, he combined with his discipline and focus, and ensured that the fights in his ring were always clean bouts.
When it was time to get into the ring and to compete, that's when Master Vince showed everyone why he had previously acquired the nickname "Master Blaster". Anyone who has experienced a blow from Master Vince's stick, knows exactly what it means to be struck by lightening, or as the Filipino's like to call it "Kilat".
The man is a powerhouse and his opponents will be the first to testify to this with the "coloured trophies" they acquire in the form of stripes and lines on their various body parts, (Even through the armour!). Master Vince's flurry of strikes frequently leaves his opponents feeling bewildered and wondering what exactly struck them, and then they wonder as to how and when will it be their turn to strike back?
Master Vince entered into several fight categories for the 2007 World Championships, and overall he hauled a swag of medals back to Australia (9 gold, 2 silver and 2 bronze!).
Some of these medals were for the forms event, again demonstrating the diversity of skill which this man possesses, not only is he incredibly tough, but this man can be so smooth and graceful too!
On the presentation evening after the games, the Supreme Grandmaster Cacoy Canete then awarded Master Vince with the well-deserved title of 'Grandmaster', and he was also awarded the high rank of 9th Degree Black Belt in Cacoy Doce Pares Eskrima, and the 8th Degree Black Belt in Cacoy Pangamot Jujitsu as well!
There is frequently a discussion in martial arts circles about whether or not Masters and Grandmasters should compete in these types of tournaments, and it is my own opinion as a martial arts student, and I don't that there is nothing more compelling and inspiring than seeing the art of Stick Fighting in action from the hands of an experienced fighter.
It is an inspiration to see an instructor "walking his walk, and not just talking his talk!"
The precision and finesse, not to mention speed, power and accuracy of each strike is a big step-up from the stick-work one witnesses at the beginner's level.
Grandmaster Vince Palumbo has now had in total over 200 fights in the combat sports fighting arena, and this includes his 100 stick-fights as well, so Grandmaster Vince must be complimented on his vast array of skill, as a gifted teacher (for adults and children), and as an International referee or judge, or even as a mentor for the lives of many that really look up to him.
The Australian team would like to congratulate Grandmaster Vince Palumbo on his real tremendous efforts over the many years that he has been involved in the martial arts.
He's come a long way from the humble beginning of his training in 1974 as a junior boxing and gymnastics student!
I often hear Grandmaster Vince say the words: "To dream is to believe, so go dream, do believe, and then try hard to achieve!", and I must say that Grand Master Vince Palumbo is living testimony to this quote.
By Dr Andrea Wheatley