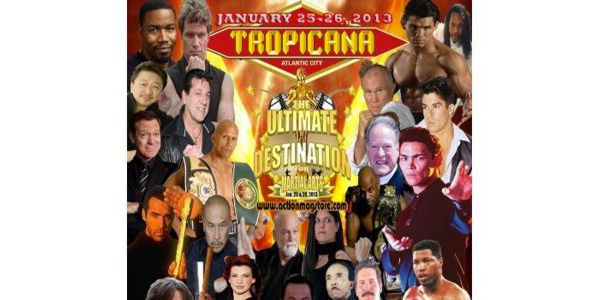 You won't be disappointed in the "Action" at the Action Martial Arts Hall of Honors, Expo and Seminars!
The world's largest gathering of Martial Arts and MMA Superstars, Film, Combat Celebrities, and renowned Masters from around the world will take place once again on Jan 25 & 26 2013 at the Tropicana Casino & Resort in Atlantic City N.J. One Weekend with 8 Events. Thousands from around the globe will gather to meet, greet and share with one another.
There is something for everyone!!!
Join us for a 2 day Trade show and expo with over 75 health and martial arts suppliers. There will be over 30 Celebrity autograph and photo booths. We have 50 FREE seminars with training from the BEST of the BEST. There will also be a Martial Arts Business Forum with Renshi Allie Alberigo, where school owners can join in free classes on how to make there school and business run more successfully. There will also be a Martial Arts Casting Call and auditions. For those who want to compete or watch others compete, there will be a full Martial Arts Tournament produced by Master Jose Torress and a MMA Point Tournament Produced By Sifu Bam Johnson.
On Friday Night ROC PRO MMA Show will bepPresented by Master Louis Neglia of www.ringofcombat.com!
We will top off the weekend, with one of the largest gala Banquets in Atlantic City with the world's largest assembly of celebrities, champions, suppliers and movers and shakers in martial arts industry along with thousands of attendees. This event is nicknamed "The Academy Awards of Martial Arts" and offers a friendly and exciting weekend for all. Come see your favorite Martial Arts , MMA , Wrestling , and TV and silver screen the stars, all under one roof.
A small sampling of featured guests include Cynthia Rothrock, Chuck Zito (Oz & Sons of Anarchy ), Don (the Dragon) Wilson, Bill (Superfoot) Wallace, Dan Severn (UFC), Phil Morris (Mission Impossible & Seinfeld ), Hank Garrett (Car 54 Were Are You), Christine Bannon Rodriquez, Michael Jai White (Spawn, Mike Tyson Movie), David Toma, James Lew, Cary Tagawa (Mortal Combat, Hawaii 5O, Revenge) Kevin Sorbo (Hercules) Frank Shamrock (UFC), Ray Mercer (World Champion Boxer), Martin Kove (The Karate Kid and Rambo II) Adrian Paul (Highlander).
The SAFEST" place in the world on January 25 & 26, 2013 is at The Tropicana Casino and Resort Atlantic City, New Jersey.
For more information go to www.ActionMagStore.com or call Alan Goldberg at 718-856-8070 or email him at actionma4@gmail.com.