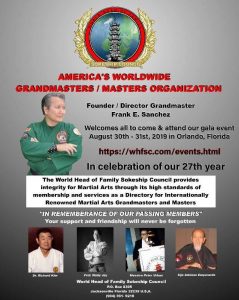 Join the World Head of Family Sokeship Council (WHFSC) founded by Frank Sanchez for their international seminars and awards banquet celebrating the 27th Anniversary of America's first internationally recognized worldwide headfounders / elite masters organization.
2019 WHFSC Event Forms
The brainchild of its founder, Grandmaster Frank E. Sanchez of Guam, the World Head of Family Sokeship Council is composed solely of 9th and 10th dan grandmasters and their equivalents. At the present time the Council has over 160 members worldwide of every conceivable martial arts style and origin. Their list of members reads like a virtual "Who's Who" of the martial arts world.
Unlike other organizations, there are no membership dues. The World Head of Family Sokeship Council grants membership solely by invitation or sponsorship only. The main purpose of the Council's focus is to bring communication between the different systems through its grandmasters and proliferate the growth of the martial arts through its programs. Programs such as its yearly International Hall of Fame which honors martial artists yearly for their accomplishments; its martial arts college; and its seminar program designed to expose martial artists to the teachings of the grandmasters.
More information about the Council
More Information about the Event
or email worldheadoffamily@gmail.com
WHFSC International Headquarters
P.O. Box 8395, Jacksonville, FL. U.S.A. 32239
Phone: 904-361-9218
Fax: (904) 744-4625